How to start your own comedy YouTube channel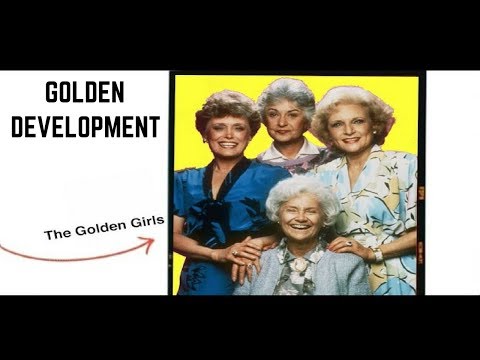 GOLD Comedy is the online comedy destination for women and nonbinary folks! If you're here, you're probably interested in comedy. Great! You've found your people, here. Check us out in GOLD Club, where we host classes, celeb Q&As, writers' workshops, and so much more. It's community + comedy at its very best. (Plus there's a 14-Day free trial! Woo!) GOLD Digital Teams hold applications annually! The best way to get a foot in the door is to join the club!
---
Picture it. The date: Spring, 2015. The challenge: Fresh off a firing, I told myself to do something I enjoyed, even if it was not for money. The result: I launched "Stay Golden," a YouTube channel of weekly original videos inspired by The Golden Girls. We're talking mashups, interviews, rankings, lists and original scripted comedy (and more).
In the three years since that first video, I've produced over 90 videos, gained over 9,200 subscribers, started turning a profit, became a certified YouTube content creator, branched out to hosting Golden Girls Bingo in NYC, and got paying creative work. All of this came out of the channel that I still run today.
YouTube is a valuable platform for comedians at every stage in their career and should be in your creative arsenal. From showcasing your gigs to making your own content, YouTube will be a spotlight on all things you! With no money down, I'm going to give you the inside scoop on how to launch your channel in an hour or less. These are the basics to get rolling on YouTube.
What kind of channel do you want to be?: YouTube channels, like movies, tend to fall into categories. Stay Golden is a combination of comedy, entertainment, and vlogging inspired by the show. I make videos ranking every episode, mashups where "The Golden Girls" meet shows like "Game of Thrones," and one epic five-hour loop of Dorothy Zbornak screaming "Condoms, Rose!"
The idea of a channel is to showcase your funny, your way. You could do comedic monologues, write and star in sketches on trending topics, develop a full-on web series based on your own life, or use the channel to upload videos of your live performances. And there's so much more!
You can be one of these things or all of these things. The key here is to have a clear vision, at launch, of what you want to do that makes you feel confident and excited for your new channel.
Setting up your channel: We can get this done in under five minutes.
Already have a gmail account? Congratulations, you are 50% done with this part already. Log into YouTube using your gmail address. Visit your account settings to change the name of your channel.
Don't have a gmail, or want to make a new one for your channel? Go to YouTube.com and click "create new account." Fill out all required information. Your email is not your channel name; the "first and last" name fields make up your YouTube handle.
The key here is your channel name as a part of the setup. If the channel is about you, whether it is vlogs or videos of performances, consider making it your name. If it is sketches, scripted shows, or other comedy, make it your show's name. Pro tip: Be sure to search the name in YouTube first to see if its already in use. If you need to change it, you can do this anytime in Google+.
Channel art: These will be the first two images viewers associate with your channel. There is your banner and thumbnail. Think of these two items as your visual business card. They work together to tell the story of you and your channel.
Thumbnail: Also known as your logo. When thinking about your channel, what is the image that comes to mind? "Stay Golden" uses our name and a picture of a slice of cheesecake. If the channel is all your stand-up material, use your face as the thumbnail.
Banner: I talk about Golden Girls all day. My banner is their faces with information about my show. Banners are larger than thumbnails and take up the top of the channel page. Use bold colors and uncluttered images to catch viewer's eyes. Relate it to what you do. And keep it simple. If your comedy is all about kittens, don't put your dogs in there too. It doesn't make sense.
Remember more than half of viewers watch YouTube on their phone. Your art needs to be clear enough to look good on smaller devices. Pro tip: You can use free services like canva.com or snappa.com to make these graphics in a snap. They come with drag-and-drop templates, fonts, and styles.
Uploading your videos: Whether it is original content or a recording from your last five-minute standup set, the process is the same. After clicking the camera icon in the top right corner to upload your video and hit these four hot spots:
Video title: You have to call it something. No video will ever get published on YouTube without one. Titles range from the silly to the straightforward. I like to number my videos so viewers know there are more out there to watch. Pro tip: Keep titles under 70 characters so they show up in searches without getting cut off.
Description: This is your area to chat it up! Tell people what the video is about. Plaster it with all your social media links and your website; tell people where they can find your next show.
Tags: These are search keywords related to this video and your channel. They help you show up in searches. Fun Fact: Don't add too many tags a single video. If a video has more than 15 hashtags, it may get automatically left out or searches. We don't want that.
End screens: People are loving your videos. Laughing it up. Wanting more! Use end screens to give them what they want: More of your awesome content! End screens link directly to your other videos and encourage viewers to subscribe.
Promotion: Launching a channel will expose you to a brand-new audience you might not otherwise be in front of. To broaden your exposure, you should promote your channel across other social media platforms. Share your links on Facebook, Twitter, and Instagram (if you're on them). Don't overlook other options like Tumblr, Buzzfeed, and Reddit. For example, I post every new video in the Golden Girls subreddit and get tons of views. Pro tip: Remind people to subscribe to your channel whenever you link to it.
Why YouTube is important: Comedy is a hustle. I am constantly submitting to shows, pitching producers and trying to get writing published. Let's be real. It can often leave you feel lonely, stranded, and rejected.
With Stay Golden, I don't have to wait for acceptance. If I have an idea, I make it. YouTube means creating without permission. You don't have to be booked to tell jokes or commissioned for a sketch. You set up a camera or your phone, do your thing, upload it, and make your own audience. You take control and power of your voice by making your own opportunities.
Stay Golden has over 1 million views, 99% coming from total strangers. I think about the shows where I've performed for an audience of nine people or how hard it can be to get friends to come out for a show on Tuesday at 11 pm. YouTube breaks down the barriers of time, location, and space.
---
COURTNEY ANTONIOLI is a performer and storyteller who She produces Stay Golden, a YouTube channel of original content inspired by The Golden Girls. @stolafprod