The voice in Leah Bonnema's head needs to shut up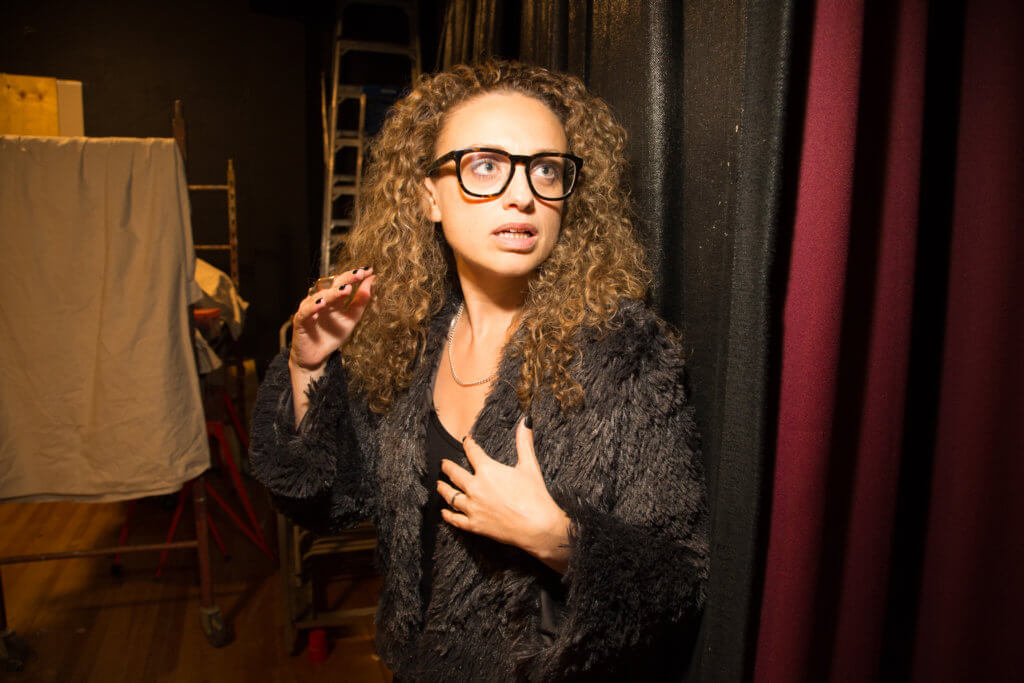 Leah Bonnema is a stand-up comic based in New York City. She's been featured on VH1's 100 Greatest Child Stars and 100 Sexiest Stars, AXS TV's Gotham Comedy Live, IFC's Comedy Crib, WeTV's Cinematherapy, TruTV's Comedy Knockout, Lizz Winstead's Lady Parts Justice, Amazon Prime's Comics Watching Comics, VProud's You're Not Crazy, and is a regular on SiriusXM. Bonnema has had the honor of performing for the troops in Iraq, toured throughout the Middle East, and performed for the U.S. Marines at the famed Friars Club. Huffington Post named her one of their Favorite Female Comedians. She's been featured in the Glasgow Comedy Festival, the New York Comedy Festival, Bumbershoot, AfroPunkFest, the New York Television Festival, Laughing Skull Fest, and at The Kennedy Center in Washington D.C. for the District of Comedy Festival. www.leahbonnema.com
---
Favorite response to a heckler or troll?
I've had some really nasty hecklers and trolls but nothing beats the voice in my own head that is constantly heckling: "Why did you say that!?" "Is it possible to not embarrass yourself?!' "You're sweating again!" "You're letting down your parents." "You're never gonna have a washer/dryer." And to that voice I say "SHUT THE F UP! I'M WORKING HERE!"
On your deathbed, what transcendent advice would you croak at a young (female/LGBTQI) comedian?
Just keep getting on stage.
When you were coming up in comedy, what helped you stick with it?
Best comedy advice you ever got?
Get. On. Stage. As. Much. As. Possible. (It's a long haul. You gotta work on your craft so at some point you become undeniable).
Feelings about the word "comedienne"?
I'm not really into gendered words. I just want to be a comic. Not a female comic. Just a comic. Not that being female isn't important to me, but I hate that "comic" somehow means man — which is what happens when the word "female" goes in front of it.
What advice do you have for how to level up from open mics + bringers to actual SPOT-spots?
1) Run your own show and swap spots.
2) Do a fundraiser for an org you love at a club –> raise some money for a good cause and also develop a relationship with that venue.
3) Offer to host — people need hosts.
Worst comedy advice you ever got?
1) Modify your truth so other people feel comfortable (paraphrase).
2) Wear more skirts.
---
Leah Bonnema is a stand-up comic based in New York City. She's been featured on VH1's 100 Greatest Child Stars and 100 Sexiest Stars, AXS TV's Gotham Comedy Live, IFC's Comedy Crib, WeTV's Cinematherapy, TruTV's Comedy Knockout, Lizz Winstead's Lady Parts Justice, Amazon Prime's Comics Watching Comics, VProud's You're Not Crazy, and is a regular on SiriusXM. Bonnema has had the honor of performing for the troops in Iraq, toured throughout the Middle East, and performed for the U.S. Marines at the famed Friars Club. Huffington Post named her one of their Favorite Female Comedians. She's been featured in the Glasgow Comedy Festival, the New York Comedy Festival, Bumbershoot, AfroPunkFest, the New York Television Festival, Laughing Skull Fest, and at The Kennedy Center in Washington D.C. for the District of Comedy Festival. www.leahbonnema.com