10+ Things I Learned From Producing My Own Sketch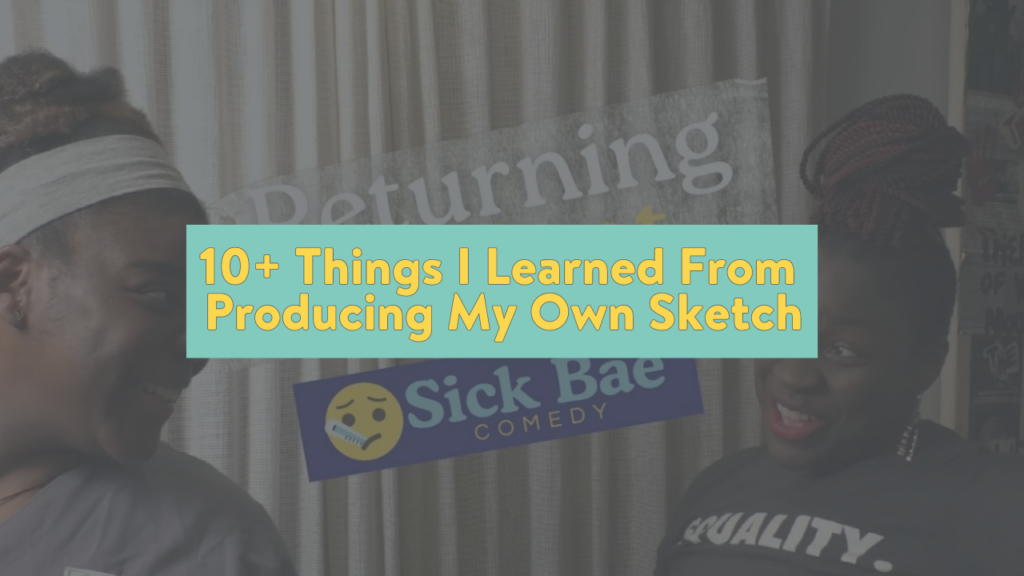 Returning Patient started out as an idea while I was waiting to be seen at an imaging center in early January. I realized that I was beginning to recognize the staff because I'd been there so often! I wondered, "What if the doctor's office was like Cheers where everyone knows your name?" I pitched my vision to Sick Bae Comedy and filmed and edited Returning Patient with their support.
Thank you Lynn Harris for asking me (in the GOLD Club) to share about my experience! I found it so valuable to reflect on the process from start to finish and encourage all creators to treat themselves to a post-mortem date!
Here are 10 things I learned while writing, planning, and filming my sketch:
Pre-production IS Production!

Planning as many details about the shoot in advance helped me to communicate the rundown to the cast and crew before the shoot and to get the shots I needed to tell the story.

Always have backups in the planning stage.

This includes (and is definitely not limited to) location, actors, dates, props, etc.

Your call time for crew and talent should include a buffer of 30 minutes or more in case of traffic or other set up delays.

If you're stepping up as talent and the director, DP, or another role give yourself more time than you think you need.

TIP: Do hair and makeup and put on your costume AFTER you set up because you may get sweaty!

A script is never really done, but a fellow writer can help you pinpoint the je ne sais quoi needed to polish your script (Thank you Kayla Kurin and Andie Rossi for your notes!)
Go with your gut, but be open to inspiration.  Being flexible on set helped me to pivot when an idea wasn't working.

Before the shoot, I set an intention to be receptive to the people on my team. Having this mindset made troubleshooting a breeze!

Teamwork really does make the dream work!

I would not have been able to complete the shoot or even edit the video in a timely fashion without the contributions of my team.

One of those aforementioned suggestions made on set made it easier to navigate the hours of audio and video while editing!

If you're renting equipment, test every last bit of it BEFORE the shoot.

On the day of the shoot, I was glad I brought my own microphone cable when the one that came with the field video kit wasn't working.
Also, bring backups if you can, especially SD cards–they are such wiley creatures!

Review your footage before moving on.

Back that stuff up onto more than one device or drive as often as possible. Yes, even while still on set.

Label and review all the video footage and audio BEFORE you edit.

Use names that will help you remember what scene and/or take it is (i.e., dance-break-take-1). If you have separate audio, name the clips so that they correspond with the video clips.

BONUS: Good lighting is everything. It's the one thing that can single-handedly up the production value of your shoot.

If you can only invest in one thing for your shoot I recommend getting a lighting kit.

And Another One *In DJ Khaled*: Editing can make a video funnier!

Adding graphics, music, and title cards made the video much funnier than just the footage alone. Pacing is everything.