Note from Pam Schuller: You do You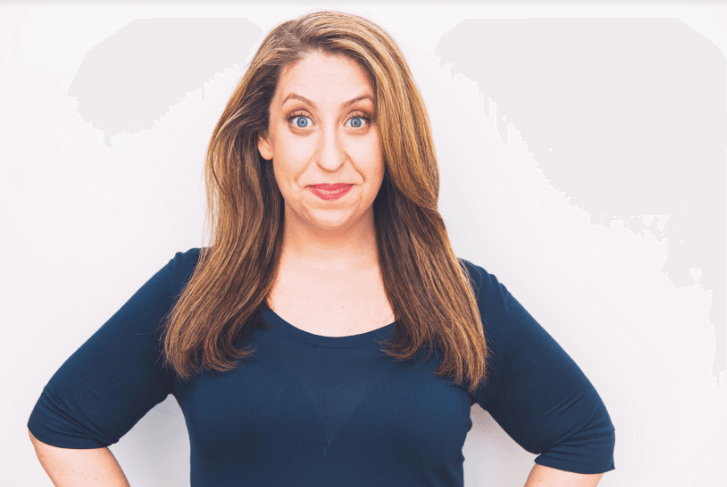 Comedian Pamela Rae Schuller is relentlessly funny with her confessional and brutally honest comedy about being 4 foot 6 ½  and having a whole lot of Tourette Syndrome. Pamela is also the director of HereNow, a Jewish teen mental health initiative that promotes mental health, wellbeing, and resilience through creativity.  Pamela has spoken and performed in six countries, in almost every state in the US, and for more than 35,000 kids, teens, and adults. From squeaky clean comedy to working incredibly blue, Pamela gets audiences of every age comfortable and laughing together through storytelling and humor. You can see her on BuzzFeed, hear her on Sirius XM, check out her writing on Mayim Bialik's Grok Nation, or catch her on her upcoming tour of the US and Canada with her one woman show "What Makes me Tic".  See more at PamelaComedy.com or follow her on Twitter and Instagram @PamelaComedy. To learn more about HereNow, check out www.ProjectHereNow.org 
---
Favorite response to a heckler or troll?
It's really hard to troll me because I will give you immediate feedback on your trolling/heckling skills. Sometimes I will even provide pointers to troll me better…if you are going to be a troll, be the BEST troll you can be.
Describe your worst gig.
It was a show at a big comedy club in the middle of a small town in the midwest. It was for three shows in one night. The early show was sold out and amazing, the late show was also great, but the late-late show had 4 people – in a club that seated probably 500. Right before they called me to the stage, 3 people left to go smoke outside and one went to the bathroom so I got up on stage in a huge theater performing for NOBODY. I basically performed for the waitstaff.
What were you like as a teen?
I was a tough teen, besides having Tourette Syndrome, I was angry, depressed and pushing the world away from me. My humor and snark were blanketed by meanness and anger. I was kicked out of public school and shipped away to boarding school for weird artsy kids (which I loved). My boarding school saw something in me and signed me up for a comedy and improv class and it clicked immediately and that allowed me to channel my energy into something way more fun and productive. I started opening for comics I respected by the end of high school and I knew it was my path ever since.
Favorite response to "What's it like to be a woman in comedy"?
People sometimes feel the need to talk about your gender as they bring you to the stage "next up we have a female comic!" and that will never make any sense to me. Sometimes I am met with people saying things like, "oh, you are the female on the show!" as though there is this unspoken quota. But honestly, I love being a woman in comedy. I love a good challenge and being funny on stage makes me feel powerful.

Best comedy advice you ever got?
Find your own path. There is no one way to be a comic. I make a living with a one-woman show and motivational speaking that combines comedy and storytelling. I never even knew this was even a career path but I followed my passions and figured I would figure something out!
Worst comedy advice you ever got?
Somebody once told me not to talk about Tourettes on stage because people don't want to feel bad for me. That doesn't make any sense. We all have struggles and stand up is where you can turn those into COMEDY.
When you were coming up in comedy, what helped you stick with it?
Lynne Koplitz took me to dinner during my senior year of college after I opened for her. I don't remember her exact words but it was basically that if comedy is in my heart this much, I was meant to be doing it.
On your deathbed, what transcendent advice would you croak at a young comedian?
You do you. Work hard. Write, re-write, film your sets, do that until you get a good one that you can share to get a booked show. Make friends in comedy. Comics book shows and the more your friends see you working hard and improving, the more they will book you. Love the journey. When you see somebody who has what seems like an overnight success, know they were actually working their butt off for YEARS.
---