Jackie Jennings is the victor who wrote history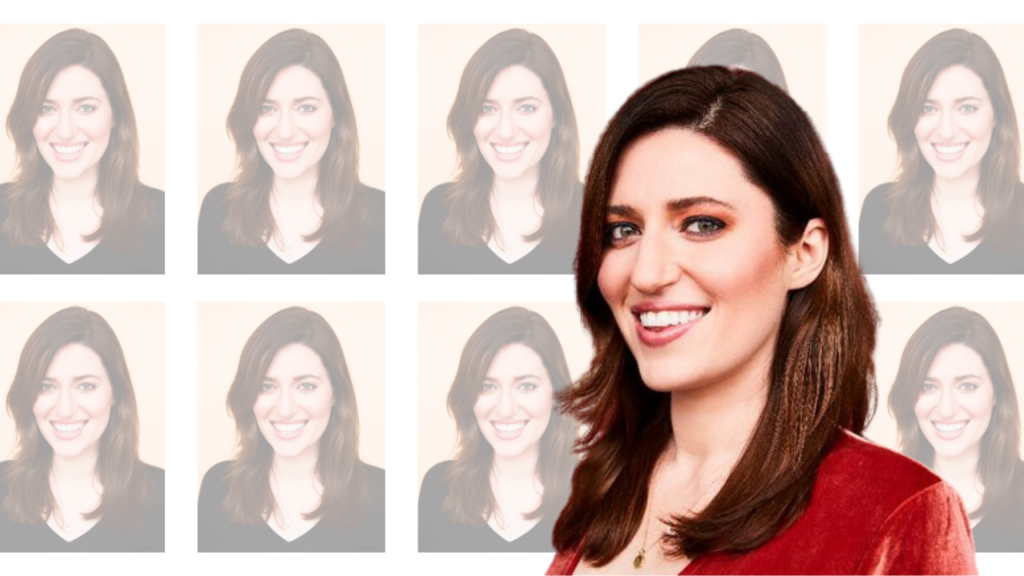 Jackie Jennings is a director-writer-host and eternal student from Brooklyn, NY. She's a Hufflepuff, Cancer sun/Aries moon, and has a TBR pile full of fantasy novels. You might recognize her as the face of the SYFY channel! Before that, she was a staff writer at The Chris Gethard Show, a story producer for My Brother, My Brother & Me on Seeso, and director of Baited with Ziwe, and a manager at Outbrain Inc.
---
What were you like as a teen?
I was a theater nerd harboring at least three different impossible crushes at all times. I worshipped Tina Fey and was voted Class Clown, which my dad really disliked. So I had to ask the editor of the yearbook to make it Funniest instead. History is written by the victors.
Did you have an un-sexy starter job? 
I had a pretty fantastic day job for a while! I worked for a (now public) start-up. It involved travel, let me save some cash, and I learned a lot about business from super smart people.
When I left to pursue comedy full-time I had a lot of weird gigs – I've dressed as a hotdog, a chicken Caesar wrap, and was filmed pantomiming weird shit for Google (and signed an NDA, oops!). So many things I now forget.
I was so goddamn sincere and gung-ho about every single one of these jobs and I regret nothing. I met cool people and got to learn about how a set functions. The most important thing I learned was DON'T FEED YOUR CREW PIZZA. They are working hard, you simply must budget for something more substantial and nourishing. Stop with the pizza, this isn't hot lunch Friday at a Catholic school.
What do you consider to be your biggest comedy achievement?
My short doc, "From One Guy to Another" was a deeply fun, weird, ill-advised project I made with my comedy partner and I still love it. We flew from the Guy Fieri restaurant in Times Square to the one in Cancun in 24 hours. It was messy and our own. We got to develop it with a production company but that wasn't even the point! It was just for the pure love of the game.
When you were coming up in comedy, what helped you stick with it? 
Friends, collaborators, naïveté, raw ambition
Have you ever dealt with trolls?
When I was at SYFY, a guy used to call my cell phone and invite me to his house in Lake Tahoe. Is that a troll? Or just a stalker? Who's to say? And I can't say I've had super toxic colleagues but I have definitely had wildly lazy colleagues. You deal with them all the same way – stay cool, change your number, and write everything down.
On your deathbed, what transcendent advice would you croak at a young comedian? 
Follow your arrow, whenever it points. And no one touches your money before you.
Best comedy advice you ever got?
You can teach structure but you can't teach taste.
Worst comedy advice you ever got? 
How has being funny helped you in your life? 
Being funny has definitely gotten me into rooms, friendships, and a marriage where I am punching way above my weight.
What specific things do you think a novice comedy writer should do to shape their voice?
Write, write, write, and don't watch anything you don't find funny. Feed your brain good brain food.
Do you have a writing routine?
Hmm, I think I do. I have a desk and a space to write which is important. I wake up and get myself ready as though I'm going to a job where I am being paid money, whether I am or not. I basically trick myself into being productive and it usually works. But discipline and delusion don't work for everyone, I respect that.
Stath Lets Flats is the funniest show possibly ever; it's been a go-to for awhile. Also Game of Thrones and Lord of the Rings, forever.
What single word always cracks you up?