Michelladonna watches Shrek, Shrek 2, and then Shrek again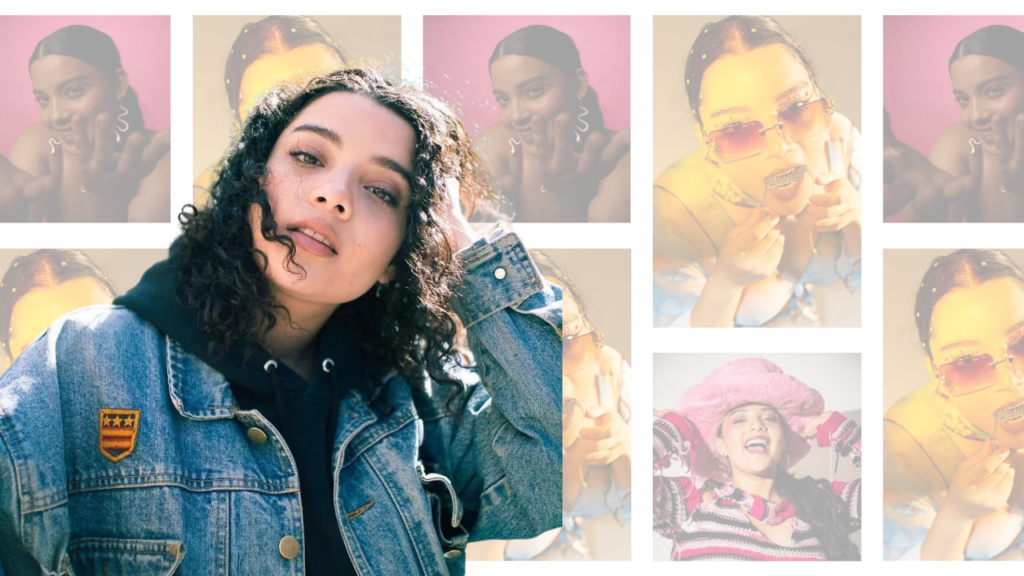 Michelladonna is an actress, comedian, producer, and community organizer from Queens, NY.  She is the creator and host of the I'm Finna Talk (@imfinnatalknyc) workshop/open mic series, which provides free events for Queer Black and Brown creatives in NYC. She is passionate about comedy, art creation and community. She is a student of HB Studio, the Magnet Theater, the Second City, the PIT and an alumna of the MCC Theater Youth Company.  In the Summer of 2022, she received the PIT x SNL Scholarship which provides classes and  industry showcases. She has also been featured on the HBO series Game Theory with Bomani Jones in Spring 2022. Michelladonna received the 2021 City Artist Corps Grant for "I'm Finna Talk", making sure to  re-invest into the arts and the community.  She is focused on sharing her communities' unique experiences with the world.
---
What were you like as a teen?
I was always the class clown but also in all the AP classes, all the team sports, in the Drama Academy, and the president of clubs. I was not thinking about comedy; I was thinking about college. But I always wanted to pursue acting.
Did you have an un-sexy starter job? 
Bruv, I've had a bunch of un-sexy jobs.
Retail stores – taught me that people suck 🙂
Bartending – taught me that no matter how nice you are, people won't tip well 🙂
Working at a studio – taught me to protect my work first and foremost 🙂
Great times.
What do you consider to be your biggest comedy achievement to date?
A few things! I did a sold-out show at the Bell House which was INSANE. I produced a show with a full QTPOC lineup at Union Hall (aka creating intentional spaces within comedy). I opened for Marcella Arguello in June (she was the best). Finding my mentor and my community in comedy <3.
When you were coming up in comedy, what helped you stick with it? 
I'm still on the come-up! I have to take breaks and make sure to take care of myself first and foremost–this way I can be the best performer I can be. Also, find your people!!
Have you ever dealt with hecklers?
I usually keep respectful because at the end of the day, they are customers – but I try to shade them back with something cute and cunty.
On your deathbed, what transcendent advice would you croak at a young comedian? 
Remember why you're doing this goofy shit.
Best comedy advice you ever got?
What's the worst thing that happens if you bomb? You get off stage and you go home. There's always another day to try again.
Worst comedy advice you ever got? 
To ONLY have a 5 minute set at the beginning of my comedy career. Yes, you do need a tight 5… but you always have to have stuff prepared in your back pocket in case an opportunity knocks on your door.
How has being funny helped you in your life? 
I've been through a lot of experiences and have realized that using humor really is the best medicine. Or else shit is just sad… 🙂
What specific things do you think a novice comic should do to shape their voice? 
Living life is most important because that's where the most relatable and wildest things happen. Also, go to open mics, don't be rude, and think about what your goal is with what you're sharing on stage/internet.
Was there one person who inspired you to go into comedy? 
I LOVE Cantinflas (Mario Moreno) – a Mexican icon that was like the Latinx version of Charlie Chaplin.
His movies were always making fun of society with a lot of physical comedy and I grew up watching his films with my mom. Cantinflas was something I could share with my community and I want to follow in his footsteps.
What is your go-to show or movie when you've had a bad day?
SHREK, SHREK 2, SHREK AGAIN
What single word always cracks you up?
Thelonious *in Lord Farquaad's voice*