101 Reasons writers should get paid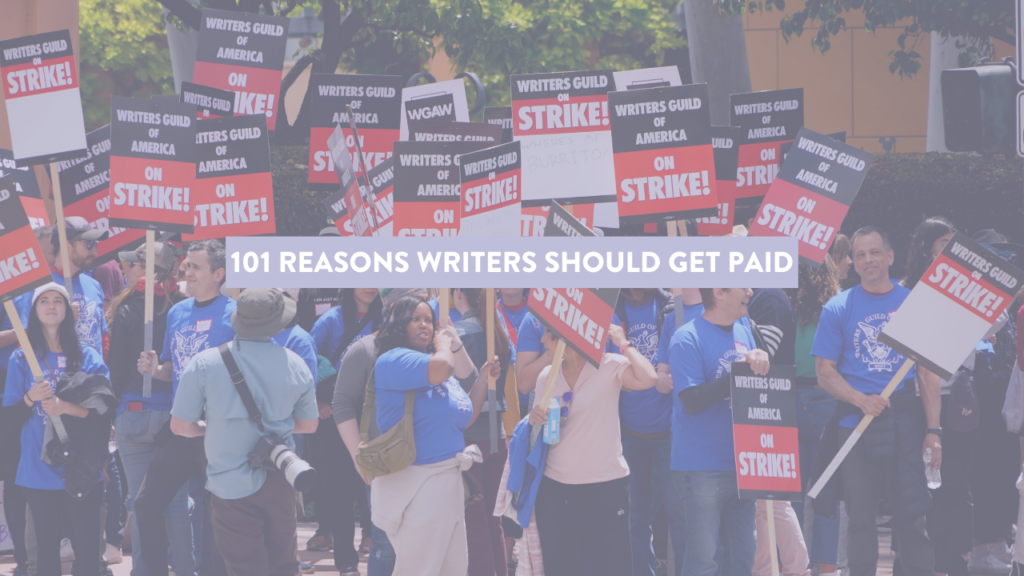 Yesterday was the 100th day of the WGA strike. This officially surpasses 2007's 100-day total. What does that mean? Other than greedy corporations gaining power and influence over the last 15 years? Easy. It means that writers are STILL out of work. Writers are STILL being ignored. Writers still aren't getting PAID.
We compiled this (powerful, iconic, impactful) list of 101 reasons why AMPTP needs to sit back and put their money where their WRITERS ARE. Because writers will win this.
And here's why they SHOULD get paid:
Severance Season 2

So you don't have to watch

these shows

on MAX

They're getting too hot with all this walking

Writers need food

And water

And shelter

Mariska Hargitay may turn to dust if SVU ends.

They need (better) clothes

Sometimes these writers have babies they need to feed

We need ten more seasons of Righteous Gemstones

AI can't come up with Office memes

Maggie Scudder has dreams

Rent is due. Just like in the musical. 

Hacks

I'll have to cancel my AMC Stubs A-List if the movies start to suck.

Billy Porter has to sell his house 🙁

If you ever want another Greta Gerwig movie.

Must watch What We Do in the Shadows for eeeeeterrrrrrnity

Writers gotta copay those depression meds

All those dogs who need cute outfits!!!

So that late-night shows can report on the Ariana Grande/Spongebob situation 

So that we don't spend even MORE time endlessly scrolling on TikTok

Because election coverage may kill us without jokes

Rumors that Tina is taking over SNL after season 50… means we have to get to season 50 ASAP

Fallon has stopped sending ice cream…

It's going to get cold soon

Christmas!

Our media future cannot be kinky NPC live streams

My TikTok is all psychics 

The new season of RHONY is good, but won't sustain me alone.

Just in case a Bones reboot is in the works 

Abbott Elementary 

Janelle James

Quinta Brunson

Sheryl Lee Ralph 

AND Mrs. Howard

Those Stranger Things kids are getting old so fast

And soon the Yellowjackets flashback kids will be as old as Melanie Lynskey and then that premise falls apart too! 

If I keep playing Magic The Gathering this much, my girlfriend will stop loving me.

Coffee, whiskey, and cigarettes cost money (writing food)

Gabrielle Dennis deserves more work

 James Corden can't survive without being in 20 movies at the same time

Twilight TV show

Amy Adams still doesn't have an Oscar

Maggie Scudder has a show that should be on air

For the tired moms that are also TV writers

The hot SAG people are intimidating the WGA people (I have heard!) 

It is hard for these soft hands to be walking all the time. 

SAG captains are landing in the ER for exhaustion (my neighbor Alan)

All the best jokes have been put on the signs already

MUST watch What We Do in the Shadows for eeeeeterrrrrrnity

A24 might take over the world

No, but seriously, A24 is becoming too powerful (which is fine! But could be

scary

!) 

Florence Pugh 

It's getting a little boring to hear about!! (Much as we support!)

You have to prove that being a TV writer is a perfectly valid career….mom.

You can only rewatch the Fast and Furious series so many times

I've been watching TV for Cats on Youtube.

 We'll need witnesses for the downfall of Sam Levinson.

How many more podcasts will be created about the strike?

Maggie Scudder needs to pay for her wedding

The most recent Bob's Burgers season was the best yet!

I checked with the ghosts of Christmases Past, Present, and Future and they told me that they've made no headway on Carol Lombardini.

Ashley Ray's

substack

is just Below Deck and 90 Days now

If we don't wrap this up, procedural TV might be dead forever.

I heard Aubrey Plaza and Katherine Hahn might play exes?

Books don't make me laugh; they just make me think and feel. Ugh! Not enough!

The WWC couldn't even sustain us. 

World peace

We need more women late-night hosts

I shouldn't have to download and subscribe to BritBox! 

Outside = sunburns

I have too many allergies to become a park ranger

People who don't live in NY or LA aren't even getting the live theatre bump

Vanderpump Rules and the Kardashians can sustain us for only so long

Twitter is officially dead and there's nowhere else for funny jokes?

"Beach" is not

actually

a job.

We do not want to write 101 more of these.

BECAUSE PAY YOUR WRITERS

God forbid the aliens learn about our civilization only from reality shows.

Because writing is art and art is the cornerstone of culture. 

Bet you could pay your writers and STILL have a boat!

Can't believe we have to explain this in the first place. 

Maggie Scudder needs to be a late-night host

Cannot afford opera.

Cannot afford Renaissance.

Girls 5Eva 4EVA

Have watched literally all Laws and Order

TV shows make YOUR families happy

You literally said you wanted writers to lose their homes. On a TV show, this would make  you the bad guy. 

Something something trickle-down economics

VERY MUST watch What We Do in the Shadows for eeeeeterrrrrrnity

Pls don't make us watch Trump trials thx

Maggie Scudder should take a break from watching ghost-hunting shows (and bringing them up at work).

GOLD members are sitting on SO MANY GOOD SHOWS. LFG!

Didn't y'all like Jury Duty? SCRIPTED. 

I read that Jeopardy is re-using questions. 

There will be even MORE podcasts to not listen to. 

We will all have to watch old shows in 25 parts on Tiktok

You know what they say about idle hands…

We're running out of crushes.