Zilla Vodnas won't go the way of the passenger pigeon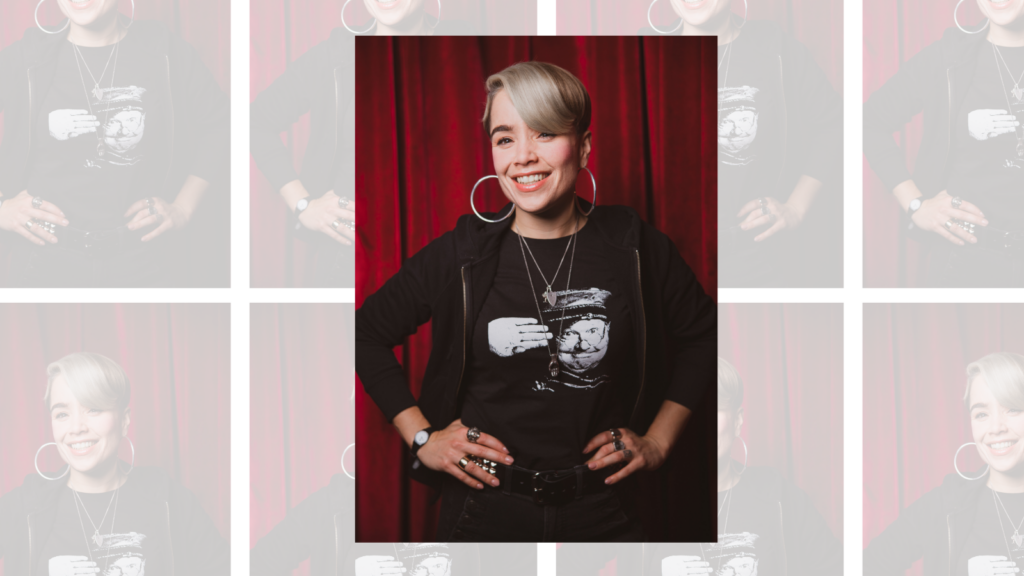 Zilla Vodnas is host of The Comedy Lab on 17Live. She has been a featured performer at HBO's Women in Comedy Festival, The Harlem Comedy Festival, Bad Bitch Revolution, and New Latin Wave Comedy at La Cosecha. Born and raised in NYC, most of Zilla's jokes are delivered with that electric "Nuyorican" energy, a big cheesy grin, and a whole lotta "yooo!" Zilla can be seen in person at venues across NYC or virtually on her Twitch channel.
---
Feelings about the word "comedienne"?
It's archaic. Needs to go the way of the passenger pigeon.
Favorite response to a heckler or troll?
Unless it's something flagrant I try my best to ignore hecklers. Nine times out of 10 everyone else loses when you feed the trolls, I learned this before comedy when I was a high school teacher.
BRIEFLY describe your worst gig.
Any of the numbers of gigs that have ended with a "fan" getting handsy. This happens far more than it should.
What were you like as a teen?
As a teen, I was insecure but very comedic within my friend group. I never saw myself as a future comedian but I always loved making others laugh if they were upset and cracking myself up in the silliest ways possible.
On your deathbed, what transcendent advice would you croak at a young comedian?
It's about knowing what the audience wants to hear but sticking to what you want to say.
What's your first impulse when someone says "women aren't funny"?
My response when I first started comedy: "That's CRAZY because your mother made everyone laugh at the hospital when she gave birth to you!"
My current response: "Awww, who hurt you?"
As you can see I've mellowed quite a bit.
When you were coming up in comedy, what helped you stick with it?
Honestly, a little bit of spite mixed in with a bunch of support from my friends and audiences. The "women aren't funny" crowd can sometimes serve as an inspiration, but you really do need the people who come up to you after and say "I really did relate to that bit about…"
An extra shout-out to the people who would come to me after shows and say things like "I'm used to the lineups being all-male, keep going!"
Best comedy advice you ever got?
Congratulate other comedians on their wins. It's not feast or famine, so long as everyone is creatively one-of-a-kind we can all eat.
Worst comedy advice you ever got?
"ACT MORE LATINA!" from one booker. "DROP THE LATINO STUFF" from another. All at the same industry show.
Favorite response to "What's it like to be a woman in comedy"?
Sometimes it's like being a chicken in a stew pot tryna pretend it was a hot tub.
Other times it's like sneaking into a party I wasn't invited to and being the life of it.
How has being funny helped you in your offstage life, either recently or when you were younger?
When I had a miscarriage, I was wrecked. I didn't really know how to grieve or get over the loss.
I couldn't gather my thoughts well enough together to write jokes and I suffered through what felt like creative constipation. Not writing made me even more miserable.
Then one night I was in bed and the idea for a miscarriage joke just popped into my mind. The angle was so absurd I made myself laugh until I cried… Then I just regular cried. The next day I went back to my desk to write jokes. I wasn't cured (by any stretch) but it felt the worst part of a storm had finally passed.
Was there one person who inspired you to go into comedy? 
Not gonna lie, it took a village of amazing comedians, over a long period of time to finally help me find the strength to get up on stage myself.
As a kid, it was Lucille Ball and Eddie Murphy.
In my 20's, it was any of the ladies who performed on Def Comedy Jam in the 90s: Sommore, Monique, Adele Givens, Wanda Sykes all of them were mavericks.
Now, I like to put on old comedy records to keep the inspo going: Moms Mabley, Totie Fields, Lawanda Page, the dirtier the better!
What single word always cracks you up?
Loquacious. I cannot say it without doing a body roll.