Top 10 podcasts you probably haven't heard of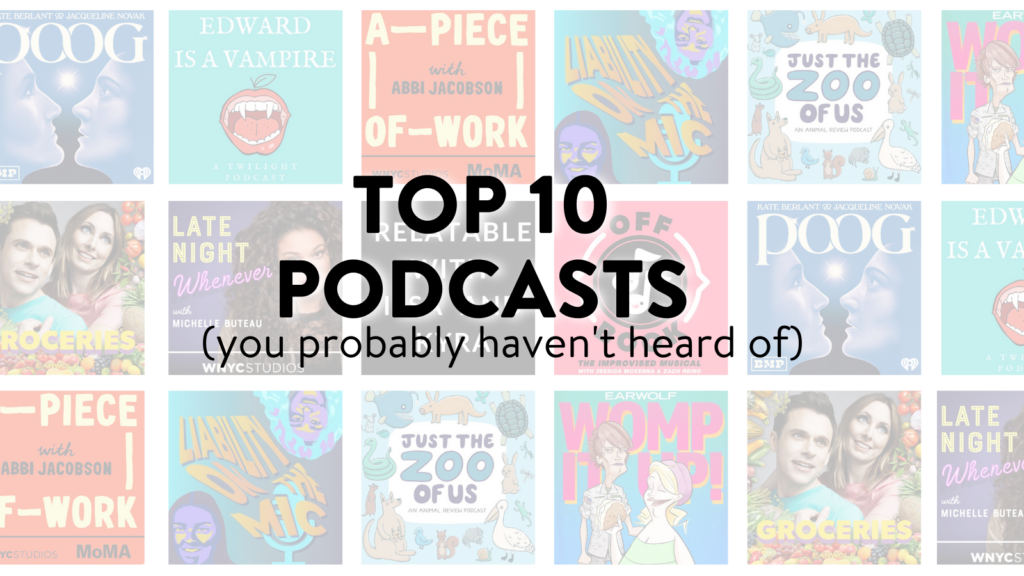 The land of podcasts is vast and foggy. Ahead of my workshop on How to Launch a Podcast and #BuildYourBraind, I wanted to shout out a few of my favorite goofy pods! Without further ado, here are the Top 10 Podcasts that you've never heard of.
I'm starting this list off with a sort-of-cheat. You may not have heard of Poog yet, but it feels like it's only a matter of time. It's a brand new pod by tour-du-force(s) Kate Bertlant and Jaclyn Novak. Wow. I'm already obsessed and I know you will be too.
This is my podcast!!! Is this a second cheat? Maybe! Join me and my best bud, Chris, as we return to Twilight and have a whacky, ridiculous time. We're reading the books, watching the flicks, and discovering the dark underbelly of Stephie Meymey's brain.
Do you like animals? (The easiest Q to A that I've ever typed.) This sweet and silly podcast is all about rating the crazy animals their listeners love. This is the kind of podcast that I love because the perfect podcasts should be silly.
A throwback! Led by Abbi Jacobson (IKR?!), this is a sincere podcast about Art! It's co-produced by MOMA, herself, so the art here is modern and real. Abbi brings her comedy friends and art inspirations together into this lovely podcast that taught me plenty about art (and life).
Michele Buteau's late-night-style podcast defines the genre, for me. She makes a great argument that the next great Late Night show should hurry right into her capable hands.
Every pair of funny friends thinks they should start a pod. Carmen and Liz are the few that are completely correct. This podcast is so recklessly fun! You're missing out if you haven't yet subscribed.
Iconic BFFs Lennon Parham and Jessica St. Clair are the rocks of this improv pod. Your favorite comedy nerds will guest on this podcast as weird characters that can hop in and stand up to Lennon and Jessica's crazy characters.
I love listening to this podcast on the train. The team improvises a full musical with guests (improv and musical nerds alike) each episode. My favorite episodes sound like Wicked because a former Elphaba is still in the zone. It's a joy!
Nerds, rejoice! Whether your thing is the MCU, Star Wars, or comics–these gals are doing the most for you. Their takes are fire and their vibes are chill (until they aren't, we love a Yelling About the New Trailer moment).
From the team behind Attitudes (formerly Throwing Shade), Groceries is my all-time favorite podcast. Erin and Brian visit and rate grocery stores. That's the whole pod. It's genius. It's hilarious It's totally worth the sub.
BONUS: Ba Dum Tess (COMING SOON)
GOLD has a new podcast coming out this year! As the kids say: watch this space!
---
Maggie Scudder runs the Editorial Content at GOLD. She is a writer, comedian, and NYC transplant. On her podcast, Edward is a Vampire, she is staunchly Team Rosella (RosalieXBella); on her TikTok, @wereplayinggames, she is very competitive. She loves sourdough toast, walking on boats, and the rule of threes.