Yvonne Orji's 'Bamboozed by Jesus' is the life advice all young creatives need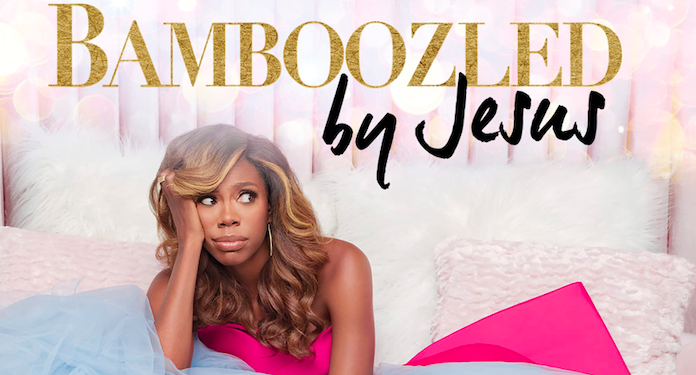 Ironically, Yvonne Orji's "Bamboozled by Jesus" came to me, a non-Christian, at the exact time that it was meant to. Let me explain. I just graduated college, and am about to move to a new city, completely uprooted from the (often harrowing but sometimes good) realities of being a full-time student. In essence, I am transitioning into a great unknown, one where the fears often supersede the excitement. Perhaps it is just entropy and sheer chaos that guides this universe! Who knows?! But I have decided that it is much more fun to see the world Orji's way—to believe that there are certain things that are meant to find us at certain times, and that all it takes is a little bit of preparation and openness for when they arrive.
In the book, Orji—best known for her role on HBO's "Insecure"—weaves together her personal experiences with her faith and trials and tribulations of her career, all with signature comedic flair. Though the events of Orji's life are dramatic and often tragic, her book remains hopeful, embodying the kind of flirtation with the future and its endless possibilities that only an early 2000s romcom could have. 
Even still, the book is firmly rooted in the realities of making those dreams of the future come to life. As Orji puts it herself, "I'm not the type of chick that'll give you advice like that friend you love to have…the one that doesn't challenge you, who pacifies you, and allows you to lie to yourself about your deficiencies….I'm more like the best friend you need to have. She's going to sound a lot like a no nonsense Nigerian aunty who doesn't have any time to waste and loves you too much to see you waste any of your own."
I often miss even the most basic references to Christianity simply because of how far my own Hindu upbringing was from that context. But Orji makes her work accessible to anyone who reads it. She says, "…if you don't subscribe to the whole 'Christianity' thing, that's cool. Get in where you fit in. Personally, my faith impacts my success and my life in general, so it's hard for me to separate the two, but I promise to keep an open mind and heart, and I ask that you do the same." 
And getting "in where I fit in" is what Orji makes it easy to do. In one of my favorite chapters of her book, she details a period of frustration in the starting years of her journey in comedy and entertainment. After a contract had fallen through, Orji's motivation tearing at the seams, it felt as if she had hit rock bottom. But, a year later, after having booked Insecure, when the same producers had tried to "wiggle way back into life," Orji said no. 
"They might have underestimated me before, but thanks to the pressure they'd applied, I was forced to flex my creativity in new and untapped ways," she writes.
The entire book is filled with gems of this kind, and it takes very little excavation to find them, even for someone who isn't as well versed in Christianity as Orji.
I write this essay in the middle of an empty apartment, with a U-Haul in my driveway packed to the roof with the last four years of my life. I have no idea what my next year is about to look like, let alone the next 24 hours. All I know is that I'm moving away, and taking risks on myself and my own future to enter the same industry that Orji pivoted to at the age of 25, not too long ago. There is no denying the trepidation, and uncertainty, but Orji's words have affirmed my decision to bet on myself, and take chances outside of what is conventionally expected of me. And that? Is a miracle! The kind that Orji seems to find everywhere she looks.
---
Check out the book in our bookshop!