The friendliest open mics in the world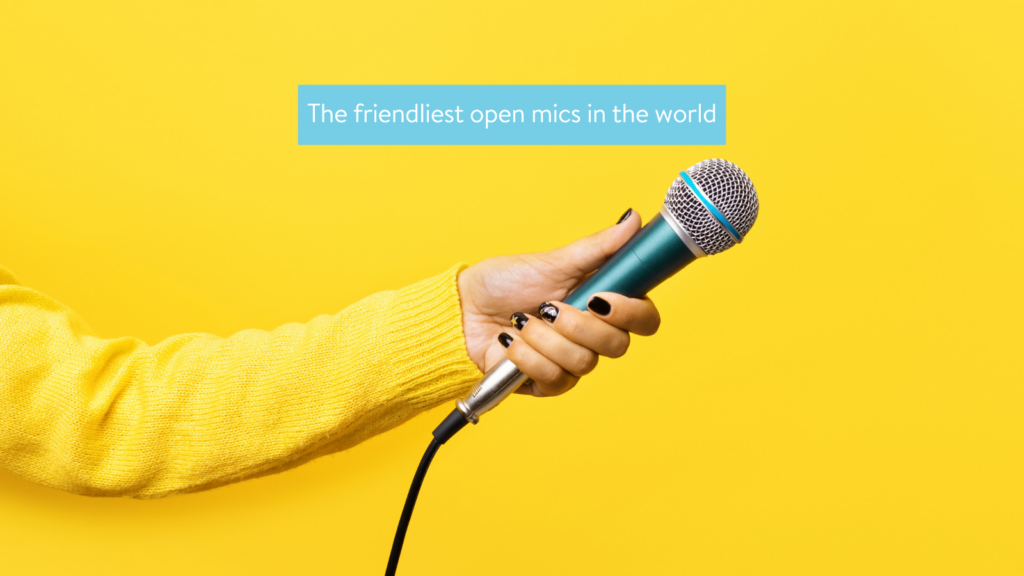 Here's the deal, folks. Sometimes open mics aren't the best. But, when you finally find a great, welcoming open mic, it becomes like a little comedy home away from home. So, we're compiling a list of open mics that are safe and friendly–specifically to women, non-binary and queer folks, people of color, and people of all ability statuses.
So, if your favorite mic isn't accounted for, please SHARE THE JOY! There's a form at the end of this list that will allow you to send your answers right to me. Please share your crunchiest granola, safest, happiest mics!!
Plus, wherever you are, you're welcome to join GOLD Comedy's open mic for members! We host THE friendliest open mic (bias? I have never heard of this word?) you'll ever attend. It all goes down on Mondays @ 6pm ET in the GOLD Club. 
Without further grand-standing, here are the friendliest comedy open mics in the world:
---
INDIANA
Comedy Attic – Bloomington, IN
The Comedy Attic in B-Town is where I first fell in love with the idea of standup. Bloomington already has a great reputation as the happiest and safest little bubble in Mike Pence's home state. Add the Comedy Attics STELLAR reputation (this is real, traveling pro comics love this spot), and you've got a Thursday night worth scheduling into your week! Great mic 10/10 recommend. – Maggie Scudder, @maggiescudder
---
MASSACHUSETTES
The Fabulous Sunday Funday Open Mic at Jacques Cabaret – Boston, MA
I LOVE THIS MIC! It takes place in fabulous gay cabaret bar in Boston. It feels like a classic dive bar with the bar top, vending machines, and pool table but in the back there is a performance space fit with a stage, and a CATWALK—HELLO! The set up is great but the best part about this mic is definitely the host, Mitzzy Picardo! She is a gorgeous hilarious trans italian comedian who will make you laugh and feel at home. I love that she takes photos of every comic who performs and posts them on Facebook—adorable! I would definitely recommend this mic to women and my LGBTQIA friends! Sign ups are at 6 PM and the shows at 7. The name, Fabulous Sunday Funday Mic speaks for itself! I always have a great time here! – Kristina Feliciano, @kweenofcomedy
Gulu Gulu Cafe Open Mic Shindig – Salem, MA
They call this mic a "shindig" because the lineup consists of a variety of acts. Every Thursday At Gulu Gulu, you will enjoy music, poetry, and (if you're lucky and I'm there) COMEDY! It takes place in a cafe with food, drinks and the perfect cozy vibes. It has a great stage, fun crowd and an awesome host!
At 7 PM, everyone puts their name in a hat and when your name gets picked that's when you go up and choose your spot in the lineup. I love that system! Open mics can be so awkward when you don't know where the list is, so this is a great way to ensure everyone gets a fair spot.
This mic isn't the best comedy scene BUT it's one of the few mics in the North Shore of Massachusetts AND they give you 10 minutes of stage time! That is unheard of in strictly comedy mics! I find that performing standup in variety shows is fun because the crowd never expects it. They tend to be nicer crowds too—good ol' ego boost! Oh! And did I mention 10 MINUTES OF STAGE TIME?! If you're in the North Shore, New England area—Go to Gulu Gulu! Tell them Kristina sent you. – Kristina Feliciano, @kweenofcomedy
---
NEW YORK
Sour Mouse Tuesdays @ 6 pm – New York, NY
Sour Mouse is a fun venue in the Lower East Side right off the Delancey subway. There are pool tables, foosball, and a stage with couches and booths in the audience. It feels half-gallery, half-warehouse, half-Dave and Busters for adults. You'll get it. It's $5 for 6 min. The mic is mainly attended by women & queer peeps, even though everyone is welcome. The host is supportive and will always tell you what they thought was funny after your set. – Kelly Kenlon, @kelloggss4
Comedy Shop Saturdays @ 3 pm – New York, NY
From the outside, Comedy Shop looks like a small cocktail lounge/ brunch place, but if you go past the double doors in the back you'll find a small dark room with a stage and a mic. Yay!
This is a women's/LGBTQ-only mic. This is always refreshing because sometimes your jokes about Charli XCX & Four Weddings don't hit in rooms of only men. The host has high energy and always gets everyone hyped up, even if there are 6 people there. The fee is 1 item from the bar for 5 min. – Kelly Kenlon, @kelloggss4
Black Cat Tuesday/Thursday @ 7 and 9 pm – New York, NY
Black Cat is cool because it's in a coffee shop on the Lower East Side. So if you're a ~teen~ comic you'll have no problem getting stage time here. That said, the sign-ups for this one go quick, so your best bet is to click here and sign up on Sunday. OR you can always walk in. It's $5 for 5 min. And the host is incredibly nice. Very supportive vibes in the room. And she will most likely laugh even if you are doing terribly. We love that. – Kelly Kenlon, @kelloggss4
Karvouna Mezza Mondays @ 8 pm – New York, NY
A fun mic in a Greek restaurant in the East Village. It doesn't matter if there are 2 or 20 people, the host of this one makes it fun and does a good job of keeping the energy up. They also Livestream it so you can watch yourself back on their website the next day (helpful!) It's $5 for 5 min, and they have a $10 drink & gyro special for comics. Hell yeah. – Kelly Kenlon, @kelloggss4
St. Mark's Comedy Club Wednesdays @ 5:30 pm – New York, NY
In the back of VSPOT on, well, St. Marks–this club is a little bit hidden but that's part of its charm. If you know, you know. And now you know. The club has a classic comedy brick wall and the host (same as Sourmouse) very much encourages women to come so you get a more even room. Aka just not 11 straight white dudes and you. Which is a lot nicer! It's $3 and a bar item for 5 min. – Kelly Kenlon, @kelloggss4
Phoenix Bar Tues/Weds/Thurs @ 5:30pm – New York, NY
I have a special place in my heart for Phoenix. Phoenix is my room to fail (you need one of these). Whenever I have new material, I try it here first. It's a small gay dive bar in the East Village off of 1st Ave. The room itself is small but loud even when there are only 6 people there. Phoenix is the definition of a supportive mic. I know I can go there and read directly off my notebook if I feel like it, or just tell a story. It happens Tues/Wed/Thurs at 5:30/6ish. $3 for 5 min, but sometimes you get 7. The hosts will cheer you on, even if they don't know you yet. – Kelly Kenlon, @kelloggss4
Open Flame – Brooklyn, NY
My first time performing standup IRL (not virtual) was at Open Flame's open mic. This is a queer open mic that allows sign-ups online. The mic took place in the back of a very cool, very cute gay bar in Brooklyn. When I went to this mic, there was a lineup of 20 queer kids and we all got 4 min. The vibes were top-notch and friendly. No hecklers, no mean dudes, just asymmetrical haircuts and daddy issues. – Maggie Scudder, @maggiescudder
---
Is there a mic we are missing? Please let us know: