A Local's Guide to Boston Slang: Saint Patrick's Day Edition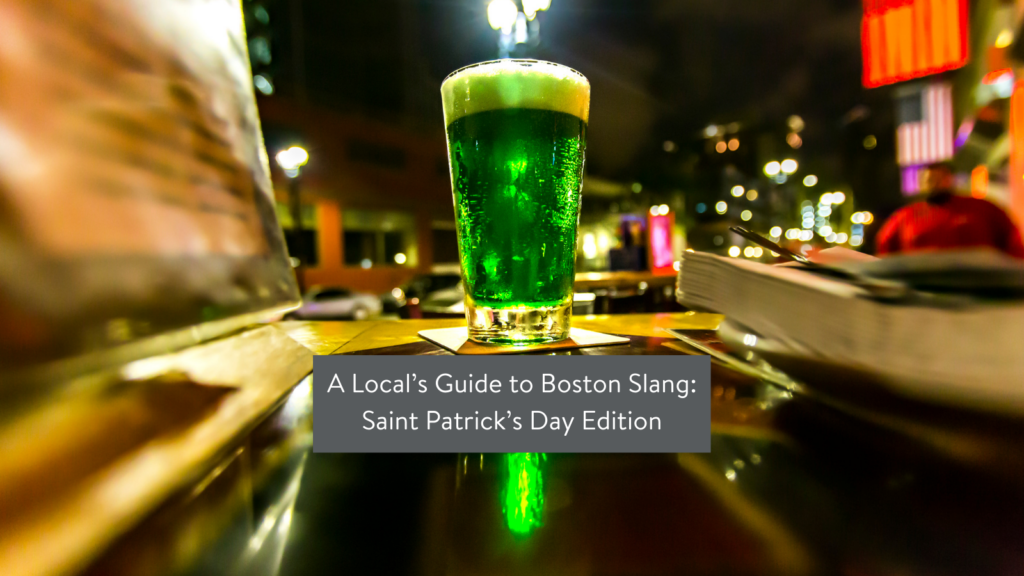 It's Saint Patrick's day, and in the great city of Boston that means we're celebrating. Boston has a reputation for three things: sports, Kennedy's, and St. Paddy's day.  Some other cities might try to claim this mighty, drunken holiday as their own, but we all know where it's the best. Right here in Titletown. For those of you comin' up from the Cape to partake, we've compiled a list of terms you outta know. You don't want to sound like you're from Connecticut, do you? No SUH! Anyway, here's the list.
Wicked: Very. As in, "High of 50º? Leave your jacket, it's wicked warm out."
Rippah: A party. As in, "You guys comin' to the rippah with Uncle Mark's kids down in The Dot?"
Packie: The store where you pick up a keg of Bud Light before a ripper, or a keg of Jack's Abbey if you're a yuppie living in Somerville.
Bang a Uey: Make a U-Turn.
Bang a Quick Uey: Make an illegal U-Turn, you always forget about that one-way.
Bang a Real Quick Uey: Make a very illegal U-Turn, you always forget about that rotary.
Kid: A term of endearment. As in "Toss me a Miller High Life, kid."
Irish Goodbye: When you get up and leave the party without saying goodbye. Sentimentality is for the Italians.
Boston Irish Goodbye: Not speaking to Jackie (Mark's kid) for fifteen years. That toaster oven was supposed to go to you and she knows it.
Irish Catholic Goodbye: Leaving with a heart full of quiet shame because you went to a ripper instead of mass. Head straight to the bar to drown your shame of feeling guilty in the first place.
The Green Line Expansion: A Guinness with green food coloring that somebody puked up onto the floor of the Orange Line.
This Frickin' Guy: Literally anyone.
Pissah: Good. As in, "This frickin' guy's wicked pissah."
Boston Handshake: A punch in the face, followed by a round of Sam Adams.
Outta Townah: Some chowda-head from Pawtucket who can't take a friendly Boston Handshake.
Dunkies Iced Coffee Regulah: Something to throw at an Outta Towner when they DARE claim Rhode Island started the American revolution.
Emerald Necklace Expansion: A Guinness with green food coloring that you puked up onto your Jason Tatum jersey.
Boston Irish Catholic Goodbye: Getting kicked outta the bar for Pedro-Martinezing your Dunks at that frickin' guy. Briefly consider going to confession.
Townie: Your priest, your mom's friend Barbara, your family's next-door neighbor of fifteen years; all of whom will be giving you such an earful on Sunday.
One if By Land: Setting your friend's Corolla on fire because the Celt's won yesterday.
Two if By Sea: Setting your friend's Corolla on fire because the Celt's lost yesterday.
Hangin' at Paulie's: Drunkenly singing the B's goal song outside Paul Revere's house. You are allowed to cry.
Emotional Support Animal: A Boston terrier that nods at you stoically as it hands you a beer.
---
Gwen Coburn is a comedian who combines feminism, comedy, music, feminism, theater, and feminism. Sometimes she shakes it up, combining mental wellness and feminism. Her one-woman show, Sad Girl Songs, premiered at the pit solocom 2019 and can be seen at the upcoming women in comedy festival. Her writing can be found in many publications including Mcsweeney's internet tendency, Slackjaw, and the Belladonna.
Emily Knapp is a Colorado-based writer and comedian. She is originally from Chicago but fled west because she really likes seeing the sun in February. Her writing has been featured in McSweeney's, Slackjaw, Points in Case, Weekly Humorist, Button Poetry, and other places on the internet. You can find her in the mountains writing, hiking, running, or skiing. If she's not doing any of that, she is 100% eating tacos. You can follow her writing at emilyknappwriter.com.