Stylish Tables to Accent Your Home and Flip in Rage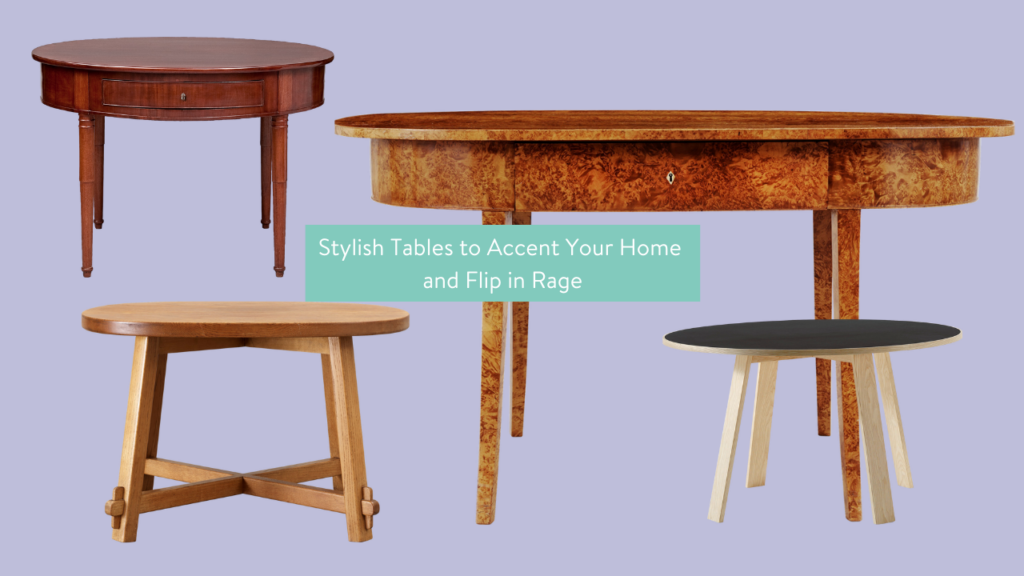 Restoration Hardware Balustrade Salvaged Wood Table ($1,488)
The 100-year-old pine in this baluster table has seen a lot. It bore witness to Jim from marketing telling you that you need to work on your tone and body language in meetings. The rough-hewn distressed planks are lightly sanded for a comfortable grip and immediate table-flipping as soon as your Zoom camera is off.
Article Round 30" Walnut Dining Table ($699)
Gaze at the calming pattern of this table's stunning sunburst wood veneer top after you remember your boss's latest "joke" yesterday about your body and how he just can't say anything around women anymore without getting in trouble. This four-seater, with its sculptural solid wood legs, will provide an elegant, sturdy flipping experience for processing your rage. When returned to its normal upright position, it's a nice level surface for typing up another useless complaint for HR.
Restoration Hardware Marble Plinth Coffee Table ($3,483)
Sure, this Italian Carrara marble behemoth might be more suited for a vampire's lair, but have you seen that natural veining? It's unique to each table, just like each daily catcall. Coming in at a whopping 583 lbs., this slab is perfect for gathering your crew of strong, independent women for a collective table flipping. Bonus: Use this marble mountain as a sacrificial altar for the souls of men who say, "How about a smile?"
Pottery Barn Burrows Steel Rectangular Propane Fire Pit Table ($3,999)
Finding the perfect accent piece to complement your outdoor decor and burn the patriarchy to the ground is hard work. That's why this sleek, contemporary fire pit table is perfect for torching oppressive societal structures and making your reclaimed wood patio beautiful. Plus, this incredible piece is weather-resistant, so you can flip this bad boy during any season.
Anthropologie Oscarine Lucite Coffee Table, Rectangle ($898)
The reflective Lucite surface will allow you to clearly see the tortured contours of your screaming face as you read about the collective debilitating financial and career losses for working mothers throughout the COVID-19 pandemic in a country that lacks a social safety net. The gleaming brass base and legs will catch the waning afternoon sunlight and hold strong for multiple flippings, with its Deco-inspired lines equally beautiful upside down.
Pottery Barn Cori 10" Round Recycled Glass Accent Table ($199)
This hand-poured, forged-iron petite table has been your rock in this emotional rollercoaster of a country. Need to gasp and flip a table after reading about the flagrant attacks on trans kids? This table's here and it's queer. Need to throw the whole table through a window after Roe v. Wade gets overturned? This stylish, handcrafted beauty loves shattering the glass ceilings and your large bay windows. When not in pieces, it's also perfect for holding a chilled glass of chardonnay.
West Elm Portside Outdoor Textilene Chaise Loungers & Umbrella Side Table Set ($359-$799)
This relaxing, stylish set combines two things we love: sustainably sourced materials and the ability to recreate Marissa Cooper's poolside meltdown scene in the season 2 premiere of "The OC." We think the set is ideal for flipping and tossing into a nearby pool when you read that the newest UN Climate Report confirms we are careening towards an unlivable planet and all the pools in the world won't be able to prevent heat-related deaths.
Crate & Barrel Beton Oval Concrete Coffee Table ($899)
Beton is French for "concrete," just like "Je jetterai cette table" is French for "I am going to flip this table." When your rage could overturn mountains, this heavy-duty cement unit is just the ticket. Particularly useful for existential-level table-flipping needs, such as the climate crisis or the rise of fascism in the U.S., this textured, flat-topped elliptical table will require your full strength to flip. Honestly, it's so heavy that you might not even be able to flip it at all, not even if you have people helping you, and could even get crushed underneath it … which unfortunately is a metaphor.
---
Jessica F. Lillian is a writer, editor, and houseplant collector based in the New York City area. She is a contributor to The Hard Times and has had humor pieces published in The Belladonna, Slackjaw, Points in Case, and many other outlets. More at jessicalillian.com.
Emily Knapp is a Colorado-based writer and comedian. She is originally from Chicago but fled west because she really likes seeing the sun in February. Her writing has been featured in McSweeney's, Slackjaw, Points in Case, Weekly Humorist, Button Poetry, and other places on the internet. You can find her in the mountains writing, hiking, running, or skiing. If she's not doing any of that, she is 100% eating tacos. You can follow her writing at emilyknappwriter.com.