Finally! An anthology of funny women for comedy nerds everywhere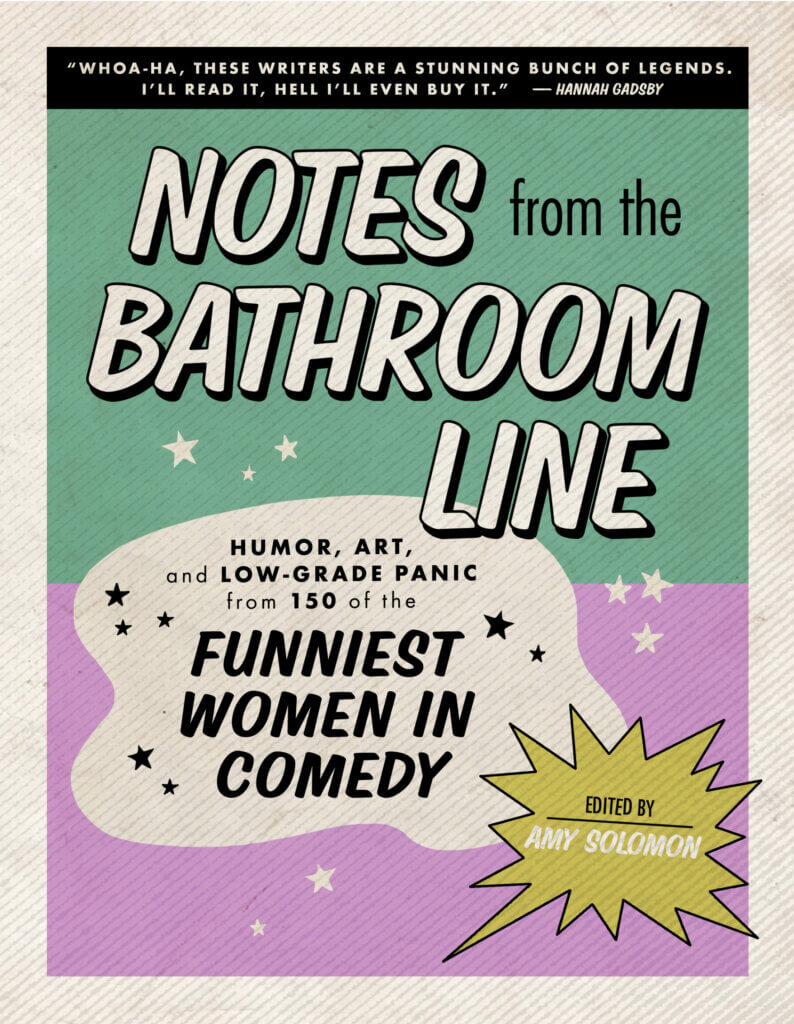 One night in the Before Times, I went to the Comedy Cellar with a friend. Midway through the show, she asked, "Do … women not perform here?" I double-checked the announced lineup. The only woman was Michelle Wolf, who sadly did not show. I STILL LOVE YOU, MICHELLE. But WTH, Comedy Cellar? One (or zero) woman on a lineup: I thought that was just a stereotype, a relic from olden times. Where were all the women? I follow them on Twitter! Why weren't they there?
I'm happy to say I (and you) can now find a ton (150) of them in the same place: the new book Notes from the Bathroom Line: Humor, Art, and Low-Grade Panic from 150 of the Funniest Women in Comedy (Harper Design, March 2021).
"It kept bugging me—where was the next collection of humor by women? Selfishly, I wanted another,"editor Amy Solomon writes in her introduction. "Women were publishing brilliant things individually, but I wanted them all in one spot." Yes! I felt the same way. And now we've got it. 
Normally, when I see funny tweets or funny writing by women, I do what we all do: laugh, favorite, send to a friend, bookmark it deep into my laptop. This is like that, but a book! A physical thing I can point to and say, that has a bunch of funny articles from the internet I forgot to save! 
And it's more than that. Notes from the Bathroom Line has a little of everything: long and short essays, comic strips, artwork, replies to prompts. It almost feels like a variety show with standup, sketch, and improv, or like your coolest friend's zine, if she had a massive budget.
Sneak peek at some of my fave bits: 
"Rom-com Job Listings" by Ayo Edebiri:
Job Title: Bookshop owner, sort of, kind of? 
Company: Self-employed 
Location: Upper West Side, New York 
Description: You'll inherit this shop from a relationally distant but emotionally close family member. It's been running for hundreds of years and is a gem to the community, but the whimsical nature of this family member makes the inheritance a bit trickier than initially expected–you won't be able to fully inherit the shop unless you fall in love.
Karen Chee's "Reason Why My Mother Is Calling": 
Someone we don't know but with whom we have mutual friends, has died, and for some reason that needs to be brought to my attention. 

Someone we hate has died, and we cannot gloat about it, but isn't that something? Hm? That's really something isn't it? 

Someone said something unforgivably mean and they are dead to her now. 

Someone will be dead meat when he comes home after work because he left the heater on again before leaving home this morning so a lot of energy was wasted. 
And oh, those prompts! 
Example: "What's a song/movie/book that an ex ruined for you?"
Aisling Bea: "Can I cheat here and say a scented candle that I really like? It's an expensive Diptyque one, which is SO LOVELY but is now the SMELL OF SADNESS. Lots of people light it for special occasions and it brings back all the hope and optimism of the relationship and the sadness of that being false. Fuck you, DIPTYQUE!"
And Sunita Mani: "Oh, I've always thought all my exes had better taste than me and I've cherished the books and songs I've glommed into my personality because of them omg am I still in love with my ex?" 
This book transported me. It brought me back to all those comedy shows in bar basements on the Lower East Side or somewhere in Brooklyn, to having a cider or two at the Bell House and watching comics present, to seeing shows with smart (and only) women performing. I miss those.
It's also like having a conversation with all the people I follow on Twitter that I want to be friends with. That was my favorite part of those small shows. They were never flashy. They were fun because they were personal. Every time I left one of those shows I always hoped I would run into one of the comedians at the bar (or the bathroom line!). This book gives off those same feelings. It's so comforting for a moment like this. I like art that says what I'm thinking. Isn't that the whole point? "Notes From The Bathroom Line" does what every piece of art—and comedy especially—should do: it makes us feel less alone.
---
Buy the book here, and check out our book list of books by and about women!