25 funny things to do during quarantine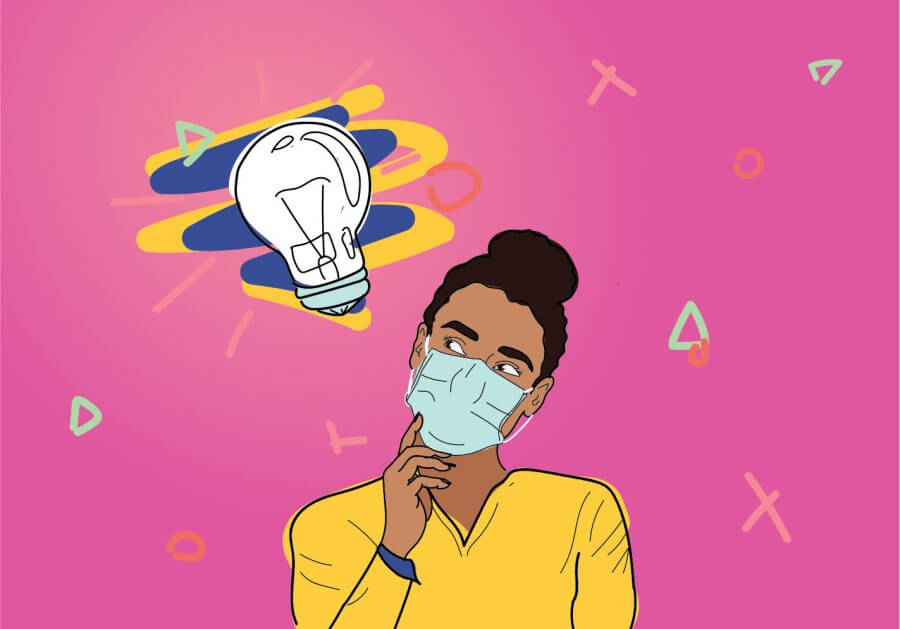 By Kaitlin Goldin
Let's face it: as we inch toward month four of quarantine, life is getting real boring, real fast. You've watched every Oscar-winning film in history AND all 89 seasons of Gilmore Girls (again), you've heard the weird aunt you're trapped inside with tell her "Did I tell you how I almost met George Clooney?" story every single day, and you've tossed your knitting project into your sourdough starter. Although some businesses are slowly opening up, camp is down the drain for the summer, and school/work are still up in the air for the fall. The day-to-day is a big huge drag (and not the RuPaul variety).

But hope is not lost! Fight your cabin fever by diving into the world of comedy, where there is always something new to keep you laughing. Why not use some of the waaaaay too much free time you have to replenish your Vitamin C(omedy)? Here are 22 things to do to help you find the funny this extra special summer.

While your family is out on a walk, decorate inside for Halloween or Christmas decorations. Holidays are fun, and time is a flat circle!
Halloween alt: Haunt your house by leaving creepy notes in the steam on your mirror, flickering the lights, and moving objects from across the room with invisible string. 
Play this hilarious Press Briefing drinking game. Or, if the kids are around, play a game of Press Briefing Bingo.
Paint one wall in your room lime green so that your Zoom background is flawless.
Perfect the family recipe as proof that you could be your parents' favorite child if you really tried. 
Start a cult. Everyone is looking for connection right now! 
Cope with your loneliness by drawing a face onto anything that looks remotely human. Your light switch. Your ceiling fan. Your child (wait…). 
Turn your home into a capture the flag war zone. Divide your family up into teams with themed names like Lysol vs. Clorox or Fauci vs. The World. Bonus points for costumes. 
Hold a pie- or hot-dog-eating competition over Zoom or with your fellow prisoners. These are now socially acceptable activities for any day of the week, according to me.
Play an online version of Cards Against Humanity with a group of friends PLUS one wild card (Grandpa Howard). 
Invent a new cocktail (or mocktail) and get your family to guess the formula. Extra credit: Do Hippy Hippy Shake. 
Join the always funny folks at Second City online for drop-in improv classes. 
Take the time to master a cool party trick, like making a flute out of a straw or applying lipstick with no hands like Molly Ringwald. Mine is being able to recite 100 digits of pi, so I've already taken the coolest one. Sorry. 
Start your own podcast, like so many funny ladies before you. Listen to 2 Dope Queens or My Favorite Murder to get your creative juices flowing. 
Double down on the comedy intake by reading one of these memoirs by badass female comedians.
Borrow crayons, paint, and glitter glue from the kid of the house and create abstract art. See if anyone can tell the difference between your creation and what is on the MoMA website. 
Play dress up with your pets. They can only hate you for it so much. 
Make yourself cry a little bit by virtually riding all the Disneyland rides. 
Have a friend talk you through a blind makeover. 
Tune into Comedy Quarantine to end your day with a laugh and to support comedians whose performances were canceled due to the virus. 
Go down the Wikipedia rabbit hole. Search the first thing that comes to mind, then continue clicking links to new pages until you somehow end up reading about the correct orientation for toilet paper. (Yep, that entry exists!)
Call up your grade school rival and bask in how far you've come.
Create a hilarious display in your window or on your lawn to entertain your neighbors. Check out @themoorbears on Instagram for inspiration. 
Write funny notes to the people in your house, then stick the notes somewhere they won't be found for a while (like in the final pages of your brother's book, or in the toe of your roommate's ~sexy stilettos~). Who knows when the surprise will strike? 
Learn to write and perform standup comedy (you can do standup online!) with GOLD's online class (and community, and events, and open mics, and Q&As with celebs, and more!). Being cooped up with family, we all have a lot of material to work with. Now's the perfect time to find your funny. 
What's been making you laugh during quarantine? Tweet @GoldComedy to spread the funny!

---
Kaitlin Goldin is a writer, theatermaker, and storyteller studying at Brown University. During her time inside, she's been writing her first full-length play, taking a stab at stand up comedy, teaching a class on comedy and politics, and banging her head against a wall. You can find her on Instagram at @kaitlingoldin.