22 Best TV Performances of 2022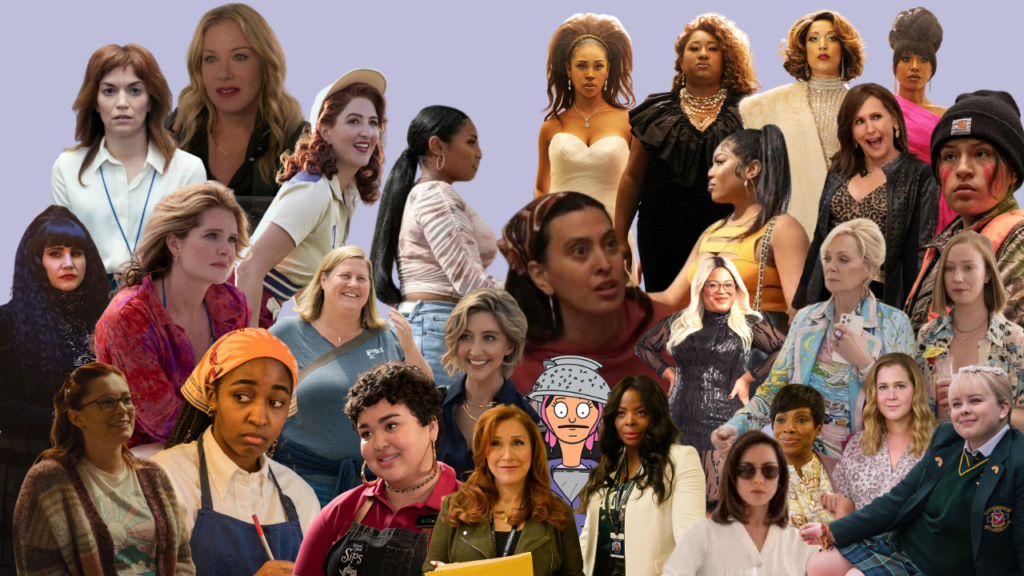 What a year! I feel like I start all these end of year lists the same way, but still: WHAT. A. YEAR.
In TV, we saw some very high highs (in budgets, literally) and some lowish lows (House of Dragon hit both the high budget and low morale). But, 2022 was also the year that I've gotten closest to my dream of writing TV. It's been a year that has brought more representation and diversity in storytelling. So, it's probably TV's best year to date. Even though Veep isn't on anymore! I can't believe it either.
My favorite show of the year was League of Their Own for all the obvious reasons and some secret ones. The best show of the year? For me, Severance takes the cake. But this isn't just about shows, it's about specific performances. So, without much ado about something else, here are the best TV Performances of 2022:
---
If hotness alone could win you a spot on this list, D'arcy would be here, all the same. But, thankfully we are very impressive and nonchalant reviewers. So it is by pure HIGH-QUALITY ACTING that D'arcy earns her spot on this year's list. A long way from her "not a girl" past, Greta is 100% cool girl. Everyone who watches this show will fall into deep para-social love with Greta Gill (see: Lesbian Horde), thanks in no small part to D'arcy's incredible portrait.
– Maggie Scudder, @maggiescudder 
It will be a cold day in Hell when I don't include Natasia Demetriou's performance as Nadja on this list. In my eyes, she can do no wrong. This character seems so deep in her bones. It's like she's doing me a favor by letting me watch a true master at work.
– Maggie Scudder, @maggiescudder 
Not all great acting is subtle, nor does it need to be. But 2022 was the year of softness, slowness, and subtlety. Paulina Alexis is such a kick-ass person, Willie Jack is the same. But their strength come from within, and that strength is a subtle one. You need only watch the clip linked above to understand why Paulina could very well top the list as BEST performance (singular).
– Maggie Scudder, @maggiescudder 
I was a holdout on SLOCG. But the moment Lila entered the first Sips scene, I was hooked. Ilia's performance is dynamic, off-the-cuff, and hysterical. She's a genius and a mastermind on screen. Put this chick in EVERYTHING!
– Maggie Scudder, @maggiescudder 
The dynamic duo is back and better than ever! Jean and Hannah have really hit their stride in the second season. There are big laughs, big fat tears, and treats for all the girlies who are as obsessed with this show as we are.
– Maggie Scudder, @maggiescudder 
Clare is precious to me. Since Derry Girls began, Nicola has gotten a much fancier gig–Bridgerton, wherein she plays quite an important role. Still, there's something natural and quite right about Nicola's performance as Clare. They feel alike and true together. This final season of Derry Girls was as anticipated as it was well-received. Nicola (and her fellow Derry Girls) deserve all their accolades.
– Maggie Scudder, @maggiescudder 
If you have a Twitter account, there is simply no way you've avoided spoilers about White Lotus season two. I know. Because I was an episode behind all season and I tried very hard. Regardless, the performances of Aubrey Plaza and Meghann Fahy ensured that what happened was far less important than how. I already claimed that 2022 was year of the micro-expression/subtlety/etc. Here is even more proof. Aubrey and Meghann are doing eyebrow acting, pupil acting, corner of lips acting–and every beat is incredible to behold.
– Maggie Scudder, @maggiescudder 
Phew! What! A! Show! Sure, society is divided on this bad boy (the show, not Nathan, though…) but I'm no boot licker! Anna Lamadrid's performance–while undoubtedly improvising–as Angela in The Rehearsal…is a revelation. This show satirizes reality shows, and the art of acting, itself. So, to perform this well under those circumstances–man oh man! Anna!!!! You did it, babe! You are responsible for some of the most poignant moments in this whole goofy and absurd show.
– Maggie Scudder, @maggiescudder 
LC, as I know her, is Keke Palmer's sister. But she's so much more than that! She's the only true reality performance to make this list! (The Rehearsal is in a gray area, don't you agree?) If you didn't watch Claim to Fame, sorry for the spoilers, but it is truly a joy! LC cons and sleuths her way through the season–including a touch-and-go moment when she and her castmates attempt to figure out if they are voting out Martin Luther King Jr.'s granddaughter. 
– Maggie Scudder, @maggiescudder 
If you're not watching Abbott Elementary—girl what are you doing?! I'm no TV critic, but I can say with my whole chest, Abbott Elementary is one of the best shows of our generation. QUOTE ME! 
The show is jam-packed with jokes that will make you laugh out loud and dynamic characters that are so full of life. While I love everyone on the show, this one's for the gals. First up, Lisa Ann Walter. Lisa first stole our hearts as Chessy in the 1998 classic, The Parent Trap. So it's so fun to see her play Melissa Schemmenti, a street-smart, tough-cookie, sports-fanatic Italian with a mysterious past. Don't mess with Schemmenti, she may be a second-grade teacher, but she knows a guy, who knows a guy, who's got a guy, who would break your legs if it comes to it. 
Sheryl Lee Ralph is perfection as Mrs. Howard (I respect her too much to call her Barbara). Mrs. Howard is a brutally honest devout Christian with years of experience teaching young people at Abbott. Her holier-than-thou attitude, mixed with her genuine kindness, makes for a great comedic character (and Emmy Winner!). 
Janell James' Ava Coleman is pure comedy. Ava is an irresponsible, self-centered, entrepreneur who hates to work and happens to be the principal of the school. Janell James is a standup, so of course, she knows comedy, but her delivery always makes me crack up AND rewind for seconds. Her character's a little selfish, but when the show gives her moments to show her more compassionate side, James nails it EVERY TIME. Lastly, the genius behind it all, Quinta Brunson. Quinta's Janine Teagues is so funny. She's an overly optimistic, bright-eyed, bushy-tailed teacher who annoys most of her collogues. 
I see myself in Janine. In fact, my big three are Janine, moon. Ava, sun. Melissa, rising. What I love about Janine (besides her sweaters and velcro shoes) is despite being a little naive, she cares so much about making Abbott Elementary a great place for her students. Of course, that doesn't always work out, but it does make for great comedy…and an Emmy!
– Kristina Feliciano, @kristinaiscomedy
A far cry from her guest spots on Inside Amy Schumer, Bridgette Everett shines in her new show. It's another soft-comedy, subtle, heartfelt, and at times quite sad. But Bridgette's effortless charm and humor–along with the natural chemistry with her costars–make Somebody Somewhere stand out. Her performance in this show carries the whole damn thing, there's no question. Worth a watch, there's no doubt.
– Maggie Scudder, @maggiescudder 
I would follow Molly anywhere, let's be honest. She is a north star for absolute, dead-stop, knock-out comedic acting. Have you seen Other People? The Other Two? Divorced? Great. Have you seen her in Vanessa Bayer's new, very whacky show? It's a workplace comedy about those working at an HSN equivalent. There are great performances throughout the entire ensemble. But Molly does her usual broken-woman thing to the Nth degree. As divorcee and minor celeb Jackie, she goes through a full-blown personality crisis–she's in debt (for something called Crystal Babies, by the way) and she is struggling to find her way out. Molly does this with such heart and depth, such levity and humor…there's no doubt that she's one of the all-time best in the game.
– Maggie Scudder, @maggiescudder 
Reboot was the surprise of the season for many of us. Frankly, it was downright fun to see Rachel Bloom in action again. Her portrayal of an intrepid TV writer and reluctant daughter, Hannah, is rock solid. She's the thesis statement of the show–a difficult role to fill. But she stands up–and even thrives–in this place. Reboot is laugh-out-loud, relevant, and more. The workplace comedy is BACK, baby!
– Maggie Scudder, @maggiescudder
She's a recent addition to the Hollywood Walk of Fame, an honor that feels a long time coming. Christina Applegate is a mainstay critic's darling–a comedic acting tour de force. After going public with her MS diagnosis, the final season of Dead to Me feels especially significant. Her final performance as Jen is as meaningful as it is cathartic, as strong as it is vulnurable, and as necessary as it is affecting. Brava! A true gift for us, her fans.
– Maggie Scudder, @maggiescudder 
I love Ayo! I'm used to seeing her tell jokes as the awkward, anxious, and silly standup comic who is totally "a weed girl." So seeing her cast as the hardworking new chef, Sydney Adamu, on Hulu's The Bear was a lovely surprise. If you haven't seen her work on The Bear, you must! Ayo's performance as Sydney is earnest and relatable. Her character desperately wants to be a good chef but is thrust into a rundown family restaurant with tons of drama and too many cooks in the kitchen. Ayo beautifully captures Sydney's dedication and love for the kitchen all while trying to keep it together in a place that's falling apart. Good TV! Great acting!
– Kristina Feliciano, @kristinaiscomedy
THIS SHOW IS SO GOOD. I will never stop singing praises for ABLSS. It is–without a doubt–without a moment's hesitation–one of the best sketch shows of all time. It should forever be spoken in the same breath as SCTV and SNL. No other show is producing this caliber of character performances episode after episode, sketch after sketch. Thede leads this cast with true and pure joy, which comes through in each performance. And the others follow suit, and shine in their own rights. Impossible to choose a standout among this kickass cast, and so I haven't. There isn't–and shouldn't be–a competition between these gals because they're all so so good. 
– Maggie Scudder, @maggiescudder 
There are no small parts. But if there were…this would be the smallest on the list. But, baby, Heidi is no small actor. She kicks this bit role in the butt. Cara is a fellow mom at a New York school who is always texting the moms about school activities. When confronted with the question "Why don't you text dads?" she spirals, eventually admitting that she has internalized misogyny to address (and that she is afraid that one text may lead to another and she'll accidentally sleep with all the dads). This sequence landed itself on our list because it is worth watching the whole damn show. Even if Girls5Eva wasn't fabulous, this minute-long diatribe would be worth watching every single episode.
– Maggie Scudder, @maggiescudder 
The Schumer-essence is upon us. You're either on board or not! I'm cautiously on board, myself. Her recovery during the Oscars was downright impressive—as is her down-to-earth, titular performance in Life and Beth. Compared to her usual pie in the sky sketch performances, Beth is grounded and her performance places her firmly in the standout category. Sad-com strikes again, but this time with extra -com. 
– Maggie Scudder, @maggiescudder
Severance is the show of 2022. I don't care what the award shows have to say on the matter. This show was gorgeous, brilliant, hilarious, scary, and right on the pulse, right in the pocket. I have a bad habit of coming into trendy shows a little late, because my roommates beg me to watch and I finally give in. It happened with Lovecraft country, and again with Severance. But I feel genuinely LUCKY to have caught up and to have seen this show. Lower's performance as Helly is completely awe-inducing. As her Outie, she is cold, calculating, dehumanizing, and cruel. As her Innie, she is just as calculating, but teaming with fear, angst, depression, suspicion, and very brief moments of joy.
This show is high concept and asks many questions—it reminds me of the first season of Westworld in its ambition. And damnit if they don't absolutely pull it off. And that's all thanks to the incredibly immersive  performances of the cast, led by Lower. She is able to bring out performances in actors like Adam Scott that make you appreciate them with new eyes. It's really something to see. Watch this show.
– Maggie Scudder, @maggiescudder
The only voice acting performance to make it on the list this year is no surprise to long-time Burger fans. Schall has been the beating heart of this very heart-forward adult animation for some time. But, this year she seems to have taken it up a notch. The timing and fierceness behind a character like Louise is hard to match. But somehow, Schall is able to come back and then grow—season after season. Once you zero in on the voice behind Louise, it is easy to hyper-fixate on Schall's performance. It's varied and nuanced—goofy and sinister, hilarious and deeply heartening. Need proof? Look no further than the show's latest Christmas episode. In it, Louise delivers a sincere poem (nary a mention of poop) about her family. You'll laugh, and if you're like my apartment, you'll sob your dumb little eyes out.
– Maggie Scudder, @maggiescudder
Are you sensing the theme that I've (ironically) not-so-subtlety inserted into this list? Bait brings the subtlety and the heart. There's no question but that this is a performer to watch. Their portrayal of Sabi is refreshing. Watching this show is like waking up from a Twitter-fueled nightmare to realize that the good folks have won. The work isn't over, but it's lighter and easier knowing that all the kindest, most talented, hottest, and smartest artists are on your side. This feeling wouldn't be possible without the effortlessly real performance Baig offers. It's a gift.
– Maggie Scudder, @maggiescudder
HBO's Rap Sh!t is SO GOOD! Issa Rae, you did it again! This show is filled with heart, jokes, fun, and BOPS! The story follows two long-lost friends, Shawna and Mia, who navigate the struggle of being a female rap duo hoping to make their mark in the rap game. Aida's performance as Shawna Clark is stunning. eShawna is a struggling rapper who loves the craft but hates the game. She rejects appealing to the male gaze and represents the poets of the rap industry who need more recognition. Unlike Mia, played by Miami-based rapper Alja Jackson, aka KaMillion. Mia is a single mom, certified schemer, and hype girl with bars that you want to repeat. Mia is all about getting her bag, being a bad bitch, and making hits for bad bitches. I'm not totally convinced Aja isn't just playing herself because she was MADE for that role. This unlikely pair beautifully illustrates the different sides of rap in a way we haven't seen before. Both Aida and Alja are so talented and funny together. A duo we didn't know we needed!
– Kristina Feliciano, @kristinaiscomedy