Gina Brillon knows thyself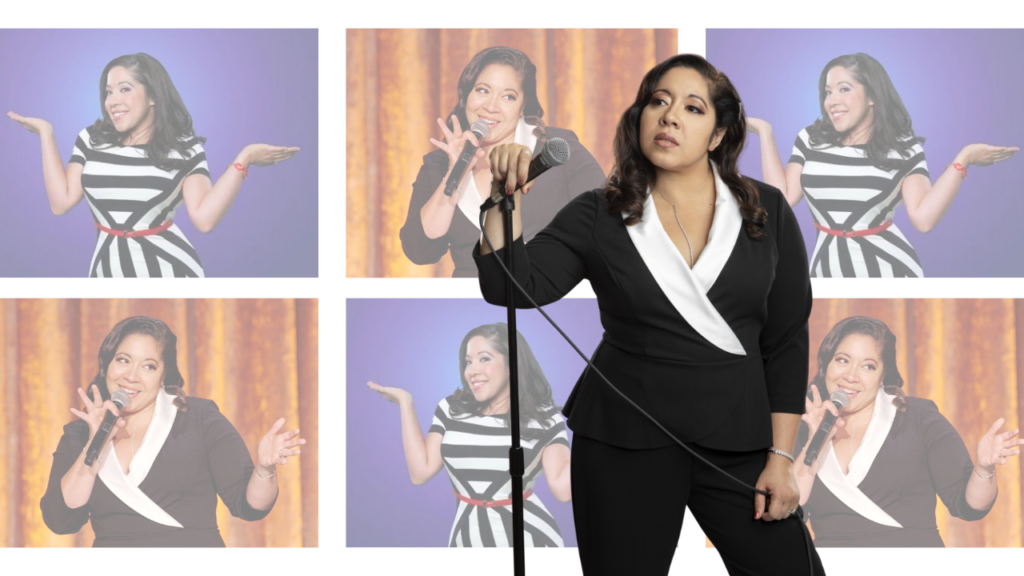 Gina Brillon was born and raised in the Bronx, New York. The Puerto Rican actress, comedian, writer and mom has been a standup comic since she was 17 years old. Her 1-hour special Gina Brillon: The Floor is Lava won a 2021 Gracie Award, is nominated for an Imagen Award, and is available on Amazon Prime Video, along with her first special, Pacifically Speaking. Her 1/2 hour special Easily Offended was one of the top shows from the Entre Nos franchise on HBO Latino, and streams on all HBO Digital Platforms.
She's made appearances on America's Got Talent, HBO Max's HA Festival: The Art of Comedy, Comedy Central's Live at Gotham, E!'s Chelsea Lately, The View, Late Night with Seth Meyers and Jimmy Kimmel Live. You have seen her on Kevin Can Wait on CBS and The Conners on ABC.
In 2012, she became the first (and only) Latina winner of NBC's Stand up for Diversity Showcase. The following year, she was a "New Face" at the Montreal Just For Laughs Festival. Gina is a singer, published writer, and poet. Her pieces have appeared in the New York Post and Daily News, among others. Gina and co-host Katherine G. Mendoza dole out advice on their podcast Mess In Progress: The Homegirls Guide to Self-Help.
---
What were you like as a teen? 
I was very shy as a teen unless you were in my inner circle. With friends, I was always joking and making them laugh.
Did you have an un-sexy starter job? 
I had several jobs. I was a barista for the longest stretch. I loved it! I gained a lot of life knowledge. All of my coworkers were from different countries and I learned a lot about other cultures which was amazing.
When you were coming up in comedy, what helped you stick with it?
My love for the art of comedy will always be what helps me stick with it. I genuinely love it
Have you ever dealt with online trolls? How did you handle it?
I normally like their comment. Trolls are not the smartest so this throws them off
On your deathbed, what transcendent advice would you croak at a young comedian?
Knowing yourself is the best superpower: know thyself.
Best comedy advice you ever got?
On conviction: "if you don't believe what you're saying on that stage, neither will the audience." I heard it from someone who said Chris Rock said that at a party once.
Worst comedy advice you ever got?
"You need a laugh every few seconds"
How has being funny helped you in your life?
In Jr high there were two bullies, a girl and a boy, and I made the girl laugh and so when the boy bully made fun of me in front of her once she got in his face and told him not to mess with me.
What is your go-to show or movie to watch when you have had a bad day? 
Christmas music always cheers me up, also Sister act 1 (and 2 of course).
What specific things can a young comedy writer do to shape their voice? 
Dig deeper than the obvious joke. Be like a child with yourself always asking "why" until you get to the root of what you want to say.
Was there one person who inspired you to go into comedy?
Not one, but two… and then many. First Brett Butler, then George Lopez, then Carlin, then Eddie Izzard and so many more. When I saw Brett for the first time I was blown away by her sharp wit and command of a room, with George his stage presence and comfortability on stage had me glued to the tv watching him. With Carlin it was always his fearlessness, Eddie Izzard his intellect.
Do you have a writing routine? 
I don't have a specific writing routine, I'm just always in thought or observing. So I record a lot of voice notes and jot things down throughout the day.
What single word always cracks you up?