22 Best Bits of 2022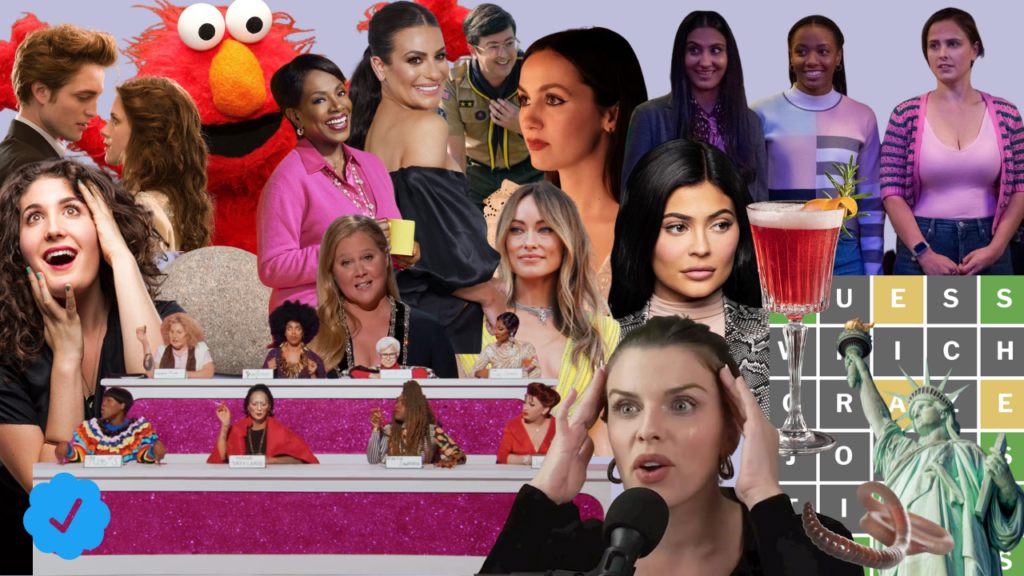 What! A! Year! 2022 was as messy as it was 22 years after 2000. Ya know? From the Gleek uprising to Twitter's near-constant fear of death, this was a grand ole time. We crunched the numbers and geeked out about all the best yucks, bits, memes, gags, giggles, and jokies of the year. So now, allow me to present, without further ado….THE 22 best bits of 2022.
---
This may very well be the Bit of the Year. Don't bother asking around, everyone who knows Lea Michele knows about this. It's pervasive and relatively harmless: the makings of a platinum meme. Personally, I love this bit. It's funny to me every time. The classic A-lister drabble that feels victimless because at the end of each day: Rachel Berry Lea Michele is just as rich and successful as she was before–much richer and more successful than plenty of her peers who CAN read.
– Maggie Scudder, @maggiescudder 
What can I say? If you get together with a group of people from New York, Philadelphia, Chicago, Boston, and Jersey, a fight is bound to break out. It seems every northeastern city is cursed with a God complex–perhaps defensive of their roles in the creation of America. (Not that this is something to be proud of, but it must be noted.) Chicago, of course, is not in the northeast, but as a girl who has spent ample time in the rest of these cities (Well, besides Jersey… because it's disgusting.) I am certainly able to state with all the confidence in the world that Chicago is the best city in America. Lest we get back into it, I'll just say that this debate was riveting, raucous, and riotous as Trina, Kristina, Maggie, and I (Tess Abedon, namesake of the pod, nice to meet you.) go toe to toe and nearly kill each other through our zoom screens. Plus the rest of the episode is great too.
– Tess Abedon, @abedon_tessa
Bodies Bodies Bodies was one of my most anticipated flicks of the year. The trailers did a great job of making this movie look hilarious and bloody and weird. When I finally watched the movie I wasn't disappointed! Sure, it just kinda…ends…but such things happen in comedy-horror movies! Regardless of the low points, the high points were OH SO HIGH.
– Maggie Scudder, @maggiescudder 
I know it goes without saying (but I'll say it every chance I get), Abbott Elementary is stacked with great bits. It's hard to choose just one! But Barbara Howard mixing up white celebrities, thinking they were Black, is pure comedy GOLD. Mrs. Howard is the auntie we all know and love. She's been there, done that, is besties with God, and has just the right amount of judgemental-ness (new word alert) in her tone to make YOU want to be better. That's why seeing Mrs. Howard be WAY OFF about something is just plain funny. The fact that none of her colleagues correct her makes the bit even funnier. And did you know this bit was inspired by a real-life slip-up from the Emmy winner herself when she mistook Orlando Bloom for a black guy? Oh, art, how you imitate life! I love it here!
– Kristina Feliciano, @kristinaiscomedy
The Twilight-issance has arrived. There is simply no doubt about it. Need some proof: What about the massively popular Twilight Renaissance Twitter account or the fact that I easily procured two Twilight-branded lighters? Still not convinced? Well, this year I saw Twilight live in theatres not just once, but TWICE. (Shoutout to the IFC Center!) This cultural touchstone is finally in the light, and we rejoice! 
– Maggie Scudder, @maggiescudder 
Listen…I don't know what more I can say about Kate Berlant and her special, Cinnamon in the Wind, that I haven't already said to literally everyone I meet on the street. It is truly impossible to use one example from the special as the best of the best, but the job requires itm so we arbitrarily choose this bit. It is, and I cannot emphasize this enough, just as iconic as the rest of the special.
– Tess Abedon, @abedon_tessa
We all knew Twitter would end up in flames when Elon Musk strolled into the headquarters with a literal sink. (???) And THEN he introduced Twitter Blue. Which, if you look it up, claims to be "a premium service that elevates quality conversations," but we all know it's just a chance for the little people (me) to pay monies just to have that little blue check mark that tells the world ~you're special~. Don't get me wrong. I've thought about the day that I get my blue checkmark, and people finally recognize me for the brilliant, gorgeous, spectacular, funny, hip, fresh, talented (and did I mention gorgeous?) artiste that I am. But there's NO WAY I'm paying 8 dollars a month for that.
It was never THAT serious. I mean, I have student loans AND Hulu without ads—I CAN'T AFFORD ANOTHER THING TO ELEVATE MY SOCIAL STATUS. And then when Twitter Blue launched…MAYHEM. But hey, it was funny seeing everyone pretend to be Elon Musk for a day. Lots of people had their judgments about this update. But the best take on Twitter Blue was from one of my favorite comedians, Jaboukie Young-white, who simply said, "got my $8 ready".
– Kristina Feliciano, @kristinaiscomedy
The meme heard around the world. This one baffles me. As a GAY™ and even a LESBIAN™, I know that I am betraying my people to say this. But this vid is completely lost on me. I'm so anti-House of Dragon, so this piece of (essentially) viral marketing did nothing for me. THAT SAID, I love love. And I am an ally. So I am more than happy to say that it's all quite charming and I'm sure super duper hot to plenty of hot people!! Bonus: within the OG video, there are a lot of hot moments! So for all the regular negroni drinkers/prosecco-haters out there, it is still worth a watch! 
– Maggie Scudder, @maggiescudder 
Unfortunately, I am one of the few, the proud, the brave, the boyfriends (I'm not a boy.) who told their girlfriends (my fiance) that I would not love her as a worm. Hell, I feel like I've been doing this with my lady for YEARS. But 2022 was really THE YEAR for worm girls everywhere. And fucking good for them! Build your dirt castles!! 
– Maggie Scudder, @maggiescudder 
In case you didn't know, Patti Harrison kicked off pride month in the club by coming for a live Q&A on Zoom. And not to brag, but I think we're besties now? Hard to tell. What isn't hard to tell is how effortlessly funny Patti is. She told us about getting her start in comedy, dealing with nerves and diarrhea, the inspiration behind her Dua Lip song, and more, all while sitting in front of a ginormous portrait of Kendall Jenner. Why? Because she's Patti Fricken Harrison, that's why! When asked about the huge picture of said model, Patti quickly replied, "Oh, this isn't a picture. This is actually a wall cutout, and that's her standing right there. Hi, Kendall!." We had a BLAST chatting with Patti. She gave us the story of the portrait, some practical advice, AND made us laugh the entire time. If you want to hear more about the mysterious picture and get inspired, I guess you'll have to join the club to watch the recap. 😉
– Kristina Feliciano, @kristinaiscomedy
Like the fact* that Lea Michele can't read, this is another highly viral meme that really has no victim. Sure, MAYBE you can argue that it is "bad" for "women" in "film." But also, can you really argue that? It's a whacky nonsense rumor mill of joy! Spit-gate was a GODSEND! The drama! The dim corners of every party in New York were filled with groups of cinephiles and PAs gathered and discussing the drama in hushed tones. A meme sent straight from Heaven for bisexuals–penance for all the badness God has put them through. 
– Maggie Scudder, @maggiescudder 
Wordle (and Wordle discourse) is was what kept my family together these past few years. I mean to say (1) we have a family group chat dedicated to it and (2) it is the only way that I communicate with Uncle Steve.
It's not hard. It is not a difficult game. Enter a five-letter word, and hope it has letters in common with the word of the day. But oh boy, does the internet make it seem impossible! Yes or no: do I include a rare letter in my first guess on the off chance it gets me closer? I have to have the fastest guess in my family group chat or I will not send my results! Once my sister guessed on the first go, the chances of which are 0.0077089115%.
– Tess Abedon, @abedon_tessa
Double the Snatch Game with a cast of all-stars, all-winners? It's a Christmas miracle! All stars season 7 was filled with some of the best performers in Drag Race herstory. There were so many memorable moments, but I think we all know who we're here to talk about. Before I get ahead of myself, here are some honorable mentions.
Raja is living, breathing art. Oh, Jaida Essence Hall, a queen who knows how to play to her strengths. Trinity's Leslie Jordan hits differently now. That performance was pure love.
And finally, the reason for the season (literally)…Jinkx Monsoon. She had us at Natasha Lynonne's "I quit smoking" joke, but she KILLED us with her Judy Garland's, "Well, it's a set Ru?". Jinkx's Judy Garland was a masterclass in comedy. From her comedic timing to her beautiful singing voice and physicality—it's ALL GOLD. The jokes were TIGHT! One of my favorite moments is Michelle Visage's reaction when Jinkx calls Ru "Broom"—hilarious. And, OF COURSE, it was such a delight to see Ru and Michelle's reaction when they caught the reference to Veteran Dave from season 5, who claimed to have killed Judy Garland. *MIND BLOWS INTO A MILLION BITS* Whenever I'm feeling down, I just look into the distance now and say, "Is that my camera?" and I feel all better again.
– Kristina Feliciano, @kristinaiscomedy
I was a bit of a holdout on Sex Lives of College Girls. Let's chalk it up to me being a snob. But when I finally watched, I was delighted. The show is edgy and sharp and laugh-out-loud funny. As the second season rounds to a close, it wasn't hard to identify this standout joke–but that shouldn't be a sign that the season was slow–quite the opposite. This joke was just that hysterical. Trying to get the attention of a new, hot "climate refugee" (another hysterical running gag), Kimberly spits out "Ow Ow! Big boy run fast!" And when I say I spit–I SPIT. That's just good jokes! I couldn't find a clip, so you'll need to believe me and watch the whole show for this. I'd consider it a personal favor. 
– Maggie Scudder, @maggiescudder 
Perhaps the biggest bamboozle of 2022 was Julia Fox making us believe she's just another actress/model. Julia Fox is the gift that keeps giving, the never-ending Russian doll, the *third reference about how she is full of surprises*. Did she know she would break the internet that day she pronounced Uncut Gems the way she did? The world may never know, but if it were up to me, I'd give her all the credit.
Sure, it was funny when literally everyone on the planet recreated Uncut Jahmns on Tiktok. And sure, people were definitely making fun of her, but what I love about Julia is that she has such a sense of humor. She responded to the viral meme by admitting she was stoned, saying, "leave me alone!!!" followed by lots of laughing emojis. I could write an entire thesis on why the world needed Julia Fox.
If Serena Vanderwoodson were a real person, Julia Fox would eat her for breakfast. Every time she pops up on my FYP, I comment to ensure I stay on Julia Fox Tok. Seriously, if you don't follow her on Tiktok–you need to. She is so smart, outspoken, humble, and FUNNY (see her acting challenges if you don't believe me). She's a mom, a fashion icon, and not to mention, a DIY queen! "I actually did it myself…yeah." In summation, Julia Fox is THAT BITCH.
– Kristina Feliciano, @kristinaiscomedy
I know you were sort of expecting us to talk about the slap. It was a lot of things, but the best bit of 2022? Far from it. However, the real MVP of the moment came in the form of Amy Schumer's surprising little joke afterward. This was the work of a true pro. It's soft, safe, and a little silly (see: spiderman costume). But the absolutely perfect palette cleanser. The world was holding their breath, and channeling all their feelings into lukewarm Twitter takes. We were BEGGING someone–anyone–to break the tension. Amy sensed it, found the right moment, and said just enough. Brava! 
– Maggie Scudder, @maggiescudder 
People of the world. I ask you, is there anything more attractive that a man getting in his protein? Yes. A man, doing it all in one sitting in the form of a Costco Rotisserie Chicken. Should that all be capitalized? You bet your ass. That's a proper noun. If you don't know, Philadelphia-based Alexander Tominsky took it upon himself to consume 40 rotisserie chickens in 40 days. Why? I mean…because comedy is dead? Consumption itself, now a joke? America needs something to agree upon without debate? More likely, however, is that the guy was just hungry and rotisserie chicken is delicious. Anyway, quit looking for explanations and numb your brain like the rest of us by watching an average guy eat a chicken.
– Tess Abedon, @abedon_tessa
As a theatre kid who LIVES for messy drama, Lexi's play in Euphoria checked all the boxes for me. Let's get into it. The production value? Stunning. The cast? Spot on. The drama? DELICIOUS. It was BOLD of Lexi to air out the whole school's dirty laundry (including that of her own family) but we're so glad she did. I loved all the Twitter memes about the insane budget of this school play and how excited the mom was to be portrayed by Ethan. (Justice for Ethan!) And even tho it's dramatic and sad when Cassie gets on stage and completely loses her shit by the time the mom comes out it's pure comedy. My favorite part, of course, is when Maddie starts chiming in from the audience. THIS WAS THE MOMENT WE'D ALL BEEN WAITING FOR! Seeing Maddie rush to the stage, taking off her shoes to fight Cassie will forever be iconic to me. Special shoutout to Vape Girl's line, "MADDIE BEAT HER ASS!" Ugh! What! A! Show! It's just everything I love in one, theatre, fashion, and bad girls club!
– Kristina Feliciano, @kristinaiscomedy
Boy oh boy! What a treat. There's no need for dessert today because you exist in this world–the one where Elmo and Rocko are feuding. No pomp needed, the circumstances gathering us here are enough: Elmo fucks and Rocko sucks!
– Maggie Scudder, @maggiescudder 
We recently had the privilege of meeting Kenice Mobley at our weekly Q&A in the GOLD club. Kenice is a GEM! Her energy is infectious! And not only is she funny AF, but she is also so smart and generous with her knowledge. She gave us lots of actionable advice, some insight into her creative process, and so much more. We learned a lot from chatting with Kenice, but my favorite moment was when she told us a bedtime story. In the final 3 minutes of the Q&A, Kenice goes off and tells us the entire folk tale about a princess who climbs up a glass mountain with special shoes. It was wild, funny, and somehow inspiring. If you know the tale, no you don't, because I guarantee you, Kenice tells it best.
– Kristina Feliciano, @kristinaiscomedy
One of the darkest chapters of 2022 is that of Elon Musk taking over Twitter. It's sad and bad. The silver lining? Everyone ganging up on that certified (and verified) man-baby by pretending to be him and saying stupid shit. Ah, the sweet glory of this absolutely bonkers hellscape-ian time to be alive!
– Maggie Scudder, @maggiescudder
So many useless goofs came out of Twitter this year. But this one makes its mark on our list because of how much actual Good it did. (Good with a capital G!) By parodying the Eli Lily corporation and announcing that insulin is free, this tweet absolutely wrecked Eli Lily's stocks. That's art, baby.
  – Maggie Scudder, @maggiescudder