How to write jokes: use our patented set of comedy "wrenches"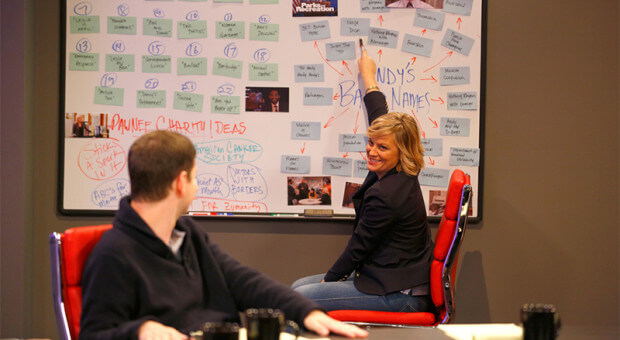 As you know, the punchline of a joke is the surprise. The switch, the twist. But what KIND of surprise? What direction is the twist?
Or, if you think of the shift from setup to punch as where the comedian throws a wrench into the joke, this is about what KIND Of wrench it is.
Let's look at the most common wrenches that comedians have in their toolkits. I'm using one-liners for the clearest examples, but wrenches are at work in almost any type of joke.
OPPOSITE wrench.
Emika: "I love to inspire people . I also love to see them fail ."
"I believe that each person can make a difference , but it's so slight that there's basically no point ." —Lauren Lapkus

These jokes go in the exact OPPOSITE direction from what you expected. (Inspirational/cynical; positive/negative)
WORDPLAY wrench.
"I got my hair highlighted , because I felt some strands were more important than others ." — Mitch Hedberg

Hedberg takes a wrench to the word HIGHLIGHTED. Highlighting hair turns into highlighting like you do with a book. So it's a good old fashioned wordplay wrench.
You could also call it an ABSURD wrench.
ABSURD wrench.
"I'm a lousy cook. I burn sushi." —Joan Rivers

Rivers uses an ABSURD wrench to how just how bad a cook she is, because you don't cook sushi in the first place.

You could also call this an EXAGGERATION wrench.
"So I met my boyfriend's parents recently, which stressed me out. Because he's white, so his parents are white. Hate when that happens. Why can't it just skip a generation?" —Phoebe Robinson

Phoebe Robinson uses an ABSURD wrench — race can't skip a generation — to underscore how un-psyched she is to meet her boyfriend's white parents, and generally how stressful situations like that are. "Hate when that happens" is also absurd. He's white because his parents are. It didn't just "happen."
EXAGGERATION wrench.
Sasheer Zamata, hating that women are expected to be un-hairy: "I found out that Native Americans would keep all their hair long because it helped them with battle and hunting. It made them more aware of your surrounding, and if something was coming to attack you you would feel it and sense it quicker. So if that's the case, women—of all people—should have ALL OF THE HAIR. We're at risk of being attacked just for walking out of our house. For safety purposes, I want to be Chewbacca-level hairy."

Chewbacca is as hairy as you can get. (Also a funny word.) Women will not actually get that hairy if they don't shave, so, exaggeration.

Here's GOLD student Romaissaa on her obsession with YouTube: "I can't breathe air without knowing my favorite YouTuber's opinion on breathing air."

Do we think that's actually true? No. But the exaggeration effectively illustrates her obsession.
UNDERSTATEMENT wrench.
"I broke up with my girlfriend. She moved in with another guy, and I draw the line at that." —Garry Shandling

He's using an UNDERSTATEMENT wrench because for him to "draw the line" at her OBVIOUSLY breaking up with him is a tiny reaction to a huge move. What's great here is that he uses that understatement to make fun of himself.
"I don't know if you've ever been sad on a roller coaster. It's doable." — Ryan Hamilton
DOUBLE DOWN wrench.
Thea: "I am not just a nerd . I am also a geek ."

You thought Thea was going to say I'm more than "just" a nerd. Instead she doubles down.

"I get so frustrated when people think I'm trying to look like Ellen Degeneres . It's so frustrating because I'm trying so hard to look like Nick Carter ." —Emma Willman

You expect Emma to to say she's frustrated because she's not trying to look like anyone! But she's like, I AM trying to look like someone. Just someone ELSE. (She's taking the wrench to "Ellen DeGeneres" rather than "trying to look like.")

"It wasn't that no one asked me to the prom. No one would tell me where it was." —Rita Rudner

You think she's going to say…LOTS of people asked me to the prom. But then she doubles down on not being asked. They hid the entire prom from her.
So, when you're writing a joke, you can look at your topic or setup and ask yourself: what kind of wrench could I throw in here? Play with different ones and see what works.
1. TOPIC/PREMISE. What you want to talk about…PLUS
2. ATTITUDE/EMOTION. How a person with your persona would feel about it…PLUS
3. TYPE OF JOKE. Which type of joke would best match what I want to say?
4. TYPE OF WRENCH. Which type of wrench will make the joke work best?