Mini Q&A with Corinne Fisher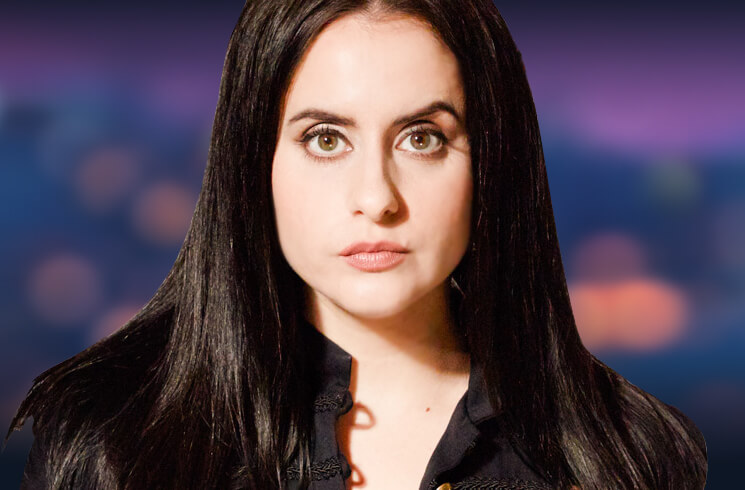 Corinne Fisher is one half of Sorry About Last Night…, her comedy writing and performance duo with Krystyna Hutchinson. In December 2013, the duo launched Guys We Fucked: The Anti Slut-Shaming Podcast that now boasts a million+ listeners worldwide. the podcast is consistently ranked among the Top 5 comedy podcasts on iTunes (but has reached as high as #1) and has been featured on The Huffington Post, The Daily Beast, Splitsider, and more. Over the past few years, Corinne has been selected to perform in the prestigious Boston Comedy Festival, the Women in Comedy Festival, The Laughing Devil Comedy Festival, the She-Devil Festival, and the prestigious Just For Laughs Comedy Festival in Montreal.
Favorite response to a heckler or troll?
I don't acknowledge hecklers or trolls unless absolutely necessary because that's what they want, they're there to gaslight. I treat them the same way I would treat a child having a temper tantrum — keep doing what I'm doing.
BRIEFLY describe your worst gig (noting that you survived).
It's comedy so every gig is at the same time the best and worst experience of your life. The worst one in recent history is where someone literally handed me a used hairbrush at a serious sit-down dinner party and told me it was time to "do my thing". Can you imagine doing that to any other kind of performer? It would just never fucking happen.
When you were coming up in comedy, what helped you stick with it?
Me. I wanted it. I still want it. You have to keep wanting it.
On your deathbed, what transcendent advice would you croak at a young comedian?
If you're serious about being a comic, you should be comfortable identifying as a comic before anything else.
What's your first impulse when someone says "women aren't funny"?
To find out what experiences they've had to make them think that. I certainly don't believe that to be true, but also that notion doesn't come from nowhere. Instead of sassily telling someone with that belief off, I'd like to truly get to the root of their thinking and nip it in the bud once and for all.
Best comedy advice you ever got?
"Don't hate yourself in front of the audience. Go backstage and hate yourself." -Will Hines, teacher at UCB
Worst comedy advice you ever got?
"Don't talk about fucking guys so much." -old dude club owner who shall remain unnamed
How has being funny helped you in your offstage life, either recently or when you were younger?
Being funny has helped me charm my way into jobs and get me out of trouble, but it's also definitely lost me jobs and gotten me into a ton more trouble…
Favorite response to "What's it like to be a woman in comedy"?
I've been asked this so much and honestly it's just like being anyone else in comedy — fucking miserable.
Was there one person who inspired you to become a comedian?
There were many, but I was deeply inspired by John Leguizamo's one man shows. I had never seen anything so real, so raw, and so narcissistic — I thought to myself, "that's what I need to do."
For standups: what advice do you have for how to level up from open mics + bringers to actual SPOT-spots?
Be out on the scene every night — whether you're on stage or in the audience supporting your fellow comics. And produce your own show (just make sure you do the work so that audience shows up, creating a Facebook event is only one small part of running a successful show).
Feelings about the word "comedienne"?
It just needn't exist. It's reinforcing to the audience that there is indeed some difference between a comic with a penis and a comic without one. A comic is a comic, no matter what's in your pants.
---
Corinne Fisher is a stand-up comedian, writer & actor originally from Union, NJ. She first made a splash with her debut one-woman show Corinne Fisher: I STALK YOU (Dir. David Crabb) which had a run at The Peoples Improv Theater (The PIT) in the Summer of 2010 and was featured in Time Out New York. Since then, she has been a regular on the stand-up scene playing anything from dive bars to world-famous comedy clubs like New York Comedy Club, The Stand, The Standing Room, Caroline's, Upright Citizens Brigade Theatre, Broadway Comedy Club, Comix, Laugh Boston, The Stress Factory & Gotham.
Website: http://www.corinnefisher.com/
Twitter: https://twitter.com/PhilanthropyGal