5 ways to discover your comedy persona: your unique, authentic comedic voice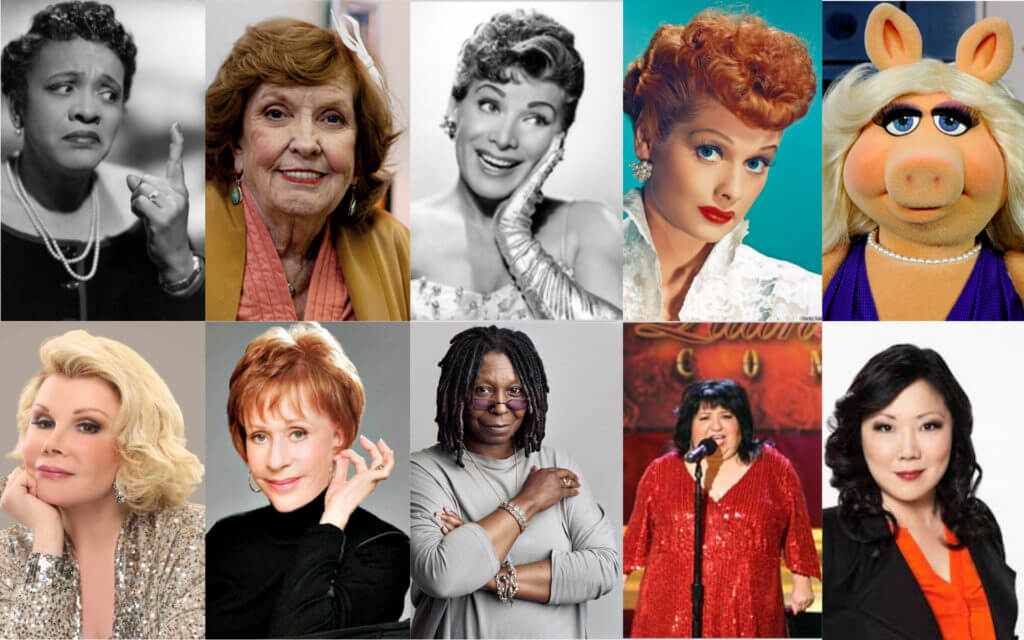 They say it takes a comedian ten years to develop their comedy persona. But with the head start we'll give you here, you can totally nail it in like eight. So what are you waiting for? Let's go! (My comedy persona is positive, high-energy, impatient.)
So first let's talk about what a comedy persona is. Then we'll talk about how to identify yours—and what to do once you have.
What's a persona?
First, here's what it's not. For our purposes, it's not a "character." Some comedians do deliberately develop fictional identities or caricatures that may or may not align with their off-stage personalities—like super-ranty Lewis Black, who is much more of a marshmallow in real life, or María Elena Velasco-Fragoso, early deliberately-dim Sarah Silverman, Maria Bamford, or Ilana Glazer and Abbi Jacobson, who do stand-up as their Broad City characters.
If that comes naturally to you, great (and consider exploring sketch comedy and/or being YouTube-funny). But generally, that's an advanced move because it's actually very challenging to sustain. And what we want to get at here, first, is authenticity.
So a persona is not a character, it's your character. It comes from your personality, your take, your attitude, your bearing, your point of view, your general lens on life.
Your persona is what makes your jokes your jokes. Anyone can write a joke about parents or dogs vs. cats or homework or taxes or gentrification or doughnuts. But only you can write a joke about your unique take on those topics.
Example: Take this joke from Lauren Lapkus. You can get a sense of her persona without seeing or hearing her—just by reading these 18 words:
"I believe that each person can make a difference. But it's so slight that there's basically no point."
From this (superb) joke, we can surmise that her persona is perhaps cynical, maybe glass-half-empty—at any rate, not the Pollyanna peppiest.
Of course, neither Lauren nor you are just one thing all the time. In real life, you shift somewhat according to context and mood. Your industry-standard five minute comedy set—and your persona in general—will not be all one-note either. Not every joke will be angry, not every joke will be bubbly. You can have one pretty constant persona in one set, but lots of different attitudes and emotions can come from it.
Where do you find your persona?
To find your authentic comedy persona, we are going to start with your original factory settings.
#SPOILER: Your persona is who you already are. At least that's where it starts.
This is TOTALLY NOT AS BORING AS IT SOUNDS. In fact, it is GREAT NEWS.
Why is this not boring? Because, nerds, we get to do some MATH! Because when you do comedy, you are not acting, but you are performing. That means your persona isn't you just wisecracking at your locker or water cooler or Instagram, it's you standing on stage with a mic (and, on a good day, a crowd!). So your performance persona is a slightly exaggerated version of you. Here's the equation:  
PERSONA = REAL YOU x 1.3
And why is it great news? Well, let's say you're reading this thinking: "But I don't haaaave a 'persona'! I'm boooooring." Guess what? Are you ready? THAT'S YOUR PERSONA.
I'm not saying you're boring. I'm just saying you don't have to work that hard, or go into analysis, to know what the kernel of your persona is. Even if it's something you think might be negative or unappealing about you, FINE! That's FUNNY! Don't apologize for it or try to hide or fix it; instead, double down. Embrace it and take control of it and let that flag FLY. Own it. PWN it. That's how BORING can become INTERESTING, say, or being a loner can be loveable, or being a downer can crack people UP.
OK then! What is your persona?
So let's see. Are you cynical? Sarcastic? Shy? Super-trusting? Lazy? Nervous about everything? ANGRY ABOUT EVERYTHING? Shy? Puppy-dog positive? Generally just confused? Scornful? Tightly wound? Awkward? A rebel or rule breaker? The eternal teacher's pet? An insider? An outsider? An outsider who only looks like an insider? A nerd? Also a geek?
Your goal here is to find ONE WORD that describes your persona. Maybe two words, maximum three, if one of them is a really short word.
If you're not sure yet, start by answering these questions. Do them sort of quick. Don't overthink. NOTE: If you can't help but overthink, then perhaps OVERTHINKER is your persona!
1) What would be your high school yearbook superlative? As in "Most likely to…".
2) Which one are you: Winner, or (and I say this with love) loser?
3) Fill in the blanks:
1. "Dear Diary, I wish I were less/more ."
2. "Dear Diary, The thing I love/hate most about myself is ."
4) If you were one of these comedians/comic performers, which one would you be? Not which one do you WANT to be, or which one do you most LOOK like—which one's personality is most like yours? Don't overthink it!
1. Kate McKinnon
2. Gina Rodriguez
3. Leslie Jones
4. Mindy Kaling
5. Joan Rivers
6. Lucille Ball
7. Ali Wong
8. Issa Rae
9. Melissa McCarthy
10. Sarah Silverman
11. INSERT YOUR CHOICE HERE
5) Locate yourself on our Axis of Attitude. Are you generally positive in your attitude, calm in your presentation? Highly critical and super spazzy? Literally point to the screen to the spot on this image where you imagine yourself.
OK! You should start to see some consistency emerge. If you don't, your persona is "All over the place!" or at least "indecisive." Voila.
HERE'S WHAT YOU DO. Now that you've chosen a word or two that capture your persona, you know that as you write and perform material, it should generally come from that place. Not rigidly or across the board, as we said above. Not every joke needs to be crafted as sarcasm, not everything you say has to come out of the mouth of a rebel or teacher's pet. But do think of it as a lightly tinted lens that colors your jokes, or at least your overall point of view.
So, wearing that pretend lens like a spiffy monocle, NOW you're ready to write some jokes or longer bits —or even to practice refining that persona on stage. Or, if your persona is CAUTIOUS, start with some exercises to get you going.
Did you discover your comedy persona? Even if it's not OVERSHARER, let us know! Tweet @goldcmdy!