Laura Merli convinces people to buy bonus cards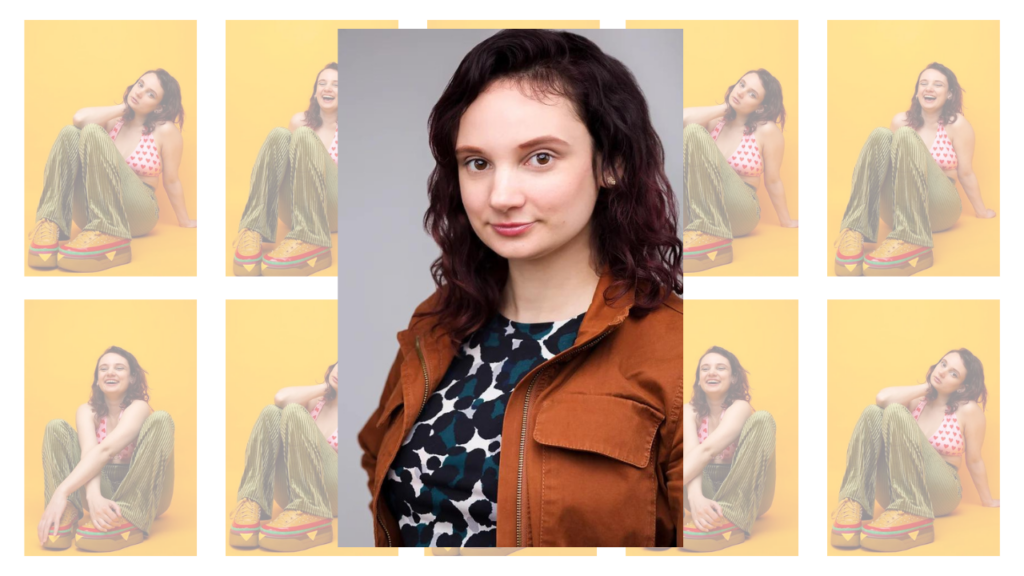 Laura Merli is an NYC-based standup, actress, and writer. She's amassed over a million likes on TikTok and continues to grow her following every day. She's appeared in the Rogue Island Comedy Festival and the Women in Comedy Festival, was the first runner-up in The Ladies of Laughter standup competition, and hosts a weekly show (Good Girl) at one of the hottest alt-comedy spots in Brooklyn, Friends & Lovers.
As someone who didn't start comedy until their late 20s, Laura has held a wide variety of odd jobs including cashier, eBay store photographer, project manager, zombie in an escape room, business analyst, and carnival worker (her grandparents' family business). She has since written for and acted on sketch house teams at the PIT and Improv Boston. She's also been a contributor to Reductress, The Hard Times, and McSweeney's.
She currently hosts/writes/produces videos for the female-focused humor brand Cheezcake. You can check out those & her personal content on youtube.com/LauraMerliComedy
---
What's your favorite response to a heckler?
For trolls, my favorite response is no response.
BRIEFLY describe your worst gig (noting that you survived).
About 300 senior citizens turned on me after I made an abortion joke. There were two younger people in the crowd who said they liked my set, but I think by "set" they meant "chaos caused."
Did you have an un-sexy starter job?
I've worked a bunch of customer service jobs, which I'm deeply bad at because I'm terrible with conflict, small talk, and convincing people to buy bonus cards.
What were you like as a teen? 
I was lonely and unpleasant as a teen. It took me a while to come into my own and realize that comedy was my lane.
On your deathbed, what transcendent advice would you croak at a young comedian?
Regularly remind yourself that you're doing this because you love it and not just to meet certain milestones. When I'm frustrated, I do a thought experiment: if I knew for certain that I would never make it (i.e. make enough money doing comedy to comfortably live off of without a day job), would I still do it? So far, the answer has always been yes.
When you were coming up in comedy, what helped you stick with it?
How much I love performing/writing jokes. That after a bad set you can always get up at an open mic the next day.
Best comedy advice you ever got?
Don't assign the gatekeepers too much power. A lot of the time, they don't even care about comedy.
Worst comedy advice you ever got?
Wait until you have a huge credit to move to New York. I knew I'd be happier here and am really glad I just did it when I felt like it.
How has being funny helped you in your offstage life, either recently or when you were younger?
Being funny helps me relate to other people off-stage, but I'm also not one to be constantly bantering/trying too hard to be witty off-stage. That gets exhausting.
What specific things can a young comic/comedian do to shape their voice? 
I'm a fan of spending the first couple years of your comedy career experimenting with different forms (humor articles, improv, sketch, standup), reading craft books, and getting a writing group together of people whose opinions you respect.
Was there one person who inspired you to go into comedy?
There wasn't anyone doing comedy when I was really young that I identified with, so I started it on kind of a whim. I was living in a new city where I didn't know anyone and had heard that improv classes were a great way to make friends. At first, I thought they sounded like paying to embarrass yourself, but after a few months of not being able to meet people in other ways I sucked it up and signed up.
Do you have a writing routine?
Sort of. I'm someone who hyper-focuses on things, so I'll go a while without writing anything, then get excited about an idea and work on it for hours on end. Of course, I sometimes have deadlines for things and then it's really challenging to work against my nature / pull myself away from whatever I'm fixated on. When that happens, I've found the Pomodoro method helpful.
What single word always cracks you up?
The way Cat Cohen and Pat Regan say "famously" on their podcast "Seek Treatment."