Kelly Bachman is Jim Carrey and so is her dad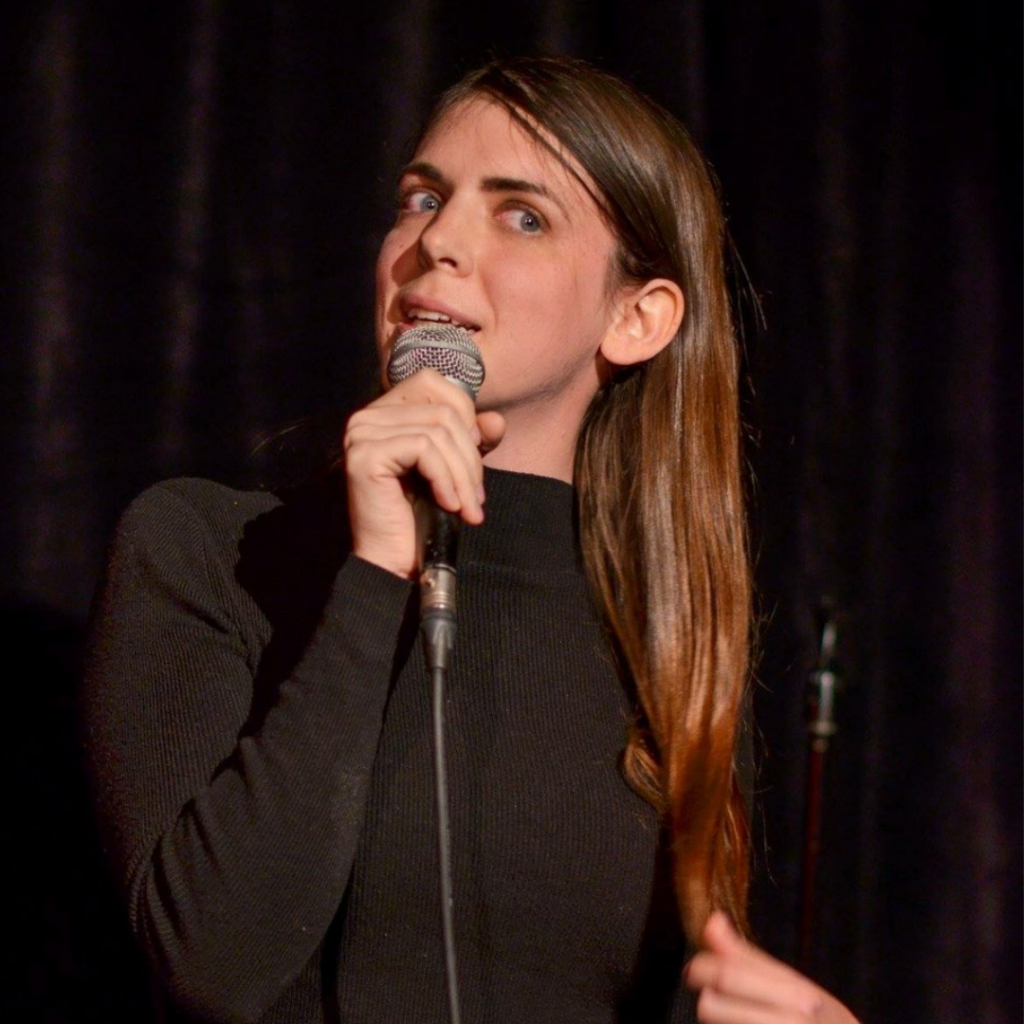 Kelly Bachman is a writer, director, producer, and comedian from North Carolina—currently based in New York.
As a comedian and comedy producer, Kelly was interviewed by Elle Magazine to discuss her show, Rape Jokes by Survivors, which was featured at New York Comedy Festival. From this showcase came Kelly's musical comedy duo hour with Dylan Adler, Rape Victims Are Horny Too. Kelly and Dylan have been performing the show at theaters in New York.
Oh, and one time a show producer invited an infamous serial rapist to watch Kelly perform stand-up comedy. Someone taped Kelly's set that night and shared it, so she talked to CNN, wrote something for The New York Times, Glamour, and The Guardian, and then she was featured in an FX/Hulu documentary about it.
When Kelly is not producing her own projects or performing comedy and music, she is usually supporting other filmmakers. Kelly has been working in New York as a freelance filmmaker and editor for six years.
---
What's your favorite response to "What's it like to be a woman in comedy"? 
Related, what are your feelings about the word "comedienne"?
I believe it's *CUMedienne
Favorite response to a heckler or troll?
I think Kumail Nanjiani married someone who heckled him. That's a pretty cool response!
What was your worst gig like?
One time I traveled pretty far from home for what turned out to be an unpaid show, at a diner in Harlem, filled with families that had children…and then the host didn't bring a microphone.
So we were just kind of yelling with no microphone, in a brightly lit room, at parents with their kids who were in the middle of a meal. And I don't have kid-friendly jokes. So I did crowd work. Actually, my crowd work with the kids went well now that I think about it! I take it all back. Had a blast. Their burgers were good, too.
What were you like as a teen?
I was a funny kid, but only in front of my best friends. Otherwise, I was pretty shy at school. But I was always a writer. I was editor of my high school newspaper, submitted poems and short stories to teen magazines, and such. Comedy writing was my secret pipe dream that I didn't know I was allowed to pursue, until later…
When you were coming up in comedy, what helped you stick with it?
I am still coming up in comedy! I'm trying to stick with it, because it's fun and I enjoy it.
Best comedy advice you ever got?
Something along the lines of "Don't treat people like they're better/more important than you." And then also the reverse of that. "You're not better than anyone else." Ugh, this sounds like that thing Joe Biden always says. Ewww. (Still true.)
On your deathbed, what transcendent advice would you croak at a young comedian?
I don't know. Don't worry about the small stuff (and I'm guessing most of it is small stuff) and don't wait to do whatever is most important to you.
How has being funny helped you in your offstage life, either recently or when you were younger?
Laughing feels good, and it's one of the things that makes being alive a good thing. I like to laugh every day, and I like to make other people laugh, too. Why not? It's fun!
Was there one person who inspired you to go into comedy? If so: Who, why, how?
Not one person, no, but my dad got me laughing early on.
My first words, according to my mom, were "my dad is funny," and I really believe he could've been a comedian. He has Jim Carrey energy. Still does! He's alive. Woo. But growing up, we were always doing bits together, and he got me into Monty Python and SNL. After that, it was Chappelle's Show, South Park, Larry David–a pretty typical 2000s comedy journey.
I think reading Tina Fey's and Mindy Kaling's memoirs got me to decide to move to NYC and try comedy writing, though. Reading about their lives, they just sounded a lot like me.
And Jim Carrey! He had this graduation speech where he talked about his dad, and how his dad could've been a comedian, which was meta for me because my dad is like Jim Carrey…so I was like "Wowww, am I like Jim Carrey?" (No, I'm not). But I moved to New York and met more encouraging comedy people, and got into it.
What single word always cracks you up?