Help! What do I wear on stage? #AskAvery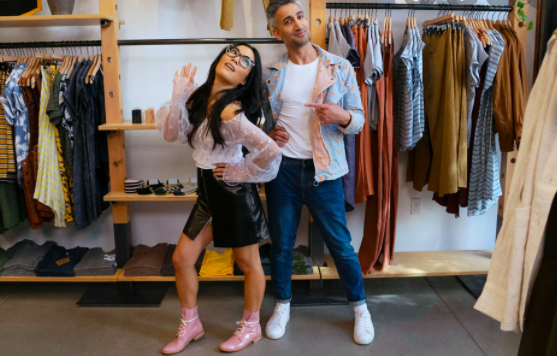 Meet Avery. She has 8 years experience as a comedian and 7 years experience as a teenager—and she is here to A your toughest Qs about comedy, family, romance, school, and the meaning of life (maybe).  Got a problem you can't solve or a goal you need help meeting? Ask Avery by DMing @GOLDComedy or emailing info+askavery@gmail.com. BREAKING: Avery runs/hosts open mics Mondays at 7 p and Thursdays at 12 p ($5 for 5 min) at West Side Comedy Club. Come through and say hi!
---
Dear Avery,
So I'm starting out with stand-up. I have amazing jokes, stage presence, mic technique up the wazoo. My only problem is I have no idea what to wear to my shows. Any tips for stand-up fashion?
Yours,
Comedy Couture 
---
Dear Comedy Couture,
THANK YOU for finally addressing this problem. As much as I love talking about STIs (see last week's AA) this issue is far more relevant to my life. Men comics follow a pretty simple formula for their comedy outfits: shorts/pants, plain/ironic t-shirt (think "I love beer") and a baseball hat to cover their male pattern baldness. 
One of the biggest pieces of advice I can give you is to NOT WEAR WORDY SHIRTS. The number of times I have been distracted in comedy shows trying to read the novel presented on a comic's shirt is way too many. I didn't come to the comedy club to read! I would keep the maximum number of words on your shirt to four, enough for the audience to have time to read without taking away from your set. Especially don't wear a wordy shirt if those words are "I Hate Kittens" or "Vaccine is a Hoax." 
It has been my good luck charm to steal some of my mom's nice lipstick to wear before a show. Since I'm about to be talking for quite some time, I wanna draw attention to my lips. In fact, I love doing creative and bold makeup for shows because I'm putting on a visual show as much as an audible one. Winged eyeliner is my signature, and I suggest experimenting until you find yours. 
Since you're going to be on display, you should wear anything you feel comfortable and confident in. For me, it's a bright bold dress or clothes made for an infant. For you that could be sweatpants, jeans, dresses, skirts, or a bathing suit (just check in with the club first). Your clothes and appearance shouldn't take away from your performance, but just add on to it. The confidence you feel in your clothes will add to your confidence on stage.
YOU GOT THIS, and you look super hot already. If you ever want to dm me a fit pic, it's @averylender on insta. 😉
Love,
Avery