5 ways the internet has transformed comedy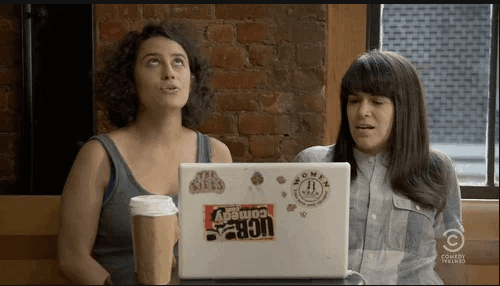 Watch this clip! Download this podcast! HOW HAVE YOU NOT SEEN the latest episode of Comedians In Cars Getting Coffee?!? Thanks to the internet, comedy is EVERYWHERE—and it's pretty much always screaming at you to take your funny vitamins. Is that a good thing, or a bad thing, for both comedy and comedians? The answer: IT DEPENDS, OBVIOUSLY. Here are five key changes, according to me.
1. The internet makes performing easy.
In the immortal words of Aparna Nancherla: "Best part of internet: everyone has a voice. Worst part of internet: everyone has a voice." In a comedy context, that means that the internet can help budding comedians—especially those in club-starved towns, or too young for THAT LIFESTYLE—find an audience, or help anyone with a YouTube account think they can become an overnight comedy sensation.
2. 140 characters is the soul of wit.
Or is it? Some, like Peter Serafinowicz, laud platforms like Twitter for forcing them to hone their one-line game. Others (see Martin Trickey) think this makes an audience too hard to work with the online audience craves instant gratification, and can only sometimes get it, leading to instant approval or dismissal of a performance.
3. It's there…FOREVER.
The ability to replay and rewatch has led to increased scrutiny. That's good, when it helps hold comedians like Tosh, Bill Maher, etc. accountable for inappropriate jokes. But it also opens up every last detail of a set for criticism. Internet hecklers don't leave when the show's over.
4. It makes for a bigger farm team.
Not every attempt to convert internet comedy to mainstream works (think Netflix specials like Haters Back Off). But comedians like Abbi Jacobson and Ilana Glazer originally started out on a web series. That's where HBO's Insecure came from, too. The Internet might not make everyone a star, but it is fertile new ground for talent.
5. It opens virtual doors.
The internet is high on bias, but also pretty low on red tape. This means that folks who normally come up against barriers to entry in comedy (sexism and racism, say!) can produce and share their own work, set their own terms, and build their own audiences. Best part of internet: everyone has a voice!
---
GILLIAN ROONEY is a teenage comedian and writer based in Connecticut and an alum of GOLD Comedy's pilot workshop series.