10 funny over 45: Female comedians making good TV great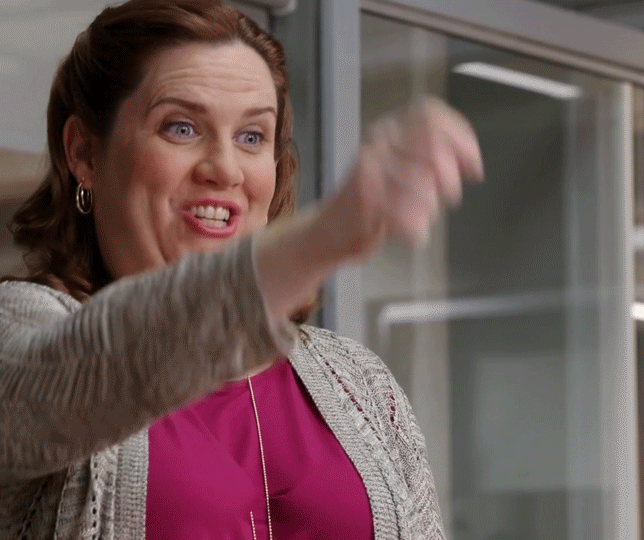 I've been performing comedy, doing storytelling, and writing since 2007. Back then, I couldn't find anyone else in what felt like a 100-mile radius who did what I wanted to do.
This was, at first, a huge challenge. It was like I knew what funny was — I could point it out of a lineup — but somehow, with no Gold Comedy to guide me, I couldn't quite get there. So what did I do?

I turned to my most reliable, oldest, available friend: Television. This was my visual learning library. I could study women comedians crushing it every week to help my own work get better. Ten years later, I still do, and I notice that I gravitate towards shows with female comedians over 45. I chose eight who make up a master class in a variety of comedic styles to serve as virtual mentors to comedians at any stage in their careers.
Here they are, in no particular order — because each is amazing and hilarious in her own way.
1. Jessica Walter
Where to find her currently: Arrested Development (Netflix), Archer (Netflix)
Walter knows how to make hideously self-obsessed characters oddly irresistible. How? Through humor, of course. As matriarch Lucille Bluth in Arrested Development, she created magic with nothing but an arched eyebrow. And as the voice of the animated Malory Archer — a role she got because her agent heard they were looking for a "Jessica Walter type" — she doesn't even have the benefit of a visible eyebrow; she just uses layers of tone, attitude, and perfect timing to create characters that are unlovable, yet unforgettable.
2. Julia Louis-Dreyfus
Where to find her currently: VEEP (HBO)
While its truth universally acknowledged that Louis-Dreyfus became a comedy superstar on Seinfeld (NBC) and impressed everyone with her follow-up, The New Adventures of Old Christine (CBS), it wasn't until she unleashed the foul-mouthed Selina Meyer that she embodied her true goddess status. Like Walter, Louis-Dreyfus knows how to add a dash of charm to a cauldron of awfulness and end up with funny. Her mastery of delivery and throwing her entire body into the moment means that even (or especially) the most hideous behavior — Selina abusing her staff, neglecting her daughter, even being annoyed at her own miscarriage — results only in greater and greater hilarity. She embodies "commitment to your bit." It's no wonder she won six consecutive Emmys for her work in this show (she has won ten in total).
3. Allison Janney
Where to find her currently: Mom (CBS)
Six feet tall and deadpan AF, Janney sidesteps punchlines and pratfalls; her greatest laughs emerge from her most straight-woman scenes. To learn from her humor, watch her utterly earnest execution: She never winks, never stands outside her character, never lets on that she's playing a part. In fact, she's often the window for the viewer. In broad comedies, she plays it pretty straight; As Tonya Harding's abusive mom in a deftly over-the-top biopic, she brings an incandescent calm to — is this a theme? — the world's most hideous stage mom, which is why the role brought her a Golden Globe nod.
4. Donna Lynne Champlin
Where to find her currently: Crazy Ex-Girlfriend (The CW)
Rachel Bloom is the big story of this show — she took her "one-woman-sketch-comedy" schtick from YouTube to TV's favorite dark-musical-sitcom (okay, TV's only dark-musical-sitcom), but I'd like to make a case for Donna Lynn Champlin as Paula Proctor. Champlin brings the funniness to a show that is often dealing with non-traditional comedic themes, like mental health issues, alcoholism, and codependency. Champlin finds the beats inside some pretty gallows humor — pushing her friend Rebecca to continue obsessing over her ex while ignoring her own deteriorating home life out of fear that Rebecca will no longer need her if she stops pursuing the ex. Champlin provides the opportunity to look nonjudgmentally at complex issues that are allowed to come from someplace real, even if that is a sad place.
5. Catherine O'Hara
Where to find her currently: Schitt's Creek (Pop, Netflix)
Younger audiences may be finding Catherine O'Hara for the first time in her film work, but you should be looking her up on Schitt's Creek as Moira Rose. A former minor TV star who married into fantastic wealth, Moira finds herself falling on hard times. She is spoiled snob who is out of touch with what she calls "real people". Audiences should hate Moira, yet O'Hara makes her endearing and funny. How? By building a full world for Moira through details and character logic. Even when logic is absurd (and it is), like saying her town should pay for after-school care because manicurists can put on the wrong colour and make you late, it doesn't come out of nowhere. O'Hara has built context for Moira. From her wall of wigs to her inability to do simple tasks like cooking or "fixing a wobbly chair," there is a life for this woman that extends beyond the 30-minute runtime. O'Hara shows that building context builds character.

6. Dale Soules
Where to find her currently: Orange is the New Black (Netflix)
Supporting actress can sometimes feel overshadowed by their leading counterparts. Some would argue that means the supporting cast get to play the better roles, like Dale Soules as Frieda Berlin in OITNB. Frieda is a quiet, deadly presence, one of the "golden girls" backing up Kate Mulgrew's Red; on the rare occasions that she speaks, she reveals truly terrifying breadth of knowledge about … truly terrifying things. Soules, like O'Hara, roots her character in a distinct perspective that carries her throughout the series. When Frieda explains "murder math" — would you rather dig one six-foot hole or six one-foot holes? — she does so plainly. Soules centers her humor in blunt delivery, without needing exaggeration or physical addition (though the neck tattoo is a vivid touch). It is a simple question, right? Soule's humor is subtle. Like Allison Janney, her delivery is deadpan and understated.
7. Tracee Ellis Ross
Where to find her currently: Black-ish (ABC)
On Black-ish, Ross plays a mother of five with a demanding career as an anaesthesiologist handling social and cultural challenges like the election, racism, and LGBTQ issues. That massive framework sits inside the 30-minute, single-camera structure. Being on a traditional primetime television comedy means Ross has to be quick, with tight delivery and intention. There is not room for asides or extemporaneous additions. Like when her character, Rainbow, finds out her son is a Republican, she has to convey a lot of comedy and emotion in the hot-second reaction shot. Ross generates confusion, surprise, sadness, and shock in that hot second by using all available tools — body language, gestures, expressions, and voice. It's no wonder she's running up the trophies!
8. The Ladies of Lady Dynamite (Netflix)
Where to find them currently: Lady Dynamite (Netflix) (duh)
Lady Dynamite is a show filled with amazing female comedians. Before playing Dagmar on the hit series, Bridgett Everett toured with comedy festivals around the globe and performed a regular cabaret show at Joe's Pub in NYC. On Lady Dynamite, she brings her big personality to the role of Dagmar, one of Maria Bamford's terrible best friends. Meanwhile, Mary Kay Place gets to be the world's most earnest straight person as Maria's mother Marilyn, bringing a nicer version of her Big Love character into a completely zany environment and making her entirely believable by just reacting honestly. And Mo Collins manages to out-testosterone Ari Gold as Maria's agent. This show is a gold mine of funny ladies over 40.
BONUS ROUND: Here are a list of a few women in the next handful of years that will be eligible for the list! Sutton Foster (Younger), D'Arcy Carden (The Good Place), Kimberly Herbert Gregory (Vice Principals), Kathryn Hahn (Transparent, I Love Dick), and Adrienne C. Moore (Orange is the New Black). Watch them now so you can see it all happen.
Have any to add to the list? Let us know!


---
---