How to get started in (and better at) comedy: tips for teens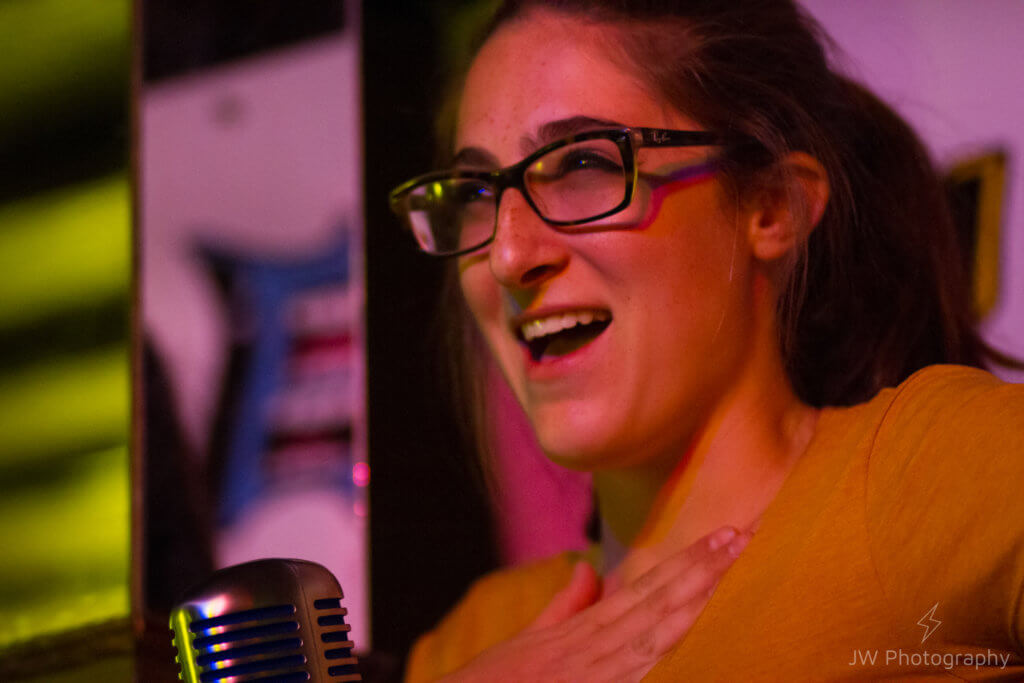 Stage time is KEY for comedy. But if you're under 18, which venues will let you in?
Teen comics need to get their material into the world! It's hard enough writing material that you poured your heart into with no audience but your family and friends. Performing live gives teens confidence as well as (sometimes painful, but necessary) honest feedback. As a teen comic myself (I've been doing standup since seventh grade, lo those four years ago), I understand the struggle. To write comedy, you need to watch it — and with most clubs 18 or 21 and up, this can be its own problem. And adults have trouble getting comedy clubs to book them, so how are teens supposed to do any better?
Of course, here at GOLD your comedy dreams are about to come true! With a variety of classes to take, resources at your fingertips and amazing support from a community of hilarious humans, it's a great place to hone your craft. Showcase your material at one of our virtual open mics or stand-up shows…all from the comfort of your couch!
Now that clubs are reopening, I have found a few in New York City that allow teen comics inside—and if you follow my tips, you might get a not-in-NYC joint to open itself up for you, too!
Gotham Comedy Club
This is one of the most famous and hard-to-book clubs in New York. Comics like Jerry Seinfeld, Larry David and Dave Chapelle have graced its stage. The club sponsors a training program called Kids n' Comedy, and their students perform for the public once a month. It's an amazing way to watch other teen comics; you can also get helpful advice from real comedians (as well as said teens), which really helps to strengthen your material.
The People's Improv Theater
"The PIT" has amazing classes in every aspect of comedy, plus drop-in classes (including during the day on weekends) and shows open to everyone. They are also a great source for open mics and improv jams, which are exactly what they sound like: You show up, you improvise, it's awesome.  
Q.E.D.
Located in Astoria, Queens, Q.E.D. calls itself "after-school for grownups." Congratulations, you're already in the group they're trying to emulate! They offer classes in standup and podcasting and open mics galore. They say the shows are for 16 and older only, but you know what? Stop in and make friends with them. They'll steer you to shows that won't upset the grownups who see you there.


Laughing Buddha
Laughing Buddha has many locations and classes, and specializes in open mics (over 30 every week, listed on their website). This allows teen comics (a.k.a. you!) to try out your material in front of a live audience and hobnob with other comics. You have to sign up online, and some aren't kid-friendly, so be persistent.  
YOUR local comedy club
Although this may seem scary, I recommend calling your local comedy clubs. Many of them do open mics, which are open to the public and are a fun way to showcase your material for a real audience. However, being under 18, you first have to ask the clubs about their rules. If you can't be there for an open mic, see if there are any daytime opportunities over the weekend — club owners will be more willing to let a minor perform then instead of midnight on a Wednesday.
Random open mics
Comedy clubs and bars are not the only places for open mics. The Brainwash in San Francisco has one of the city's best open mics, and it's a laundromat. For real. So get creative: Ask to perform at a school talent show, emcee the spelling bee, haunt your local coffeehouses and poetry cafes and libraries for opportunities to get a mic in your hand. Keep in mind, a teen comic is basically a unicorn. Most places will be happy to have you because of that alone. Also, being the only kid in a group of adults (usually a bunch of white dudes) is refreshing for the audience and makes them love you even more.
Then go home and finish your homework!
Know another great place for under-18s to do their funny? Tweet us @GOLDcmdy!
---
AVERY LENDER (T.A.) will start Boston University in the fall. She performs monthly at Gotham Comedy Club with Kids 'N Comedy, and has appeared at the Cinderblock Comedy Festival, Broadway Comedy Club and UCB East. @uptownjam
---