Mini Q&A with Jes Tom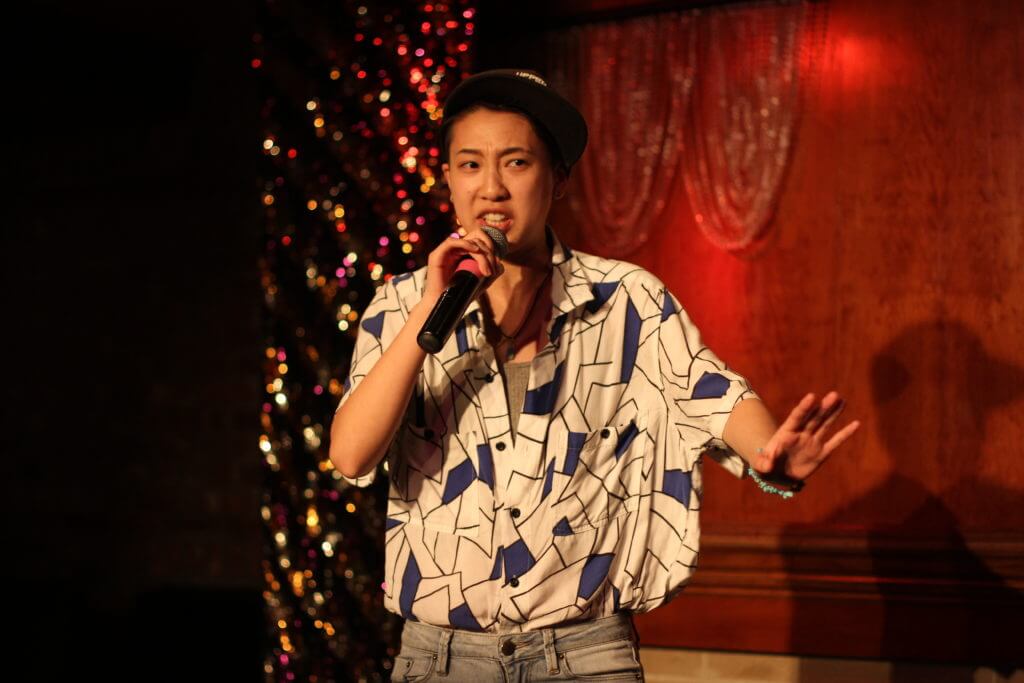 Jes Tom (they/them) is a weird queer stand up comic with but one goal: To hurt the feelings of The Oppressor. They are an awesome friend of GOLD and an even more amazing comedian! Recently, they have been featured in a viral PSA video about the whitewashed Ghost in the Shell. They will also be starring in the upcoming dark comedic short film 'Anatomy of an Orchid' directed by Sonja O'Hara​.
Favorite response to a heckler or troll?
I don't respond. Don't feed the trolls!!
BRIEFLY describe your worst gig (noting that you survived).
In 2016 I performed a Lunar New Year themed gig at the Friar's Club. I was so excited to perform at such a historic comedy venue, but when I got there the entire audience was 60+ year old rich white people dressed in fake Chinese clothes. The booker told us (an entirely Asian, mostly women, some queer, lineup), "This will be good for them. They've never seen Asian people outside of a kitchen." They were a really tough (read: olllllld skool racist) audience, and most of the comics really struggled to connect with them. By the time I got up, 80% of the audience had left (probably to go to bed). I still gave my best energy, and I got some good laughs! After the show, the folks who had stayed thanked us for being brave enough to be ourselves in such a hostile space.
On your deathbed, what transcendent advice would you croak at a young (female/LGBTQI) comedian?
The world deserves to hear your voice, and you deserve to laugh.
What's your first impulse when someone says "women aren't funny"?
Well, I'm not gonna listen to this person anymore.
When you were coming up in comedy, what helped you stick with it?
Find your people. Find the people in the community that make you feel good, that inspire you, that make you want to be the best comic you can be. Especially as a marginalized person in comedy, the scene can be very discouraging. Find the people and places and aspects that make you excited to keep coming back.
Best comedy advice you ever got?
My mentor D'Lo told me, "Stay humble. Sometimes humility is the only thing that sets us apart."
How has being funny helped you in your offstage life, either recently or when you were younger?
Being funny is a blessing and a curse! On one hand, it's a great defense mechanism. One of the best. On the other, it can keep you from getting vulnerable with people, and with an audience. Hone your humor, but don't hide behind it.
Single word that always makes you laugh.
Honnnnestly? I love round palindromes like "poop" and "boob"
Was there one person who inspired you to become a comedian? If so, who, why, how?
Definitely Margaret Cho. She's an azn gurl from San Francisco, just like me! So I always related to her, even though our humor is very different. I used to watch her clips on YouTube on the projector in an empty classroom, thinking, "I could do that." And now I do.
For stand-ups: what advice do you have for how to level up from open mics + bringers to actual spots?
Make friends, be kind! Of course producers book comics based on talent & ability, but they also want to book people they enjoy spending time with.
Get into the habit of sharing jokes on social media. It'll keep you writing fresh material, help you gauge what jokes might work onstage, and remind producers that hey, I'm still here AND I'm hilarious.
Feelings about the word "comedienne"?
Gendered terms like that are totally unnecessary, in my opinion.
---
JES TOM gleefully provides the non-binary queer Asian-American radical cyborg perspective that everyone never knew they wanted. Jes performs at clubs and colleges all over New York and the country. They starred in the viral Ghost in the Shell PSA and made Time Out New York's LGBTQ POC We're Obsessed With list in 2017. @jestom