Mini Q&A with Carole Montgomery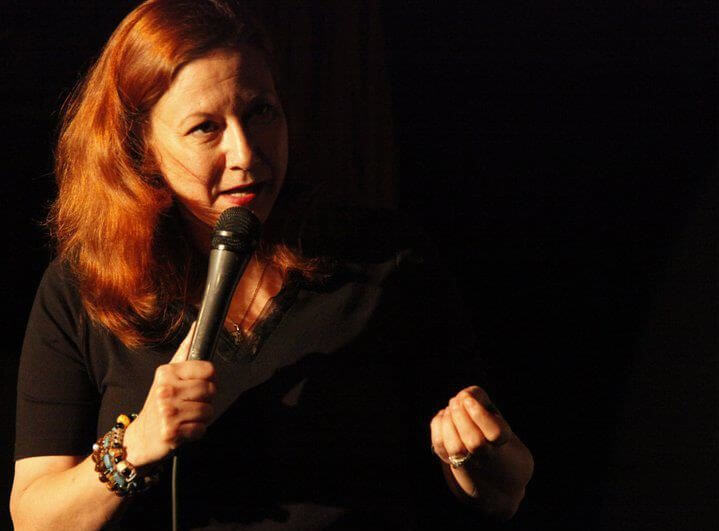 Carole Montgomery is a longtime standup comedian based out of Brooklyn, NY. Since starring in two Las Vegas shows, Carole founded the National Mom Comedy Tour, a series of standup comedy shows that brings laughs to VFW posts, American legions, and military bases.
Favorite response to a heckler or troll?
You should have been a blow job.
When you were coming up in comedy, what helped you stick with it?
There was nothing else I wanted to be, I had no choice but to stick with it.
On your deathbed, what transcendent advice would you croak at a young comedian?
Don't take anything personal and just keep pushing through the barriers.
Best comedy advice you ever got?
Don't worry about people stealing your jokes, they can't steal you. Sinbad told me that.
Worst comedy advice you ever got?
You shouldn't be dirty, you're too pretty for that.
How has being funny helped you in your offstage life, either recently or when you were younger?
It's helped me in times of grief too many times to count. In tragedy you have to laugh.
Favorite response to "What's it like to be a woman in comedy"?
Yawn.
Was there one person who inspired you to become a comedian?
Harpo, Groucho, Freddie Prinze, Richard Pryor & George Carlin all had something to do with why I became a comic. And my dad, he was the one who could walk into a room and light up a crowd.
Feelings about the word "comedienne"?
I was always considered a comedian by my peers, probably cause they knew I'd kick their ass if they called me anything else.
---
Carole Montgomery, with over 2 dozen television credits to her name, is a respected veteran of the standup comedy scene nationwide. In addition to her numerous TV appearances, she has headlined clubs & colleges across the USA and starred in 2 different Las Vegas production shows. In her ten years as a Las Vegas star, it is estimated that she has been seen by over 5 million audience members. Besides being a comedian and writer, Carole is a wife and mother. She's been married for 30 years and has a 23 year old son, Layne. She was Vice-President of her son's school PTA and helped coach his Little League team for 7 years. She is now dealing with an adult son leaving home, her Peter Pan husband and living with her mother-in-law. The jokes write themselves.
Website: http://www.carolemontgomery.com/
Twitter: @nationalmom
---
CARSEN SMITH (intern, branding and content) performs standup and improv in New York City. She co-created the improvised cooking show "I'll Have What She's Having," which ran at Nashville's Third Coast Comedy Club. @carsenasmith