How to make your PowerPoint funnier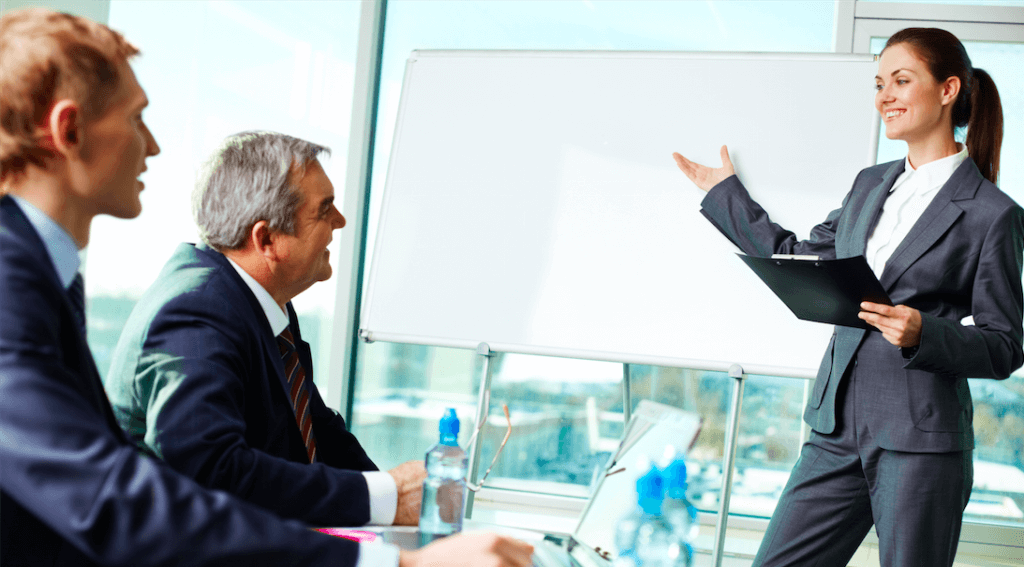 GOLD Comedy is the online comedy destination for women and nonbinary folks! If you're here, you're probably interested in getting funnier. Great! You've found your people, here. Check us out in GOLD Club, where we host classes, celeb Q&As, writers' workshops, and so much more. It's community + comedy at its very best. (Plus there's a 14-Day free trial! Woo!)
---
When it comes to putting people to sleep, not even Ambien can rival the prowess of the PowerPoint. Invented in 1990 by technology and sleep wizard Bill Gates, the PowerPoint has been sedating students, coworkers, and even our loved ones for almost three decades. My grandmother went to a timeshare presentation in April and STILL hasn't woken up.
An obvious solution: make it funny. A Harvard Business School study confirms that humor—when it works—makes people listen more closely and see you as confident and competent.
At work and in general—"men are more free to bomb," says comedian Allison Goldberg, who works with Jen Jamula at GoldJam Creative to bring comedy and creativity into workplaces. "Men are just given a lot more leeway for everything. A guy bombs and people forget it, a woman does and people don't."
But DO NOT FEAR. The stakes may feel high, but remember: the bar is low. This is your sales meeting, not 2 Dope Queens. "The crowd is not expecting to laugh their asses off," says Goldberg. Keep in mind that every workplace environment is different. It's crucial to know your audience and to have a grasp on what they will find both appropriate and funny. 
Here are our tips for sprinkling your PowerPoint with comedy gold.
1. Unexpected animations
If you took an Intro to Computers class in middle school, you probably learned how to use Animations. They allow text, words, and pictures to have a little bit of motion. And alongside language and sound, motion is a crucial tenet of any comedy. Which is why pet rocks were never that funny.
This example below shows how an animation can spice up an otherwise boring presentation about Shia LaBeouf's mug.
The Animations tool bar is located on the main toolbar between Transitions and Slideshow. You can give your animations a sudden entrance, an exaggerated emphasis, or even a sudden exit for a quick laugh.
2. Silly acronyms
This is one of my all-time favorite bits. There are a few ways to go about this joke. Some options include the nonsense acronym, the forced acronym, or the impossible to remember acronym. Check out these various examples about how to organize your computer's desktop.
A nonsense acronym creates an acronym that is wholly unhelpful in completing the task.
The forced acronym uses a lot of roundabout letters to achieve its purpose.
And finally, there's the impossible-to-remember acronym. This acronym actually contains the necessary information but assumes that the audience can remember many jumbled letters.
This particular joke is especially effective if you attempt to pronounce the acronym in your presentation. It might even be fun to get your audience to try and pronounce it too!
3. Non-sequitur statistics
Paul Rudd perfected this joke in the hit film Anchorman. When describing his cologne "Sex Panther" and its ability to pick up women, Rudd's character repeatedly cites that "60% of the time, it works every time." This joke can easily be inserted into any PowerPoint that involves quantifiable statistics.
Take this example joke slide that would be perfect for anyone in the kayaking business. (This slide is great because it uses the 'Rule of Three:' two real statistics and one silly one.)
This joke always reminds me of the time my ex-boyfriend said he only "50% cheated on me," which was his way of saying that he had made out with another guy.
4. Punchline-set up slides
What better way to be funny in a PowerPoint than setting yourself up for a killer punchline? These kinds of jokes are used all the time on Late Night TV shows and on famous segments like SNL's Weekend Update. Personally, I find these kinds of jokes are most effective when the setup is said verbally (as opposed to on a slide) and the punchline is a simple image or statement on the next slide.
Here's an example:
In your speech, create the set-up by saying something in the form of a question. If your presentation were about how to improve the quality of living in your Quebec neighborhood, you'd say something along the lines of, "So how do we reduce widespread noise pollution?"
After an appropriate "beat," or comedic moment of silence, the punchline slide would be revealed:
Of course, this example takes a strong stance on Canadian rock band Nickelback and may not be appropriate for a pitch with . But hopefully it can inspire you to create the perfect punchline that works for your presentation!
5. Random 'palate cleanser' slide
Is your presentation droning on and on? Or perhaps you're giving a presentation about a heavier, more serious topic. Maybe it's time for a palate cleanser. These random slides can range from silly animals photos, to memes, or even an embarrassing photo from your childhood.
During a heavy presentation about sexism and violence against women in media, feminist author and friend of GOLD Comedy Jenn Pozner once employed a palate cleanser by including a slide with "some baby kittens hanging from a few pairs of underpants on a clothesline." Mid-presentation, she exclaimed, "KITTENS! Deep breath. 1… 2… 3… OK, feel better? Good. Moving on." This was a great way for Jenn to both make her audience feel more at ease and to add humor to a tense lecture.
Take this slide, as another example of a palate cleanser.
Needless to say, I went to my mom for my Halloween costume the next year.
6. End with a Q&A… for the audience
Most presentations conclude with a question and answer section where the audience asks the presenter about what they just heard. Before doing this, I recommend you flip the script and ask the audience questions about your presentation material.
This is a great time to call people out if you know them by name and/or have a relatively informal relationship with them. People loved being acknowledged during presentations and love being called out for not paying attention even more!
Offer candy or other small rewards to people that get questions right. This keeps people engaged and can be a great way to end your presentation!
Or your article about making funny PowerPoints!
CARSEN SMITH (intern, branding and content) performs standup and improv in New York City. She co-created the improvised cooking show "I'll Have What She's Having," which ran at Nashville's Third Coast Comedy Club. @carsenasmith