Esther Fallick insists upon herself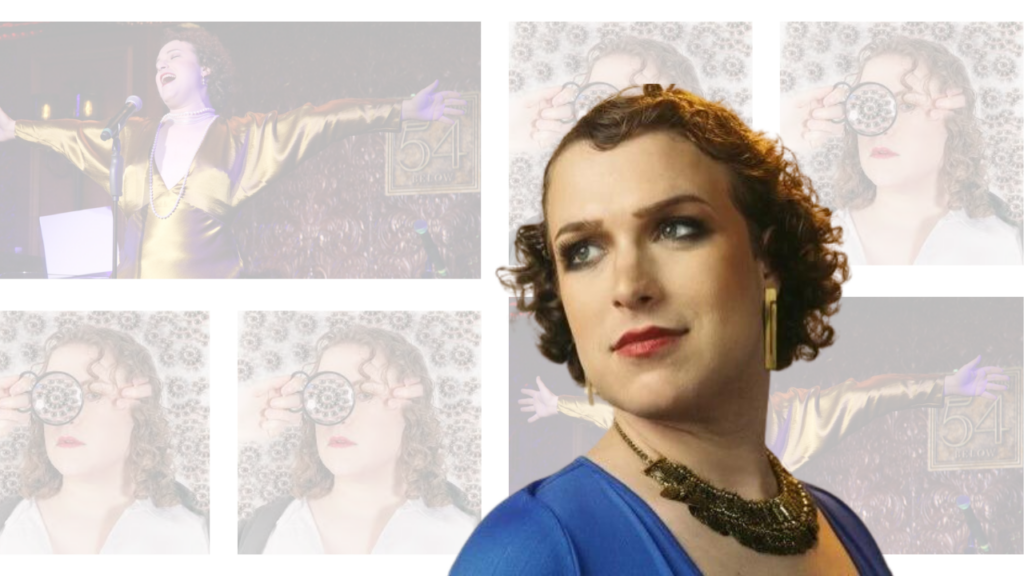 Esther Fallick (she/her) is a comedian, singer, and musical theater writer based out of Brooklyn, NY.
She has been written about in Vulture, Autostraddle, Broadway World, and more. Her one woman show, "Esther Updates Her Book" has played NYC venues including 54 Below, Union Hall, and Caveat, and was part of the 2022 New York Comedy Festival. She was also a co-writer on the   debut song, "I'm Just Gonna Be Me", which premiered online in September 2022.
She performs regularly around Brooklyn & Manhattan and you're just gonna love her 🙂
---
What were you like as a teen?
You should have seen my cowardly lion. I had 'em in stitches.
Did you have an un-sexy starter job?
Worked at a YMCA in college. Front desk AND theater camp counselor.
When you were coming up in comedy, what helped you stick with it?
A desire to make a space for transfemmes to talk about their experiences!
Have you ever dealt with trolls?
The online comments can get dispiriting at times. But that's what the block button is for, baby!!
On your deathbed, what transcendent advice would you croak at a young comedian?
Insist upon yourself. Everyone hates selling themselves. It's the worst part of this nowadays. but if you have the goods, you're doing audiences a favor.
Best comedy advice you ever got?
remember to communicate in your cadence when it's time to laugh.
Worst comedy advice you ever got?
Detransition! (No, just kidding. No one ever said that, lol).
How has being funny helped you in your life?
When I began to transition, I had to give up a lot of control over how people saw me: the shape trans narratives "should" take is entrenched in everyone's minds. Through comedy, I could take that back for a few minutes. I could control how people saw me and my queerness. It was so vital in early transition!
What specific things do you think a novice comic should do to shape their voice?
I read a lot about comedy. I also watch old late-night interviews with comedians I love. Entertaining has remained essentially the same, and there is so much to learn from entertainers of yore. I steal all the time from old performers.
Was there one person who inspired you to go into the comedy world? 
Too many to count, so I'll say who I've been inspired by recently: I've been watching a lot of Louie Anderson. He speaks about his identity as a fat person in surprising ways that I find helpful as a comic focused on her identity. I admire how as his career went on, his material pivoted to how his identity was formed within his family. There's a deep excavation happening, but always with joy, grace, and HUMOR!
What is your go-to movie when you've had a bad day? 
The Muppet Movie (1979). Watch it 2-3 times a year.
What single word always cracks you up? 
"girldick" always makes me smile 🙂