9 best commencement speeches by comedians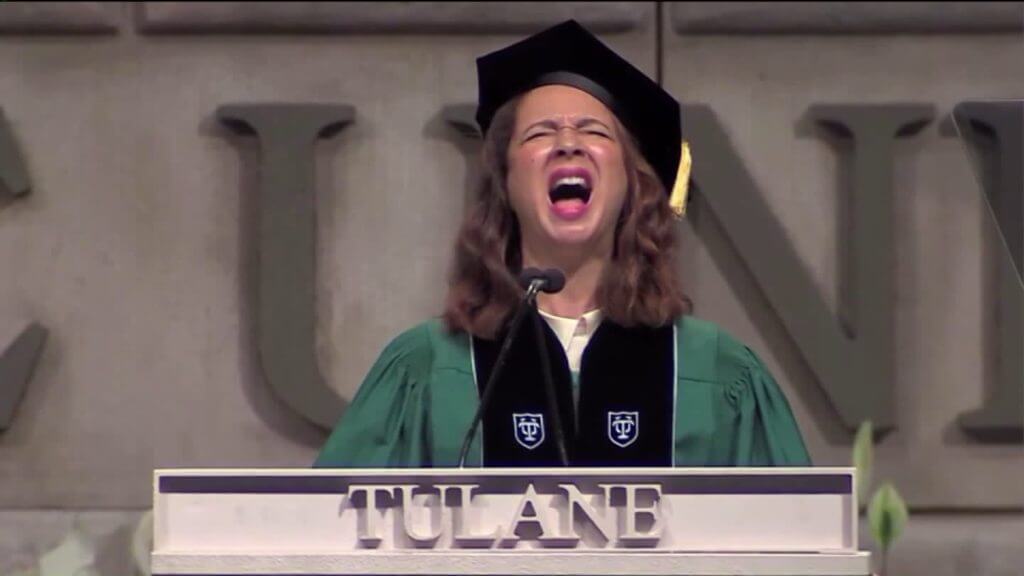 GOLD Comedy is the online comedy destination for women and nonbinary folks! If you're here, you're probably interested in comedy. Great! You've found your people, here. Check us out in GOLD Club, where we host classes, celeb Q&As, writers' workshops, and so much more. It's community + comedy at its very best. (Plus there's a 14-Day free trial! Woo!) Standup 101 courses start every month!
---
Nothing says springtime like graduation! And nothing says graduation like long, cliché speeches about "following your dreams" and stale jokes about bad dining hall food.
But we here at GOLD prefer a commencement speech with a bit more flair. So before "Regalia" makes it into this year's list of top baby names, we wanted to share with you some of our favorite commencement speeches ever given by comedians. Sorry, Steve Wozniak. Maybe Rutgers will call next year.
This list includes speeches given at a diverse group of schools including a few prestigious Ivy leagues, some southern gems, and even a high school in Lexington, Massachusetts (Lynn's hometown. Also, Rachel Dratch's!). So what do they all have in common? Every speech acknowledges that we comedians are never truly qualified to do anything, let alone give a solemn commencement address. Hell, I still have trouble remembering whether the word "address" has two D's or one. They both look right to me.
Ranked in no particular order, here are some of the wittiest speeches given at some of the weightiest ceremonies:
1. Maya Rudolph – Tulane University, 2015
Hilarious, versatile, and fresh, Maya Rudolph never disappoints. She certainly didn't disappoint during her 2015 speech to the seniors of Tulane University in New Orleans, LA. In her address, she covers her dreams of being on SNL, a roast-like description of herself as a hippie college student, and her identity crisis as a closeted thespian.
"I didn't know who I was or what I was going to do with my life when I finished college. I wasn't any clearer about my direction than the day I graduated high school. I wore Birkenstocks and smelled like a patchouli fart."
This speech is particularly appealing to us comedy nerds as Rudolph invokes the crucial improv concept of "Yes, And." Not to mention her passionate "interpretation" of the National Anthem.
Check out the speech here: http://time.com/3883091/maya-rudolph-tulane-university-graduation-speech/
2. Jon Stewart – College of William and Mary, 2004
At the height of his show's popularity, Daily Show host and comedy god Jon Stewart took a break from his busy schedule to give a gut-busting and rather cynical warning to William and Mary's graduating class of 2004.
Early in his speech, Stewart apologizes on behalf of his entire generation for "breaking the world."
"I know some of you are nostalgic today and filled with excitement and perhaps uncertainty at what the future holds. I know six of you are trying to figure out how to make a bong out of your caps."
Check out the speech here: http://www.wm.edu/news/stories/2004/jon-stewarts-84-commencement-address.php
3. Stephen Colbert – University of Virginia, 2013
Former compadre and counterpoint to Jon Stewart, Stephen Colbert is a top dog when it comes to political satire.
Though Colbert has imparted much graduation wisdom over the years, no speech compares to his 2013 speech to the Hoos of UVA. Colbert cleverly muses on secret societies, the infamous Thomas Jefferson, and even his own marriage.
"But perhaps the real reason UVA is so great is that it trusts its students. You have the nation's oldest student-run honor code. Say it with me – on my honor, I pledge that I have neither given nor received help on this assignment, so help me Adderall."
Since giving this speech, Colbert has "graduated" himself, making the shift from his Comedy Central show to hosting primetime's The Late Show on CBS, where he has recently found a new pastime in poking fun at President Trump.
Check out the speech here
4. Mindy Kaling — Harvard Law School, 2014
Former intern to Conan O'Brien, Mindy Kaling has been a dynamite actress and writer since bursting into the comedy spotlight as Kelly Kapoor on The Office. Since then, Kaling has found massive success with her own show The Mindy Project—and her address to the Class of 2014 from Harvard Law.
"You are the nerds who are going to make some serious bank, which is why I am here today…to marry the best-looking amongst you."
As to whether or not she was qualified to speak at the commencement, Kaling claimed, "I do know a ton about the law because I sue everyone."  
Check out the speech here
5. Conan O'Brien — Dartmouth College, 2011
Former boss of Mindy Kaling, Conan O'Brien has been a late-night staple since the early 90's. Standing proud behind what he describes as a podium like something a bear would use at an AA meeting," Conan brought his self-deprecating charm and good-natured quips to the graduating class of 2011 at Dartmouth.
"New Hampshire is such a special place. When I arrived I took a deep breath of this crisp New England air and thought, 'Wow, I'm in the state that's next to the state where Ben and Jerry's ice cream is made.'"
As most comedy geeks know, Conan went to Harvard, not Dartmouth. But in his speech he claims, "If I had gone to Dartmouth, right now I'd be wearing a fleece thong instead of a lace thong."
Check out the speech here
6. Ellen Degeneres — Tulane University, 2009
Mononym queen and daytime sweetheart Ellen Degeneres has been crushing the comedy scene for almost four decades. From her work on her own '90s sitcom to the more recent Finding Dory, Degeneres has found popularity across a huge variety of age groups and demographics. I can say with 100% certainty that my 62-year old mother is catching up on Ellen clips at this very moment.
Her speech to the so-called 2009 "Katrina" class at Tulane is both funny and poignant, goofy and incredibly sincere. Degeneres tackles topics such as sexuality, tragedy, and fame.
"I thought that you had to be a famous alumnus, alumini, aluminum, alumis; you had to graduate from this school. And I didn't go to college here, and I don't know if President Cowan knows, I didn't go to any college at all, any college. And I'm not saying you wasted your time, or money, but look at me, I'm a huge celebrity."
But there's one thing she has in common with the grads, Degeneres says:  "I was born and raised here, I spent my formative years here, and like you, while I was living here I only did laundry six times."
Check out the speech here
7. Will Ferrell — Harvard University, 2003
A USC grad, Will Ferrell had no business giving the commencement speech to the Harvard University class of 2003. And yet, here we are.
Packed with jokes, Ferrell's script is full of twists and turns, outbursts, and even some impassioned singing. Hard to believe his 50th birthday will be occurring later this year. (I could've sworn he was 60.)
"Some of you will be captains of industry and business. Others of you will go on to great careers in medicine, law and public service. Four of you—and I'm not at liberty to say which four—will go on to magnificent careers in the porno industry. I'm not trying to be funny. That's just a statistical fact."
As of 2017, Ferrell is both a comedic powerhouse AND a household name. And with all those houses, his upcoming 2017 flick co-starring Amy Poehler, "The House," is sure to be a winner.
Check out the speech here
8. Eugene Mirman — Lexington High School, 2009
These days, it seems like high school humor consists of nothing more than a few well-placed emojis, fleeting dance crazes, and more shareable memes than original jokes.
But in 2009, Bob's Burgers actor and human beanbag chair Eugene Mirman gave a hilarious five-minute speech to the 2009 graduating class of Lexington High School that perfectly incorporated teenage angst and youthful energy. The speech is one of the wittiest and most honest of the bunch.
"The main difference for you, between life yesterday and life tomorrow, is you can go to the bathroom whenever you want. It's a pretty big responsibility, but you've earned it. A few more things: you can vote, start a family, go to war, even buy a beer. Just kidding, you're only mature enough to shoot our enemies in the face."
Mirman knows how to use absurdism to appeal to distraction-prone high school audiences, saying "I won't lie to you, there is an asteroid heading for the earth and you only have four days to live. I'm sorry, where was I?"
Check out the speech here
9. Amy Poehler — Harvard University, 2011
Last but not least, one of the grand empresses of comedy: Amy Poehler. Armed with experience and talent out the wazoo, Poehler is the kind of comedian who can do anything– including ending a hysterical graduation speech with a quote from OutKast's "Hey Ya."
Harvard clearly has no shortage of comedic guests (or anything, for that matter.) Poehler's speech to their 2011 graduating class was punchy and sharp.
"And I am here to tell you, life is like a heist that requires good drivers, an explosives expert, a hot girl who doubles as a master of disguise, and this is a hard and fast rule: if the Rock shows up, they're on to you."
As of now, we're looking forward to her new BBC show and apparent biographical series about my life, Zero Motivation.
Check out the speech here
Did someone give a funny speech at YOUR graduation? Tell us about it!
---
CARSEN SMITH (intern, branding and content) performs standup and improv in New York City. She co-created the improvised cooking show "I'll Have What She's Having," which ran at Nashville's Third Coast Comedy Club. @carsenasmith