Unsuccessful portmanteaux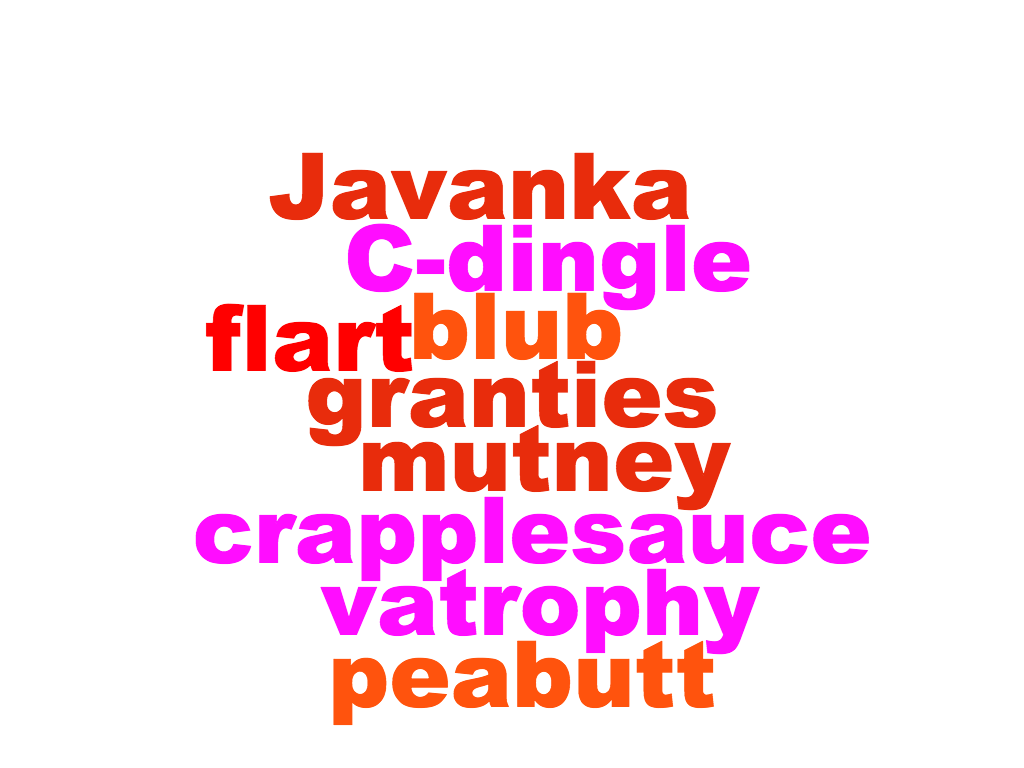 MEMO from the International Ministry of Wordthings 
Head Minstress Amy Keyishian
It has come to our attention that many of you are overusing the portmanteau option. Please be advised that we are limiting use of the portmanteau until you all get this under control. This means you.
To review, "black" + "actor" = "blacktor." This is the Platonic ideal of the portmanteau. It takes up less space, it is efficient, it contains no internal caps, and it is pleasing to the ear. Please note the final bullet on this list: pleasing unto the ear, fellow citizens. Ugly portmanteaux are not helpful and are therefore an abomination.
Peruse this list of verboten word combinations and consider them with sober aforethought before bandying about this most precious and vital linguistic resource.
     

Flow + chart ≠ flart

     

Book + club ≠ blub

     

Chardonnay + party ≠ chardonnarty (

this will get you expelled.)

 

    

Party + hardy ≠ pardy

 (are you kidding us?)

     

Vaginal + atrophy ≠ vatrophy

     

Cranberry + applesauce ≠ crapplesauce

     

Peanut + butter ≠ peabutt

     

Mango + chutney ≠mutney

     

Elevator + operator ≠ elevoperator

     

Canada + Washinton ≠ Canoshington

     

CD + single ≠ C-dingle

     

iTunes + playlist ≠ iTunafish  (

now you're just off the chain)

     

Twin Peaks + freaks ≠ tweaks

     

Palpebral + fissure ≠ palprissure
Addendum A: These are allowed
only if used ironically
. If we can't detect a wink, you must rethink.
     

Granny + panties = granties

     

Presidential + pardon = prizzardon

     

Hogwart + nerd = Hogwerd = HAGRID REALLY IF YOU THINK ABOUT IT
Addendum B: Verboten Portmanteaux of Celebrity Couples:
     

Jared + Ivanka ≠ Javanka

     

Brad + Sienna ≠ Brienna (just sounds like the most popular baby name at the trailer park)

     

A-Rod + J-Lo ≠ AJ, RodLo, A-Lo, or any other combination

     

Kylie + Travis ≠ Kylass

     

Dev + Tilda ≠ Dilda

     

Rooney + Joaquin ≠ Roonaquin (willing to reconsider)

     

Selina + The Weeknd ≠ Seliknd

     

Ellen + Portia ≠ Ellortia

     

Goldie + Kurt ≠ Goldirt
ADDENDUM C: TOTALLY ALLOWED CELEBRITY PORTMANTEAUX:
     

Jenny Slate + Jon Hamm = Slamm (OBVIOUSLY HOLY GOD IS THIS A THING?!)

     

Beyoncé + Jay = BeyJay (WHAT WHY HAS THIS NOT BEEN DONE BEFORE NOW)
Please contact the ministry via owl or smoke signal if you have any questions.