Shaina Feinberg doesn't want to 'do it more normal'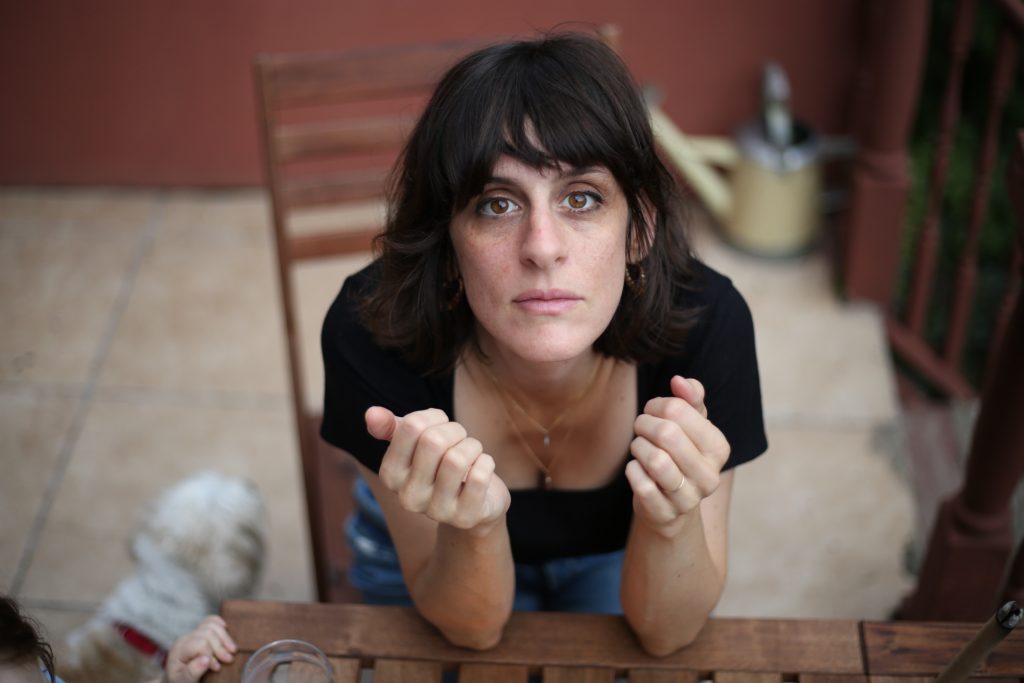 Shaina Feinberg is a filmmaker from New York City. She specializes in micro-budget filmmaking. Her six-part digital series, Dinette, which follows a group of female and gender nonconforming friends, was produced by BRIC Arts Media, premiered at the Tribeca Film Festival (2018) and was shouted out by New Yorker TV writer Emily Nussbaum. Shaina's short film, Shiva, which is a hybrid of improvised comedy and real-life grief, premiered at the Tribeca Film Festival (2017). In 2019, Shaina was named by Indiewire as 1 of 25 queer filmmakers to watch. She co-wrote and directed Aliens of Extraordinary Ability, an original series for Audible. She also directed a second original series for Audible, Phreaks, which stars Christian Slater, Carrie Coon and Justice Smith. Shaina's book Every Body–a candid look at sex from every angle–came out in January 2021 from Little, Brown. Her bi-weekly column in The New York Times, "Scratch" is an illustrated look at the world of business.
---
Describe your worst gig.
Well, I used to perform live with my mom. We'd do these cha cha songs and they always KILLED. Then a producer from This American Life asked us to do a different kind of song for a live This American Life show and we did it and totally bombed. But I'm alive today. I also once performed with my therapist in a dance contest. That was weird.
Favorite response to a heckler or troll? 
That's true.
What were you like as a teen? (Did you have comedy #goals? Were you already funny, or not so much?)
As a teen I think I was not my best self. As a kid I was awesome, hilarious and edgy but as a teen I think I got afraid and went inside myself. I think I had zero goals. I am a late bloomer! But I did love comedy. I loved funny movies. And I think at times I was funny with my parents and closest friends and that always felt so good.
What's your first impulse when someone says "women aren't funny"?
To punch them in the face. This genuinely makes me mad. Fuck the patriarchy!
When you were coming up in comedy, what helped you stick with it?
Well, my career has morphed. I didn't stick with standup or performance, but I love making things that are funny. I love my voice. I genuinely think it is unique. And mainly, if I didn't do this I would die of sadness.
Best comedy advice you ever got?
Eugene Mirman once told me that people constantly ask him how do you be a comedian and he said, you just start and don't stop.
Worst comedy advice you ever got?
Any time someone tells me to rely on old tropes or do it more normal, I know that is bad advice. Also, I don't like mean comedy.
How has being funny helped you in your offstage life, either recently or when you were younger?
Being funny makes life fun! My funny is very chill, but still funny. I love a comedy of manners. My husband is more of a clown. We laugh A LOT. And our kid is funny and loves to laugh. I think just being game for fun makes life worth living.
Was there one person who inspired you to go into comedy? If so: Who, why, how?
My mom didn't follow her own career passions, so she always said to me: follow your star!
Feelings about the word "comedienne"?
Yuck. Not my generation. I also don't say actress.
Favorite response to "What's it like to be a woman in comedy"?
Hmmm…well I'm not really "in comedy." I'm a filmmaker – a writer and director. So I'd say it can be frustrating but also, fuck them, we're awesome!
On your deathbed, what transcendent advice would you croak at a young (female/non-binary) comedian?
You're going to die! Just do what you want to do!
What single word always cracks you up?
Peen? Buttmunch? Turtle herder? They don't really crack me up but I love saying them.
---
Connect with Shaina on Instagram.