RECAP: Zilla Vodnas steals books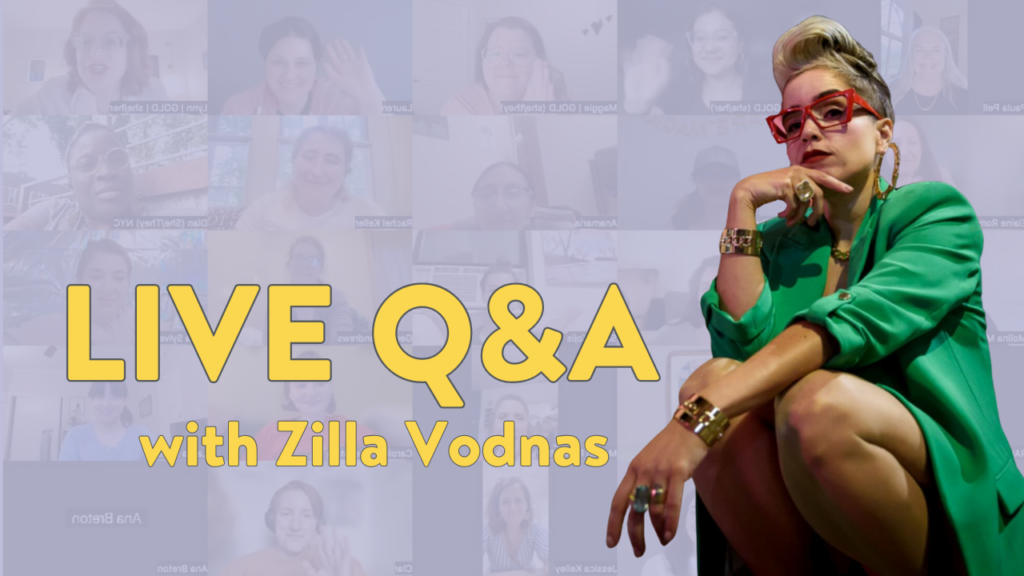 Zilla Vodnas spoke to the GOLD community surrounded by a shelf of color-coded, self-confessed stolen books, and various dolls including a Peewee Herman human doll. (RIP!!) The theme of the month was "adulting," and Zilla told us that she feels like an adult when she files her taxes, but it's clear that she is a young free spirit.
"I always wanted to be an entertainer," she starts in on her story of coming to comedy. Watching shows like I Love Lucy growing up showed Zilla that the great unifier is base-level humor. Zilla came from a film background and was a high school teacher for ten years before she ever got up on the stage. She recalls the state of standup comedy at the time, a lot of men and super hot blonds. "I just didn't see myself enough in comedy until I started doing it myself." It was a perfect storm that led Zilla to comedy. She was at a burlesque show hosted by a male comedian who was just not doing well at all. Zilla was floored that this was a job and knew she wanted it. "My first time at an open mic was disastrous but I didn't hate it," she says. The final nail in the coffin was bumping into an ex who said some dumb shit like "You say you're gonna do a lot of stuff that you never actually do." That weekend she got up on stage and did a comedy show and the rest is history. 
During the prawndemic, Zilla started doing Twitch comedy shows and streams. She does bits like playing Mario Kart as a taxi cab driver, reviewing snacks, and trying out crafting projects. As a multi-talent herself, Zilla answered questions for us about juggling it all. "Sketch and standup speak to and strengthen each other," she says. Having a list of running ideas and also taking time off of pure comedy because "it's in the quieter moments that you get the perfect line idea or the perfect punchline." Comedy comes from life not being in comedy. "There's no quicker way to become unfunny than to burn out," she adds. 
Finally, Zilla addresses a question about jokes coming "too soon." Comedy is subjective, so for some people, its always going to be too soon. Zilla stresses the importance of word economy and knowing what it is you're trying to say. "Comedy is 80% comedian and 20% audience," she says. "You'll lose the audience if for even a second you lose confidence in what you're saying." Feel out a room, test it out, and never punch down.