Lauren Ashcraft math: Anxiety + comedy = running for Congress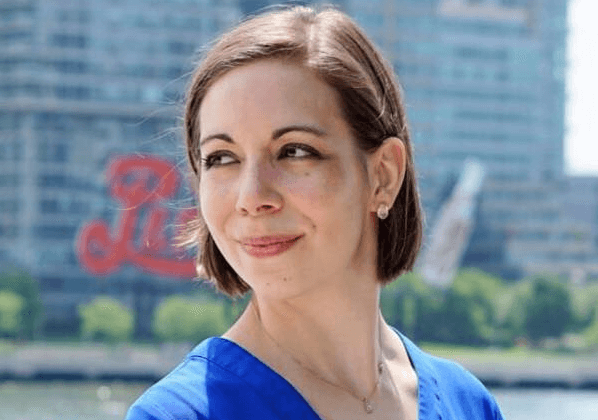 Lauren Ashcraft is a Democratic Socialist comedian who ran for Congress in NY-12 in 2020.
She went to comedy school and started to perform standup comedy throughout the city as a hobby.  In 2016 after wanting to create a safe place for comedians to practice their craft, she began to produce comedy shows. Later that year she planned a celebration show for the weekend following the 2016 presidential election—and when that did not go as planned, she turned the show into a fundraiser for Planned Parenthood. Lauren continued to plan free monthly charitable comedy shows, aptly named "Collection Box Comedy," at which she would showcase diverse comedic talent and collect optional donations from attendees for various 501(c)3 organizations she is passionate about. Learn more about Lauren here! Follow her here!
Favorite response to a heckler or troll?
When I was running for Congress, I always invited them to my upcoming fundraisers.
Describe your worst gig.
I performed to an audience of ONE in a club at the very beginning of my career. The person was weirded out too so was reading a book as I was performing so as to not make eye contact. I powered through and probably have not been the same human since.
On your deathbed, what transcendent advice would you croak at a young comedian?
Bringer shows are scams.
When you were coming up in comedy, what helped you stick with it?
Comedy is where I made all of my best friends in this city. It also became my social life, my activism, and my outlet. Leaving comedy would have meant leaving all of that.
Best comedy advice you ever got?
"Keep your awkward delivery" which is a great relief, cause that's… just me.
Worst comedy advice you ever got?
Literally every piece of advice that a non-comedian has ever given to me, especially when they confuse standup comedy and improv.
Favorite response to "What's it like to be a woman in comedy"?
The community of women and LGBTQIA+ comedians has been AMAZING and empowering to be part of. It fortunately and unfortunately a bonding experience to navigate industry together and stand behind one other.
Feelings about the word "comedienne"?
Gender is a spectrum. Let's keep it comedian for all.
How has being funny helped you in your offstage life, either recently or when you were younger?
I have anxiety and also social anxiety. The first time I got on stage I was shaking. Then I started forcing myself to go to more open mics and eventually started producing my own shows. Now look at me; I ran for Congress!
What advice do you have for how to level up from open mics to invited/paid spots?
Produce your own shows, fill them with amazing people, perform along side them and practice, network, repeat
Was there one person who inspired you to become a comedian?
If so, who, why, how? I was always so excited to turn on Kathy Griffin throughout my childhood, and am a storyteller myself, so I cannot say she didn't inspire me!
What word always cracks you up?
GESCHIRRSPÜLER which means washing machine in German?