Marta Ravin arm wrestles with Chris Evans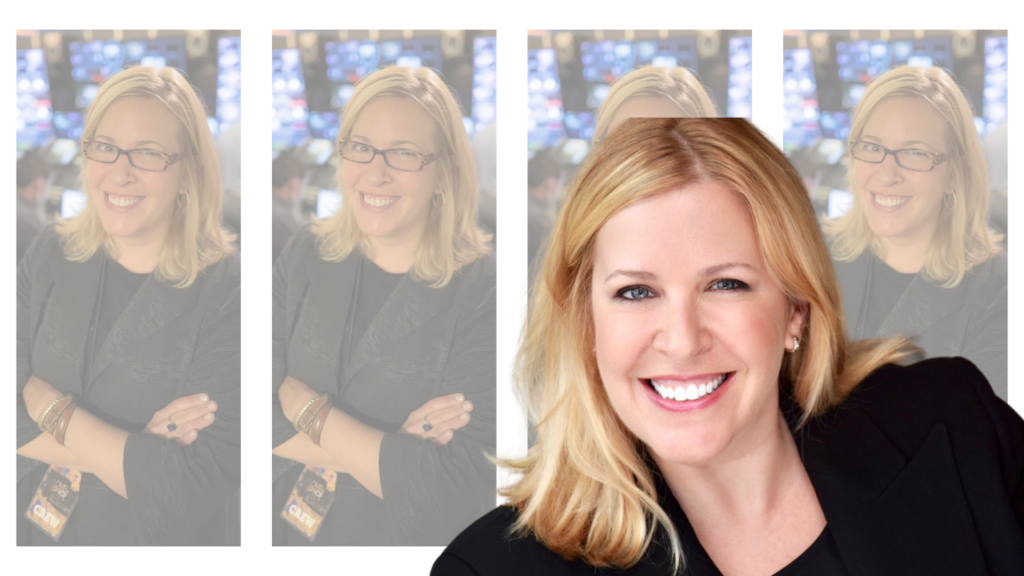 MARTA RAVIN has been sharing compelling stories, producing innovative content and making people laugh for her entire career. She started as a stand-up comic, eventually working as a writer and as on-camera talent for MTV, VH1, COMEDY CENTRAL and NBC. She transitioned to producing, heading up celebrated live events, series and specials for MTV, BRAVO, NICKELODEON, WE, OXYGEN and VH1 including MTV's Total Request Live, NICKELODEON'S Kids' Choice Awards and VH1's Love &Hip Hop Reunions. Marta has also created and developed original formats, most notably The Long Island Medium on TLC. Her latest original production is Get Out of My Room, a home makeover show, with a teen twist on PEACOCK. Marta just launched a new talk show on FOX SOUL, The Sharpton Sisters, starring Dominique and Ashley Sharpton, The Reverend Al Sharpton's daughters.
---
What were you like as a teen?
I was a little chubby, with acne and feathered bangs and all of my BFFs were straight out of Beverly Hills 90210 …so hell yes I was funny! Officially voted "Class Clown" Senior Year in the Newark Academy 1990 yearbook.
Did you have an un-sexy starter job?
I had a great first job. I was an intern at the original Jon Stewart Show which I parlayed into my first job when they had an opening for an audience coordinator. I got to work with an amazing group of writers, producers, and directors; many of whom went on to be superstars themselves. And Jon Stewart was hands down the best boss ever!
When you were coming up in comedy, what helped you stick with it?
My tribe. I had a great group of friends who were part of the alternative comedy scene in the 90's. It was a very supportive community and you never knew who would show up on stage or what they would do when they got there! It was less intimidating for me than the "real" comedy clubs where there wasn't a lot of wiggle room. It was sink or swim. Your jokes needed to be strong and you had to be confident as hell when delivering them.
Have you ever dealt with trolls?
Thankfully my comedy days were pre youtube so there are very few things that ever made it online and if they did it was before the comments feature existed. Hecklers, yes. I would always show up early to my shows and watch the host and other comics in the room to see how the audience reacted to them or if there was a couple on a date, a group of friends from work, etc. So if I was heckled I would have ammunition to fire back at them.
On your deathbed, what transcendent advice would you croak at a young comedian?
Become a dental hygienist or aesthetician. Get a certificate.
Best comedy advice you ever got?
How has being funny helped you in your life?
Doing standup prepared me for so many things in my life/career. I'm always good for a wedding toast or bit. I can lead a meeting and team with energy, excitement, and humor (and I'll usually throw in some wine and cheese as well). I've always been good at pitching ideas in the room or on zoom because I know how to read a room and keep things light and moving. Even if someone didn't buy that particular idea it would usually lead to something else. Whenever I need to do a big pitch or presentation or deal with major celeb talent and I'm nervous I say to myself – girl, you performed standup in front of 1500 people – I think you can handle convincing Robert Downey Jr and Chris Evans to arm wrestle during the Kids' Choice Awards.
What is your go-to show or movie?
What specific things can a young comedy writer do to shape their voice?
Don't always focus on writing the perfect joke. Think about a story you told your best friend that cracked them up and turn it into material. (I can credit Randy and Jason Sklar for that little nugget).
Was there one person who inspired you to go into comedy?
Ellen Degeneres. I saw her perform live when I was maybe 18? And I watched her on stage just walk around and tell stories and I was like "Oh, that's kinda what I do," in front of my family and friends. And I just started writing it down. If it killed at Passover it was going to slay at the Comic Strip (that actually didn't always happen).
Do you have a writing routine?
Get high and then… I forget the rest. But I'm sure all the random "notes" on my phone will one day be a comedic masterpiece and my children will never speak to me again.