Maggie Crane: All Nerd, All the time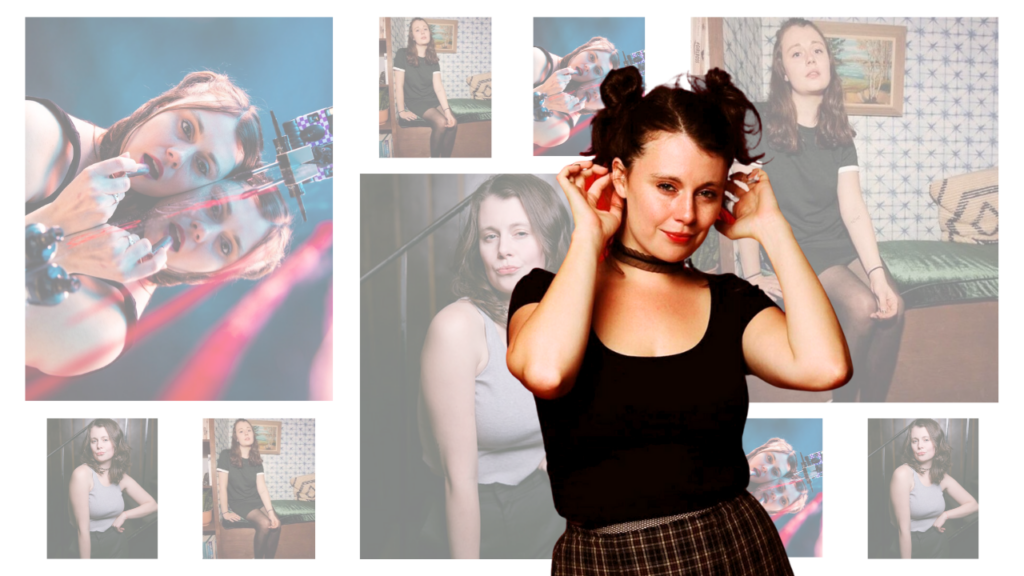 Maggie Crane is a double Aquarius, a lapsed Catholic, a 34 DD, an organ donor, a bitchloversinnersaint, and unfortunately, a Brooklyn-based standup comedian. After moving from the middle of nowhere Massachusetts to a scary windowless basement, she decided to become a comedian and stay in scary basements forever. Maggie regularly features at Clubs, Cabarets, and various dive bars all over New York City.
In 2017 and 2018 she featured at High Mud Comedy Festival In North Adams MA and in 2019 she toured all over the U.S. with Dan LaMorte on the Infect Me Once tour. She hosts various shows around New York (Soup of the Day, Sacred Heart Middle, and High School Talent Show) and borrows her mom's Subaru to do standup around the country.
Maggie is also a writer (who isn't!) whose plays have been featured at Dixon Place and The Brick Theatre. Maggie is very funny and very beautiful (also writing this right now!) – but more importantly, punctual and terrified of conflict so book her on your weird ass shows!
---
What were you like as a teen? 
I was not funny at all. I wanted to be Patti LuPone or some agro-Shakespearean actor. Absolutely no sense of humor to speak of, just all nerd, all the time.
Did you have an un-sexy starter job? 
I still have an un-sexy starter job! Unless you think nannying is sexy (Pervert!).
I've had every nonsexy "starter" job in the world. Dishwasher, cleaner, busser, waitress, host, walking-tour guide, and I even worked at the Tenement Museum where it was my job to ask people to please not piss on the building during Santa Con.
All of these jobs are vastly more helpful to the world than "sexy" jobs. Sexy jobs are overrated and elitist. If you've never scrubbed someone else's shit out of a toilet where you are criminally overpaid I do not trust you.
When you were coming up in comedy, what helped you stick with it?
I started making friends and it felt like a fun after-school activity. I'd have a horrible day at work but it would end and I'd know where to find 10-30 of my friends. It became less about the "grind" or the 10,000 hours bullshit and more about being with your weirdo friends in some basement in Bushwick.
Have you ever dealt with trolls? 
Yes! Don't give them power.
On your deathbed, what transcendent advice would you croak at a young comedian?
Never take advice from a standup comedian.
Best comedy advice you ever got?
Make sure to have a life outside of comedy. You gotta be a person before you're a comedian. Otherwise what the fuck are you gonna talk about?
Worst comedy advice you ever got?
You have to go to 15 mics a week. Girl, calm down.
How has being funny helped you in your life?
It just takes the edge off. Life is weird and hard and lonely but it's also hilarious. Laughing at yourself is the easiest way to go through life.
What specific things do you think a comedy writer should do to shape their voice?
Talk about your life! What's the most embarrassing thing that's ever happened to you? What's the weird teen hang-out place in your hometown? What's something you HATE that everyone else loves? The only thing anyone is really an expert in is their own life so USE IT.
Was there one person who inspired you to go into comedy?
My ex-boyfriend dumped me on a park bench who I met at an open mic and then he told everyone I wasn't a comedian. Revenge is inspo too!
Do you have a writing routine?
I find that wiring is easier if you're performing all the time. Be that shows or open mics. I am not someone who really sits down to write standup, I work it out on my feet. And sometimes I really bomb because of that, but you realize what works really quickly!
What is your go-to show or movie when you've had a bad day?
I read books! Haha jk imagine. Arrested Development.
What single word always cracks you up?