3 Things pre-WGA writers can do while the industry prepares for a strike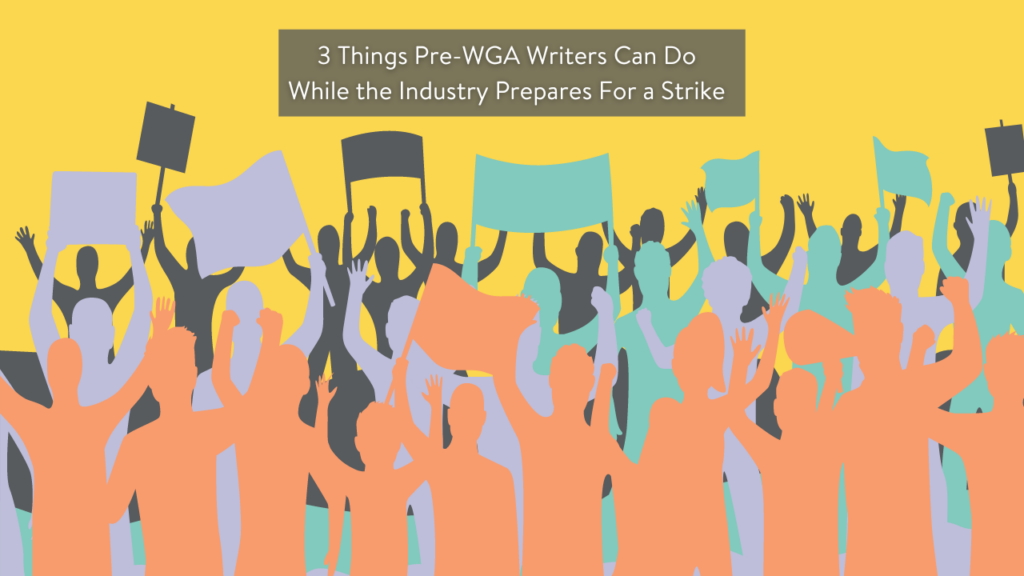 You've probably heard that the Writers' Guild is nearing a strike. In fact, the WGA recently voted–in an overwhelming majority–to approve a strike if the next negotiation deadline isn't met. 
What is the WGA fighting for? In short, YOUR DREAM CAREER. TV Writer Chelsea Davison (The Tonight Show, The Opposition, @midnight) gave us the low down. Here's what she told me: "To put it in the simplest terms, I believe we are fighting for the ability to have a sustainable, equitable career as a writer…raising minimums, pushing back on mini-rooms, getting better streaming residuals, etc. However, all of that comes back to the simple fact that writers are no longer able to build a real career. For almost all of us, writing has become a series of short-term gigs. There's limited upward mobility because writers aren't brought to set or to post-production, and so the next generation never gains the skills to climb to higher ranks…. If our art is making piles of money, we shouldn't be struggling to pay our mortgages (let alone buy a house to even have a mortgage)."
But what does that actually mean for writers? More specifically, what does it mean for YOU–a writer not yet in the WGA (or as I like to call us, pre-WGA writers, WGA-hopefuls). 
I have a show in development and about 2 months ago, the momentum I was feeling….stopped. I chatted with freelance writer/producer/director and all-around icon, Ryan Cunningham (Search Party, Inside Amy Schumer, Broad City) about this freaky freeze. She reinforced what I was sensing, saying "Hollywood has been acting like it's already on strike for 6 weeks. Everyone is hesitant to do anything. It's been very very quiet."
---
 So, while the industry prepares for the looming shutdown, what can we, the proud WGA-hopefuls do? Great question. I know because I wrote this whole article about it. Here we go: 
Write! Re-write! Re-re-write!
You have some extra time to polish and perfect your scripts! I don't want you to burn out, but you just got a great big extension: use it! Now is the time to make sure your scripts are tight, funny, and typo-free. Stage a reading with your friends!
Use this time to build out your portfolio. If you have a pilot, maybe it's time to work up your Late Night packet! If you're mostly a sketch writer, this is the perfect time to dust off that feature screenplay idea. 
Davison mentioned, "It's a confusing time across the board, for WGA members, pre-WGA, and everyone working in Hollywood in all capacities."When everything else is confusing and weird and in flux, the best thing to do is return to the one thing you always have control over: your! Writing! 
My sneaky tip: Keep your drafts organized! I keep a spreadsheet of my versions and what I change. It makes it easy to go back and see your progress. When it feels like you're at a standstill, that progress can matter a lot.
You may not be getting meetings, so use the time to build up your reputation. Ryan Cunningham shared this advice with me, and so now as your TV big sib, I will share it with you. Ryan's advice is to "be applying to as many labs, fellowships, pitch workshops, screenwriting competitions, and festivals as you possibly can."
Laurels are more than just brags–they are a sign that people are vouching for your work! If you (like me) have big plans, but a small resume, getting a few awards could make the difference between getting a meeting or getting ghosted. 
Get informed and support the WGA! 
Now that you better understand the temperature of the industry, it's important to stay informed and do your part for the WGA. 
Your peers are, essentially, fighting for your future (if everything goes according to plan!).
Cunningham agrees, adding, "It's important for people who are not in the WGA to honor the solidarity with WGA writers because the things they're fighting for are very important and long overdue. It will be a very necessary strike." She's getting at something important here–going out on even the rare meeting could be viewed as crossing the picket line. 
In fact, Davison said something similar: "It's important that pre-WGA writers stand with those in the guild now and take up the fight with us. That means not developing or selling scripts with producers and executives during a work stoppage. It's frustrating any time you're on the precipice of something big and you have to halt that momentum, but it's only by standing together that we can change the industry to actually pay us what we're worth." Just because you aren't in the WGA doesn't mean that you should try to usurp your fellow TV writers. Take a breather, don't cross the picket line. Focus instead on your work and making a name for yourself outside of traditional productions. 
Take it from me, the halt of it all absolutely sucks. The way I was feeling about my career even two months ago vs now is markedly different. But when I feel that way, it's important to remember that that's the very same type of career the WGA is fighting for. 
Be sure to follow the WGA on Twitter and Instagram to stay up to date. Getting the news directly from them will help clarify a lot of your questions. Davison added that, "It's hard to know all the ways in which a potential strike could affect writers – both in the WGA and the ones not yet in the WGA. I think this fight has the chance to make things markedly better for those who join the guild after. It could lead to higher pay, better job security, and more opportunities." 
---
You're not alone. All TV writers present and future are going through the same collective fight right now. We're all worried about the career and monetary implications, we're all itching to move our projects forward. I hope you can find some comfort in that and in remembering how far you've come since the LAST WGA strike. I was in L.A., on vacation with my family during the last strike. Every day of that trip I begged my parents to let me go down to the strike grounds with a sign–to fight for and with my idols. (Maybe I was counting on being really lucky and getting to see Tina Fey also holding a sign?? Who's to say what my motivation really was! (It was Tina.)) 
This time around it feels a little more like my peers are fighting for me, along with themselves. And that's pretty close to the dream. Close enough for now, as close as it's going to get for now. So I say this as much to myself as to you, my hot reader: The dream is alive and worth fighting for. Take heart. 
Maggie Scudder is a comedy writer, director, producer, and instructor. She is currently the Editor, Content Lead, and Sketch Instructor at GOLD Comedy—the online comedy destination for women and nonbinary folks.
Her latest pilot script, The GOAT, is being developed with Ryan Cunningham (Search Party, Broad City). The GOAT was an official selection and Pitchworld finalist at Catalyst Content Festival 2022, and won Best TV Pilot Screenplay LGBTQIA at the New York Screenwriting Awards. The GOAT is a half-hour comedy for streaming based on real New York City folk heroes.
Her directorial work includes BFF4L featuring Janeane Garofalo, Mutually Beneficial Union featuring Keisha Zollar, and PRESSED: A live sketch show (COMING SUMMER 2023).