Help! How do I poop in peace? #AskAvery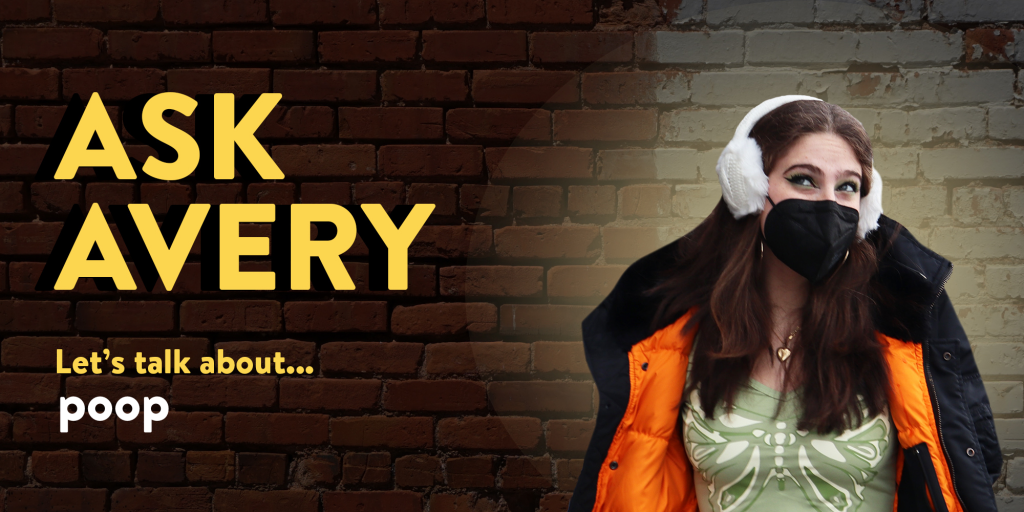 Meet Avery. She has 8 years experience as a comedian and 7 years experience as a teenager—and she is here to A your toughest Qs about comedy, family, romance, school, and the meaning of life (maybe). Got a problem you can't solve or a goal you need help meeting? Ask Avery by DMing @GOLDComedy or emailing info+askavery@gmail.com.
---
Dear Avery,
O.K., thank God this is anonymous cause I got a doozy of a question. I am terrified to poop in a public bathroom. Got any tips?
Your friend,
Terrible #2s
---
Dear Terrible #2s,
Would you be surprised if I said you were not the first person to submit this question? Everyone's terrified of public bathrooms—and not just because of the germs. I say this because every person I know has hooked up in a public bathroom, which, side note, is my conspiracy theory of why young people are less likely to get COVID. We've been eating up those bathroom germs for years.
But you wanna know how to poop like a pro. How to defecate like a demon. How to crap with confidence. I'm not gonna lie, I'm lucky to not struggle with this problem. When I say I'm overconfident, I mean that translates to all facets of life. But here are a few tips I hope are helpful:
Pretend you "forgot" headphones. This is a goddamn CLASSIC. You're in a public bathroom and uh oh, you see another person walk in through that wayyy too big crack in the bathroom door. Don't leave, just start blasting your favorite tunes of TV shows. I'd suggest a crowd pleaser, maybe Jeopardy (not sponsored, trust me). This will drown out any embarrassing bathroom sounds and hey maybe you'll learn a new fun fact.

Learn a new skill. Bathroom time is the perfect time to learn a new loud skill that maybe you can't practice at home Because your identity is truly secret, feel free to go crazy. Beatboxing, bring a tiny kazoo in your bag, tap dancing, the options are really open here. And who knows, maybe you'll even get discovered and then you'll never have to use a public bathroom again.

Build a Toilet Paper Dam (patent pending). The TPD is something I personally have been cooking up for years. It's kinda bad for the environment but hey, you deserve some luxury. Before beginning your toilet excursion, roll up some toilet paper and place it gently in the bowl. This way, that little embarrassing splash noise disappears. It's like a soundproof wall for your poop. Just remember to message me if you actually do this and Venmo me 2 bucks.
I hope these tips help you have the confidence to poop in even the most crowded of public bathrooms. And maybe one day, you'll stop caring all together, and can shit anywhere like the #boss that you are.
Love,
Avery