Hanging out at the Dinette with Shaina Feinberg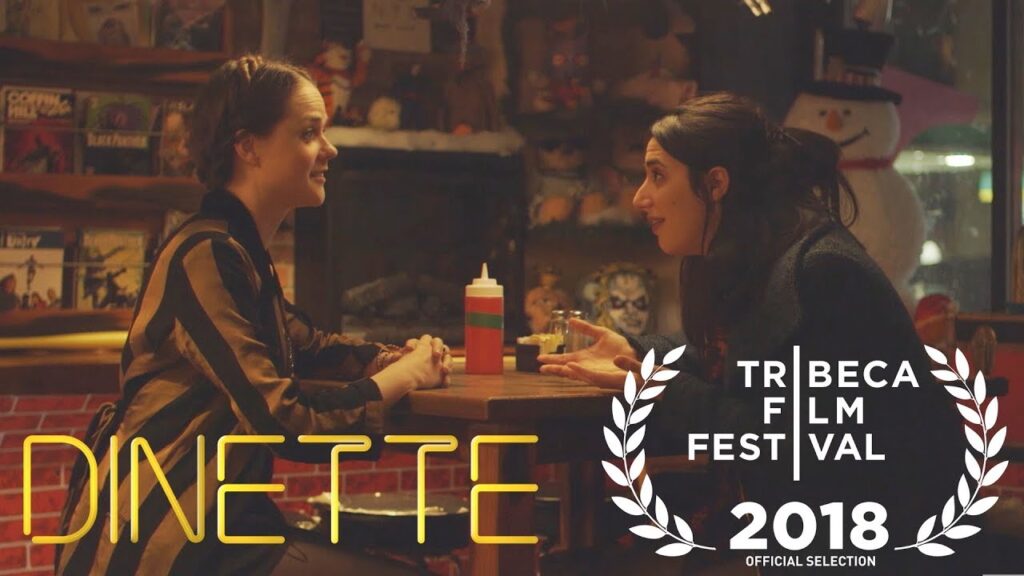 Emma Tattenbaum-Fine is a comedy writer, actor, and director who appeared as the host of HQ Trivia, improvising live in front of a million viewers internationally. She can be seen in Netflix's "Explained" and has written sketch and stand-up comedy for TruTV, Comedy Central, Refinery29, and New York Theatre Workshop (writing jokes for Heidi Schreck and Jeremy O. Harris). Come see her newest weekly writing by visiting & subscribing at emmatattenbaumfine.substack.com Emma is the author of Trash Mermaid, an illustrated book of essays & stories, out soon in print and on Kindle.
---
I've met a lot of celebrities.
I promise this isn't me bragging. I got them coffee and showed them to their green rooms. I did this as a teenager, working as a clueless but plucky intern in the television industry.  As a result of those plainly glamourless summers, I am not easily starstruck. It's hard to be impressed after running around with trays of Splenda and skim milk, making sure that Elton John, Sting, Paris Hilton, and her dog were comfortable and caffeinated.
However, while meeting and interviewing filmmaker Shaina Feinberg … I'll say it, I was starstruck! Why? Because I had just finished watching seasons 1 and 2 of her exceptional series, Dinette, and had fallen madly in love with every character and storyline from her gloriously subversive and playful brain. And now … here she was, sitting before me on a Zoom call while nursing her new baby!
I mean, is there anything that says "the future is female" more than a new mom filmmaker nursing a baby while giving an interview to Gold Comedy?!
But as Dinette can attest, the future is much more than female: it's gender nonconforming; it's queer and flirty; it's straight(?) and questioning. It's bold and James-Bond-butch. It's trouble-making; it's pro-immigrant; it's touching; it's clownish.
The cast of Dinette features a crew of charismatic and utterly winsome friends as they each level up on their quest for self-actualization. The journey takes different forms for different characters: Maybe it means finding their personal brand of masculinity as butch lesbians or confronting her identity as a privileged white immigrant and what this country's failings mean to her shifting sense of priorities. Or, as in one whimsical and searingly earnest storyline, marrying one's own self — in a formal ceremony — to express self-love in front of a normie sister and (very supportive but perplexed) best friends on your 33rd ("Jesus Year") birthday. The storylines, no matter how close to, or how far from, my personal experience, each felt truthful, deeply human, and absurdly funny.
You've probably heard Shaina Feinberg's name around town, from one of several different dimensions of cultural tastemaking. Her credits cover every medium. Feinberg is an author: Every Body, published January 2021 from Little, Brown; she's a journalist, of the bi-weekly New York Times column, "Scratch," an illustrated look at the world of business. She's an award-winning filmmaker many times over (The Babymooners, Shiva, Blunderpuss, to name a few).
Feinberg shines in all these expressive avenues, but her creative voice rings out with an especially fulgent clarity in the newly released season 2 of Dinette. This time around, a sudden death in the tight-knit community is the catalyst for Feinberg to do what she seems to do best, a wintry mix of clowning, grief, and love.
Dinette really gets it: There is never just one emotion in a loaded moment. A person can feel a thousand contradictory feels in the space of one instant and the show captures that: The hilarity and complexity of queer womankind.
Season 2 of Dinette is now fully available from BricTV on YouTube and you better go watch it!
---
Tag @GOLDcomedy on Twitter to let us know your favorite scene! (Ok, I'll let you pick three because that's just the only fair way to do this.)
Upcoming: Stay tuned for excerpts from my interview with Dinette's director and creator, Shaina Feinberg.