First Time Up: Kristina Feliciano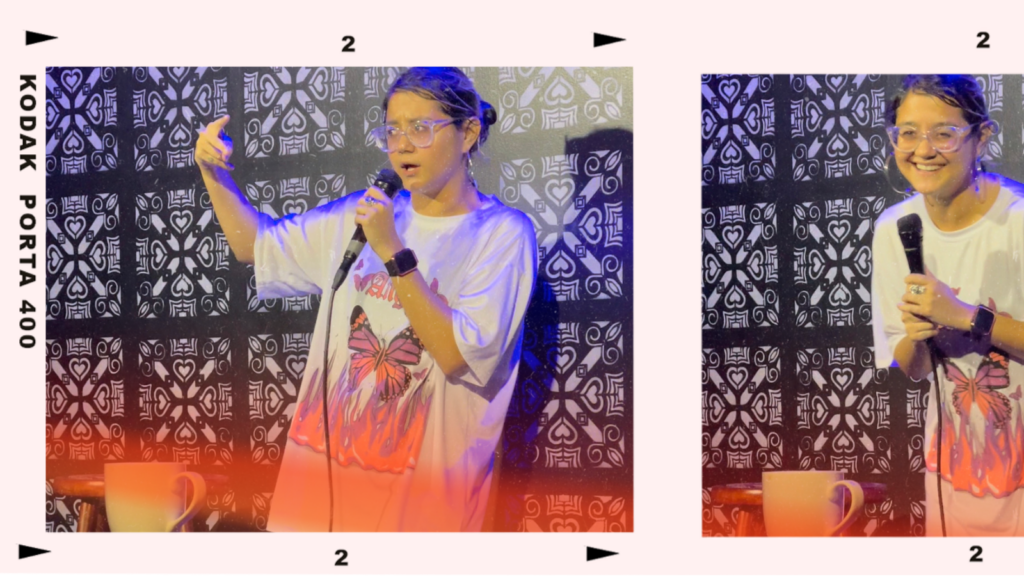 Wednesday, September 1st, 2021 was the night Hurricane Ida reminded us that climate change isn't coming…it's already here!
Not to make this tragic storm about me (though I am a Leo, so very on brand), but this was also the night I went to my first open mic! Please…hold your applause!
At the time, what seemed like "some rain," was just a funny part of my first open mic experience. In hindsight, I'm soooo lucky that the worst thing about the evening was telling my jokes in squishy, wet socks. 
I was visiting my family in New York for the week, and I promised myself that I would attend my first open mic during my stay. I'd been writing material and honing my craft with my fantastic community at GOLD Comedy, but I'd never told my jokes at an open mic with strangers.
I once heard someone say, "You're not a real comedian until you make a New York audience laugh." I cannot remember who said this, but if you find that person, tell them they suck.
I remember thinking, "Wait…am I not a real comedian yet!?" I was starting to get imposter syndrome but, like, even worse than the imposter syndrome I get when someone asks me if I know how to use excel. 
My irrational fears began to pile up, "What if they don't get my jokes?" Or worse! "What if they don't like me?!" It was essential to get stage time because I was starting to doubt myself. (Even though deep down inside, I know I AM FUNNY AF!)
Going to your first open mic during a category four hurricane is SO extra and I'm grateful I wasn't alone. My friend and fellow GOLDie, Kelly, came with me to the mic! My childhood bestie, Cathy, also came to support me! Yep. We're all dumb. Don't get me wrong, It's not like Kelly and I PLANNED to go to the open mic during a storm; it kind of just happened.
I expected it to rain all day, but it didn't rain! IT WAS SUNNY IN BROOKLYN. When the nerves started to kick in,  I texted Kelly like, "Are we still going tonight? I know it's supposed to rain…" expecting her to cancel (maybe even hoping she would) but she replied, "Yeah!" Poor girls.
We knew the rain was coming, but we were trying to beat it. Suckers.
Apparently, Cathy and I don't believe in umbrellas because between the two of us, we had zero. Instead, we threw on some hoodies and sneakers then hopped on the train. Still no rain.
We get off on Delancey, and as we're walking out the subway, BLOOOOOOOP.
One BIGASS raindrop fell from the sky and baptized me.
I looked at Cathy, and before I could even say "run," TORRENTIAL DOWNPOUR! We were running as fast as we could from 2nd Ave to 7th! SO MANY BLOCKS. No matter how fast we ran, we were wetter than Jennifer Beals in Flash Dance.
I remember thinking, I HOPE KELLY HAS AN UMBRELLA. Like that would've saved her. We finally meet up with Kelly, and apparently, she doesn't believe in umbrellas, too, because we're ALL soaked and LAUGHING.
Welp… time to tell some jokes…soaked. 
The actual mic was so much fun and my nerves quickly started to melt away when I realized how low stakes it was.
Many folks had half-baked ideas, studdered, and even "bombed," but it was ALL accepted! The crowd was pretty nice to me. I told them it was my first open mic, and I think they laughed extra hard because of that. #LIFEHACK
Overall, some jokes worked, some jokes didn't, and some stuff I didn't even consider a joke got laughs! Even when people didn't laugh, it gave me insight into what was working and what needed more work.
It felt less like a PERFORMANCE and more like solving a math problem, but with fewer tears. I felt empowered when people laughed and I felt informed when they didn't. (I'm very mature and intellectual!)
More than anything, I was so proud of myself for just getting up there! I am a comedian! Not because I "finally made a New York room laugh," but because I make myself laugh, and I LOVE COMEDY! I learned from this experience that comedy is trial and error and not getting laughs is part of the game!
Even when you feel like you "bombed," you're that much closer to getting that joke to where it needs to be! It's all part of the process. Moral of the story: don't let some random quote define your life, fail gloriously, and ALWAYS check the weather! 
---
Kristina Feliciano (she/her) is a comedian, writer, actress, and professional procrastinator. She has experience writing stand-up, character monologues, sketches, and unfinished plays about love and relationships. She graduated from Emerson College with big sparkly dreams of writing and starring in her own TV show one day. Ask her about her cat or sustainable fashion and she'll never shut up!