8 Female/LGBTQ+ friendly open mics that you can Zoom into from anywhere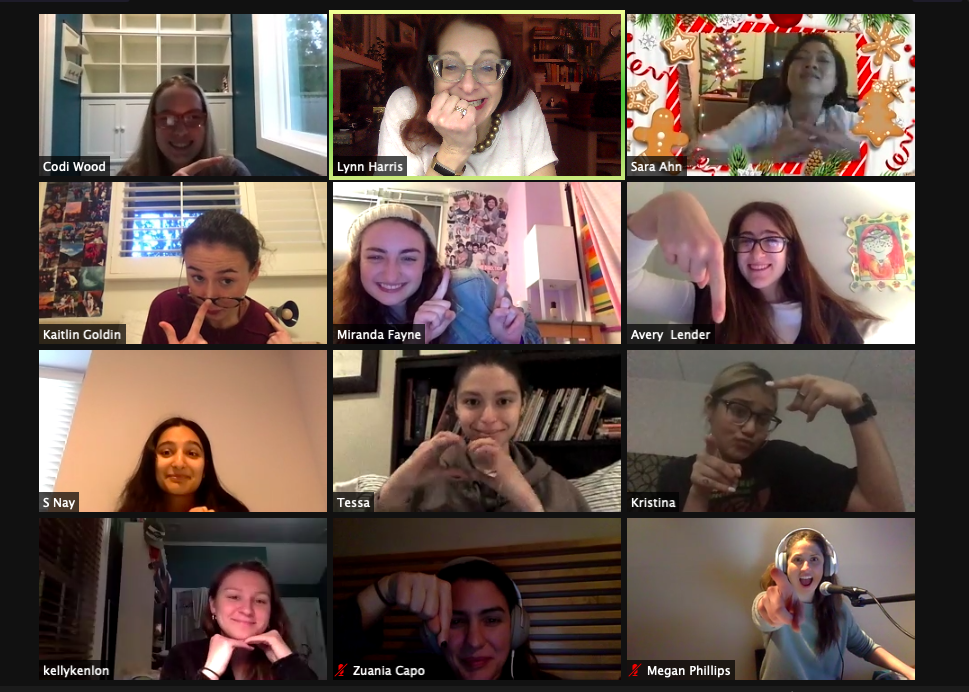 Ah, the open mic: That intimidating, exciting, stomach-churning event held in a dingy basement or a bummer of a bar, where—if you're anything like this comedian—you're surrounded by the "white male gaze" (a throng of Dougs and Zachs gazing at…their phones).
Problem: Open mics are essential for comedy practice and logging stage hours, and they can be fun—even thrilling … but for those of us outside the dude norm, it can be hard to find friendly open-mic faces and spaces.
UNTIL NOW! That was the before times! With the invention of COVID (which otherwise, to be clear, SUCKS), and Zoom, we now have new online platforms for open mics. They're more accessible than ever to comics of all ages, locations, experiences, and identities. You don't even need a fake ID!
Below is a non-exhaustive and unscientific but lovingly curated list of virtual/online open mics tailored to not suck if you are female, LGBTQ+, and/or a person of color. Hope to gaze at you there!
Open mic night at the LGBT Center of Raleigh
First Saturday of every month, 7-9 pm ET: The LGBT center hosts an open mic for anyone to come out and share their comedy, a story, poem, or anything else! 
Oakland Queer +Trans open mic
Tuesdays 6:45-8:15 pm PT: Bring your thoughts, words, short films, music and more. Signups begin at 6:45 pm and sharing at 7. 
Virtually Monday Open Mic – Virtual Mondays! 
Mondays 12.30 pm ET. Says founder Amy Veltman: "I started comedy the week Trump was inaugurated. Come see what jokes look like in a new administration! Or show up to listen. It's quick and convivial at this Zoom mic that's been going since March 16th, 2020. We've been through so much!"
Ember Open Mic
Saturdays 7-9 pm PT: If you're looking for a no-nonsense respectful open mic, look no further than Ember!
Desi Open Mic (for South Asian artists)
Sundays 11 am-12:30 pm: Desi Open Mic provides a unique platform for South Asian talent. They say: "Whether you're a musician, storyteller, poet, comedian, or any other form of performance artist, we welcome you with open arms. We encourage participants who perform in Hindi, Punjabi, and Urdu." Click here for more guidelines. 
Moms Mabley is Our Godmother
Tuesdays 11 am-12:30 pm PT: This mic is ONLY for Black women-identified (cis-gendered + transgender), non-binary, and gender non-conforming comedians. A space to provide a supportive and nurturing environment to hone the craft of stand-up comedy. 5 minutes. Email ashli.patrice.show@gmail.com to sign up and receive the ZOOM password.
The Anarchy Comedy Open Mic
Fridays 8:30 PST. Sign up 20 mins before it starts and you get 7 minutes to be funny. First come, first served, there is no waitlist and only one rule: don't be a dick. 
The GOLD Comedy open mic
Mondays 5-6 pm ET: You get a chance to perform AND you get thoughtful, actionable feedback from comedy pro host Lynn Harris (or special guests) and your comedy nerd peers. Basically, the nicest, most useful mic in the world—and it's included with all the other classes and events in your GOLD Comedy membership. No wonder it's a member fave! club.goldcomedy.com 
BONUS for reading all the way down: Here's a longer/more general list of mics, put together by JokeZoom. Try your stuff out at one of these joints and let us know how it goes @goldcomedy!