4 reasons to submit your comedy to film festivals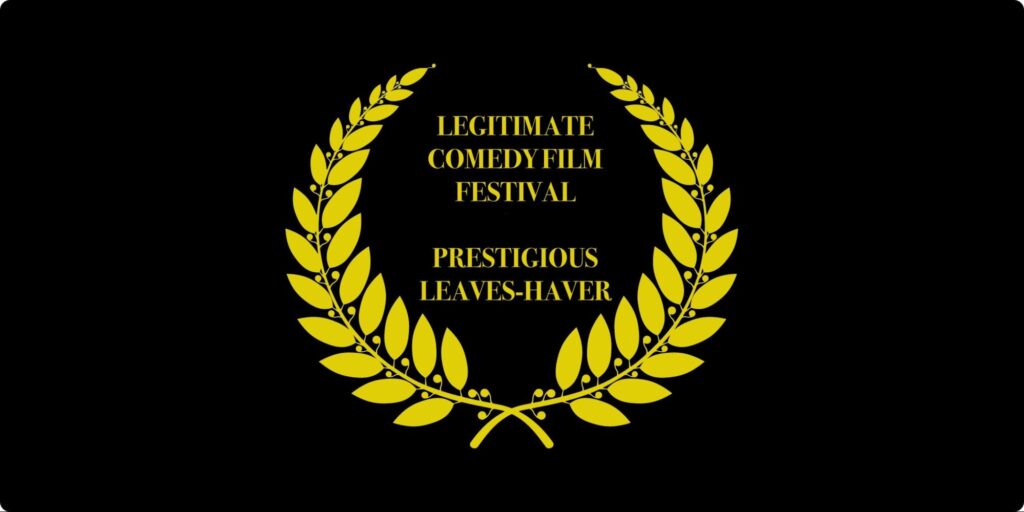 Em Haverty (they/them, she/her) is a comedic writer, performer, and high priestess in Chicago, Il.  Their last major project was the comedy video EP Show For Ghosts, winner of "Best Solo Sketch Show" at All The Laughs Comedy Awards. Find them on Twitter and Instagram (@ParodizeLost) and see more of their work on Patreon!
---
Congratulations! You put together a video project! Seriously. It's a big deal to embark on filming a sketch, web series, or full-length feature. It's an even bigger deal to see your project through to completion. Now that it's all said and done, you can finally relax—and spend the next year hounding everyone you know (and people you don't) to watch what you made.
I speak from experience! And my experience is: The best way to get people's eyes on your funny vid is to get your comedy film into comedy-friendly film festivals. 
I've spent more time promoting my solo sketch video EP, Show For Ghosts, than I did throughout the entire six-month production process. My very original promotion strategy was to sift through relevant online comedy communities and hashtags. Even though I liked when new audiences watched Show For Ghosts, I got more enjoyment from sharing it with other comics and creators.
Finding film festivals has never been easier thanks to the internet. The platform FilmFreeway condenses what used to be an ordeal into a head-slappingly simple process. While there are other options for festival searching, FilmFreeway has a giant database to sift through, plus they give you space to host press kits, bios, headshots, and more! I could go on, but I'm starting to sound like an unpaid ad-spot (Momma doesn't shill for free. Momma wants coin and promo codes). Check it out!
When I discovered comedy film festivals, something clicked. Now that I've been accepted into a few of them (hair flip), I find that this recognition enriches me in ways that my original Hustle hadn't. Here are a few benefits of submitting your comedy to film festivals.
Networking
I'm not going to extol the benefits of "networking" here. If you don't know what networking is, I envy you and the rock you live under.
Compared to the modern business strategies of networking (including "hob-nobbing" and "forced laughter"), networking within a creative community is more about building community. It's plain and simple.
Film festivals help deliver a community to you—especially if you can seek out the funny people, even virtually. So have fun and celebrate the shared good fortune. Make a friend and see their work, or see work and then seek out the potential friend who created it. Who knows, you might find a collaborator or a couch to surf on in future tour travels.
Awards help you look fancy
Laurels are a practical step of other creative careers, but they're not typically considered in comedy. Yet nothing makes you seem more professional than two little branches hugging words. They look good in a bio, and they look amazing if you seek non-traditional funding like applying for grants. Laurels are the quick way to show that you've Done The (Extra) Work in your comedy life.
These leaves say "This isn't my first rodeo. I'm no spring chicken. This isn't my spring rodeo. I'm not the first chicken." When you slap these leaves on a poster or press release, you are telling the world "I am an experienced and recognized rodeo chicken of renown." And, point is, you can get them at film festivals. 
Encouragement
Here's the film festival best-case scenario: you win a cash prize award and receive productive feedback on your work. Awash in accolades and reenforcement, you feel renewed with each fest acceptance email.
But like any comedy product … yours might not be everyone's can of spring-loaded snakes. Rejection still stings, but the sting doesn't need to last long.
At first, I balked at submitting to Cannes. Cannes! Then after submitting to more fests, rejection no longer felt scary. I submitted to Cannes in the spirit of "F*** it." Did I hope to get in despite the odds? Of course! Did I take solace picturing someone at Cannes sitting through my scatological poem reading? Yes, and I will forever ride that high.
Exposure to new work
At my first film festival, the queer festival PRISM/aGLIFF in Austin, Texas, my piece was featured in a block of avant-garde works. Sure, it's not what one thinks of when they think of solo sketch comedy, but this programming had two unexpected benefits.
First, in watching the block of capital-E Experimental Films, I found inspiration in unique approaches. "Why not try animation like that for a sketch?" "Wouldn't it be cool to use a shot like that?" "Huh, I suppose I've never seen someone use a carrot like that." You get the idea.
Secondly, the audience watching the films was not expecting my oddball sketch show. As a result, I ended up getting way more followers from that screening than I have in traditional comedy settings. It's a life lesson: Be the weirdo of the weirdos. A comedy-friendly film festival is just the right kind of festival for that. 
---
If people say that releasing a project is like watching their baby go out in the world, submitting that project to festivals is like living the "pageant parent life."
The comedy film festival circuit lets you have more time with your bundle of joy—so please, enjoy these times while you can.
And while you're at it, tweet us @GOLDComedy with your pride and joy! Have a good time submitting, and once again, congratulations! You did it!