Ever Mainard never sits in the comfy chairs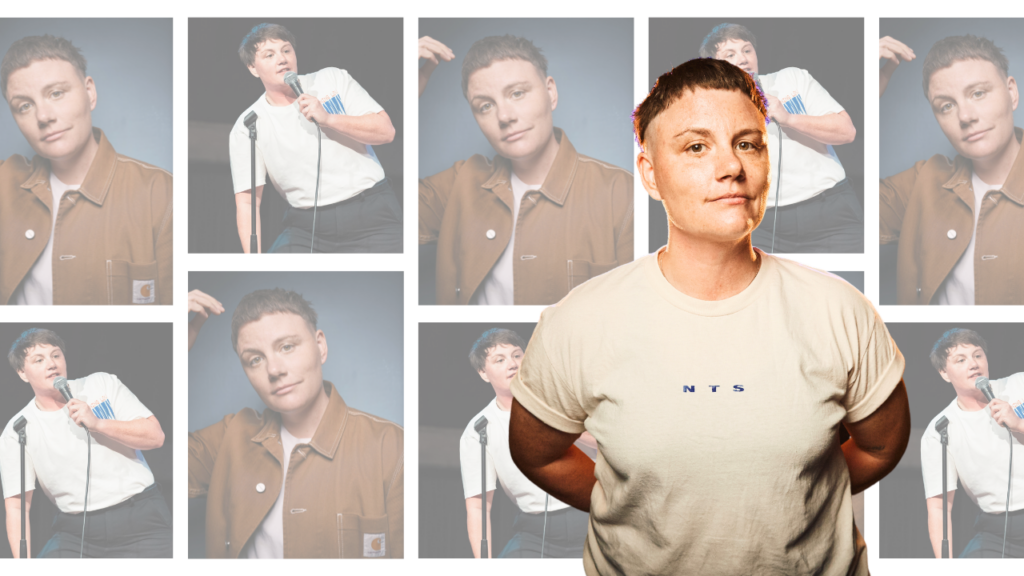 EVER MAINARD is a non-binary, award-winning actor, writer, and comedian. Most recently a Just for Laughs New Face of 2022, and one of Vulture Magazine's Comics You Should Know for 2022. Ever is also 1/2 of the critically acclaimed Podcast –Y'all Gay–​
Variety Magazine describes Ever as a "Wildcard,.. Hysterically funny and a force one can see a mile away…" for their performance in Netflix's The Feels, opposite Constance Wu. Ever has also been seen as Lomey in Mark Duplass' Paddelton, and stars as Marcy in Conan O'Brien's new digital series, Meet the Staff, and is the voice of the Whisperer in Disney's The Mysterious Benedict Society.
Ever has written for Beavis and Butthead, Scy-Fy, E!, Huffington Post, The Guardian, Wilshire Studios, and more. Ever has been rated as one of the Top- 3 U.S. Imports in the Edinburgh Fringe for their one-person show, Let Me Be Your Main Man, and has performed stand-up across the U.S. and Europe.
Ever's spontaneous characters, quick-witted anecdotes, and quirky mannerisms will have you laughing well after their performance. Their background in improv gives them the ability to create visceral and borderline cathartic moments in their crowd work and off-the-cuff riffs. 
---
Best comedy advice you ever got?
Beth Stelling gave me the great advice of recording every set and then listening to it the next day. It can feel cringy and awkward, but it's worth it!
Worst comedy advice you ever got?
God. That paying to do shows is worth it. NOPE SORRY BYEEEEE!
You don't have to do bringer shows.
How has being funny helped you in your life?
It helped me make friends! Relieve stress, and at times (a lot of the times) find the funny in painful situations.
What were you like as a teen?
I was a funny goth-jock. So… awkward?
Did you have an un-sexy starter job?
I was a Starbucks shift manager for close to 10 years. I moved to Chicago with that job and worked at the 24-hour Starbucks in Piper's Alley next to Second City. It was great because I could just go to classes and then work! Plus Second City would always have alums come to town: Amy Poehler, Tina Fey, Tim Meadows… etc. At first, it was really exciting to serve my comedy heroes coffee… But then I got put on the overnight shift & I learned what a nightmare people are. I saw a man get stabbed, multiple penises (Never sit on the comfy chairs!), Chess Gamblers, Russian Mobsters, yuppie Drunks, regular drunks, bro drunks, lots of drunks, lots of loose drugs, shitty Cubs fans (YEAH I SAID IT), and people who would eat raw meat for fitness. I got some friends and for a brief time, health insurance.
When you were coming up in comedy, what helped you stick with it?
My parents! They've always encouraged and supported me.
Have you ever dealt with trolls? Hecklers? 
Trolls come and go, and I usually just ignore them. Hecklers are interesting; social media has made it normal to heckle during a show… Gatta get those clips, baby!! But hecklers, real hecklers, I usually just address head-on.
What is your go-to movie to watch when you have had a bad day?
What specific things can a young comic do to shape their voice? 
I do a lot of visualization before I go on stage: How I want to feel, how I want the audience to react, and the outcome of the set. How the mic feels – everything. So I know it before I step onto the stage. It's learning how to manage your energy and accepting your talent & that people want to receive your talent. Just being yourself and embracing yourself (even the parts you don't like) is really helpful. People want to root for you!
Was there one person who inspired you to go into comedy?
I just kinda always wanted to be a comedian! I grew up watching MadTV, SNL, Whose Line is it Anyways, any standup DVD at Blockbuster, Caroll Burnett, Steve Martin, etc…
Do you have a writing routine?
I have a brief idea, I act it out on stage, and I listen back to it. I imagine other parts and then I start writing down the jokes and tags in a journal. I like to get the draft out first verbally, and then write it out 🙂
What single word always cracks you up?
Tough Question! Bonezone.
On your deathbed, what transcendent advice would you croak at a young comedian?
You are worthy of your talent 🙂