12 must read memoirs by hilarious women (and even one teen!)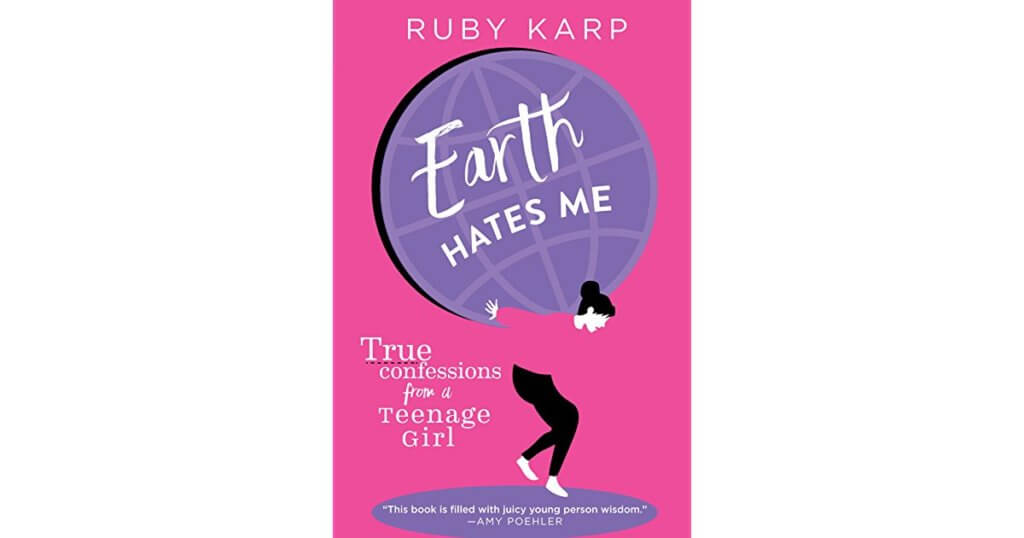 Confession: I hate reading. It's hard to pinpoint exactly when this hatred began (probably somewhere between sitting with that dumbass in kindergarten who took twenty minutes to read the word "cat" and having to lie on my nightly third grade reading log), but I can't remember the last time I was able to get through a chapter of a book without taking a 40-minute nap, watching two episodes of The Office, painting my nails, and/or creating a Chinese-Italian meal with the leftovers in my fridge. I rarely seem to find a book that can actually hold my itty-bitty attention span.
Exception: funny memoirs. Ever since I was 12 when I found Bossypants on the floor next to an airport garbage can, the genre has been my go-to for not-so-guilty pleasure. Here's a list of hilarious books by hilarious women—some timeless classics, some brand new—that helped me fall back in love with reading.
1. Earth Hates Me: True Confessions from a Teenage Girl, by Ruby Karp
16-year-old comedian Ruby Karp takes on teen life. Ruby is just getting started, so be sure to check out her brand new book before the rest of the comedy world catches on.
2. Lea's Book of Rules for the World, by Lea Delaria
Before she was Big Boo on Orange is the New Black, Lea Delaria was (and still is) an amazing stand up comic, jazz singer—and memorist! As Delaria says, you have to learn all the rules before you can break them.
3. Self-Inflicted Wounds: Heartwarming Tales of Epic Humiliation, by Aisha Tyler
The Talk host Aisha Tyler gets real about all the embarrassing mistakes she made on her way to the top. I find this REASSURING.
4. Dolly: My Life and Other Unfinished Business, by Dolly Parton
No one can combine sass and sentimentality like Dolly Parton, who tells it like it is in this honest, hilarious memoir about her journey to stardom.
5. Seriously…I'm Kidding, by Ellen Degeneres
Ellen Degeneres' talk show style comedy comes right through in her writing, making this memoir feel more like one long, hysterical monologue than a 200+ page book.
6. Amen, Amen, Amen: Memoir of a Girl Who Couldn't Stop Praying (Among Other Things), by Abby Sher
GOLD teacher and Second City alum Abby Sher looks back on her music-, love-, comedy-, and OCD-filled past.
7. Suck It, Wonder Woman!: The Misadventures of a Hollywood Geek, by Olivia Munn
Olivia Munn opens up about life in Hollywood in this series of incredibly frank essays, featuring pieces such as "What to Do When the Robots Invade (Yes, When!)" and "Thoughts About My First Agent's Girlfriend's Vagina."
8. Wishful Drinking, by Carrie Fisher
Carrie Fisher, who is much funnier than General Leia, gives an intimate account of her unusual childhood growing up Hollywood royalty and becoming a cultural icon at the age of nineteen.
9. The Bedwetter, by Sarah Silverman
No one is able to deliver crude, filthy, pee-your-pants/bed funny comedy quite like Sarah Silverman, and her memoir certainly delivers all the laughs it promises.
10. Happy Accidents, by Jane Lynch
If you're a diehard Glee fan or need a dose of sage advice, Jane Lynch's memoir is for you. It's filled with tons of great stories on navigating success, sexuality, and high school, but its messages are applicable and hilarious for people of all ages.
11. Yes Please, by Amy Poehler
I know you guys know Amy Poehler is funny. But LISTEN TO THE AUDIOBOOK. Her PARENTS are in it—and let's just say, you see where she gets it (the humor and, when she turns it on, the Boston accent).
12.  Is Everyone Hanging Out Without Me? (And Other Concerns), by Mindy Kaling
Mindy Kaling's debut book is a quick read and an absolute gem, filled with tons of relatable anecdotes from her stint as a Ben Affleck impersonator to her breakout role on The Office.
Got another recommendation? Give us a shout! 
---
Kaitlin Goldin is a student, writer, actress, and devout McJew based in the Bay Area. She is currently a junior at Marin Academy in San Rafael, and she is credited with such historic events as creating the modern-day internet, finding the cure to polio, and discovering the classic combination of Oreos and peanut butter. She also enjoys long, romantic walks on the beach and monster trucks and all that crap.