What I watched in my COVID hovel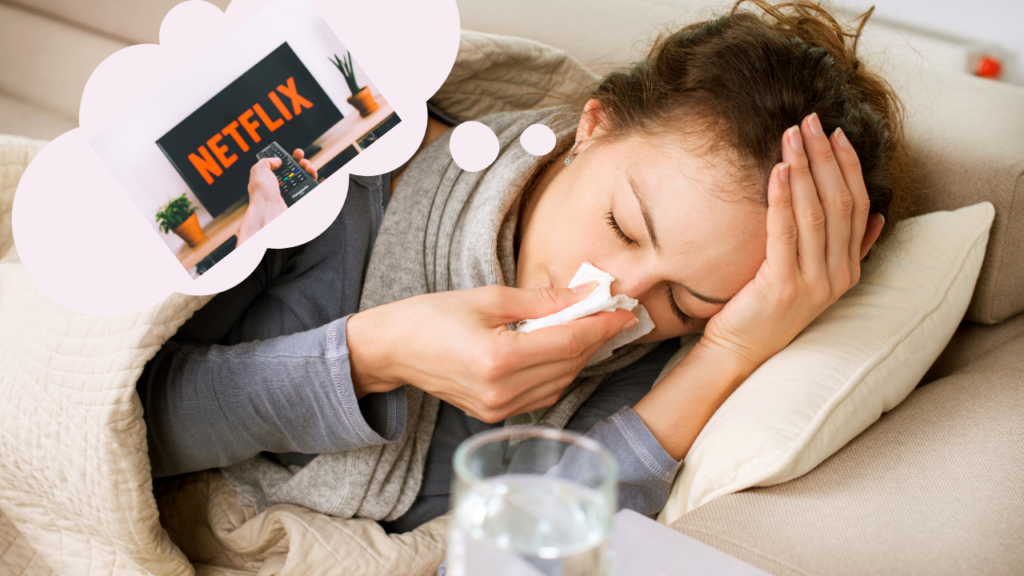 So it happened… after all this time. I finally lost a little bit of my exceptionality complex because I contracted c0<![).
Luckily, my physical symptoms were not very bad. However. I am an extremely antsy human being. I don't like to sit still. I don't like to stay in one spot too long, especially when I am being told to do so by the "government" and "society."
Sill, I am a decent human being. I secluded myself in my cold bedroom, gazing longingly out of the window at the people passing by, spiting them for breathing fresh air. Then I realized…this is why God gave us television, people! And being sick, for me, is a perfect opportunity to watch all the shows for which I never had time. The queue was thicc, folks.
And so, armed with a bottle of yellow Gatorade Zero and a can of Upton's Vegan Chicken Noodle, I embarked on a content binge across all the platforms. These are their stories. *Law & Order Gavel Sound*
1. GOOD GIRLS
What stopped me from watching Good Girls, prior to my contagion, was my fear that it would be like the academy-ignored-winning film(s) "Bad Moms."
Call it sexism, momism, or just plain ignorance, but I did not enjoy that one so much. Mom stories can be tough, I'll be the first to admit. Bully for us that Good Girls turns out to be the greatest crime drama since How to Get Away with Murder. (Interestingly, Jenna Bans, the writer of Good Girls, did also write for Grey's Anatomy. But I digress.)
I recommend you start this show on day one of your quarantine so that you can get through as much of it as possible before having to get back to work. Trust me, you think you love season one? You're not even ready for season two. You can find it on Netflix.
2. SEINFELD
Okay. So hear me out. I didn't like Seinfeld. And I still do not like Seinfeld. I'll tell you what I do like, Julia Louis Dreyfus. In the words of literally every man I've ever met, "Seinfeld is a comedy classic," and, apparently, "Every comedian needs to see Seinfeld." So I says to myself, I says, "Fine!" Fine Doug! Fine Brandon! Fine Zacharia! I'll watch the damn show.
To its credit, it's a fine show to have on in the background while you play a game, or write an essay on the end of satire. It is what it is. JLD is not in it NEARLY enough and Jerry is in it way too much. My favorite character is obviously Kramer and I would wear everything he wears.
I'm not putting a clip in, it doesn't need promo. You either submit to the male domination of comedic history and learn about why it was so big, or you don't. You'll be fine either way. It's on Netflix. Harumph.
3. UNHhhh
(Specifically, episode 137 "I'm Sick," and 137 "Getting Sick" Pt. 2.)
I promise you, you'll leave feeling better about any topic these girlies cover. Drag icons Trixie Mattel and Katya pulled me through this quarantine I tell you. Watch one, watch ten, watch 'em all. UNHhhh is the best medicine.
4. ATLANTA
"It's about Goddamn time, Tess!" – You, probably. 
And yes, I hear that. It took me being strapped to my bed and unable to do anything else to start this series. If there is one thing I learned from this experience, it's don't judge a show or movie or book or Ted talk based on your assumptions of what it's gonna be about.
I dunno man, I really thought Atlanta was gonna be super intense and upsetting. I now know I should just trust that Donald Glover will never lead me astray. While there are big emotional moments in Atlanta, there are also some of the funniest and most artistically crafted scenes in TV history.
You'll learn, you'll laugh, you'll cry. I don't know… Am I preaching to the choir here? The point is, if you don't know, it's time for you to know. And if for one second you think that you should watch Seinfeld over this? Homie, you may as well sit in silence contemplating your own mortality. 
5. BA DUM TESS
After about five episodes of Good Girls and a David Lynch movie, my eyes were burning.
I could hardly produce my own tears or saliva and I was in need of some real decompression. Lucky for me, this podcast has like 8 episodes out now. I didn't have to look at a screen or worry about character development. I could just sit back with my earbuds in and chuckle along to the dulcet tones of a-one Tessa Abedon (me) and a-two Trina Sanyal.
Their (our) rapport is fantastic and they interview incredible guests like a real-life cowboy, an MTA ticket booth attendant, and sooooo many talented comedians. Truly a delight. Oh, also when you listen make sure to give it a five-star rating and leave a review! I've heard that it can ease the sore throat and runny nose. (At least it did for me.) You can find it on Spotify, Apple, or wherever you get your podcasts.
6. THE FEAR STREET TRILOGY
Man, listen.
You get to a certain part of the quarantine where you just wanna feel something. Anything.
At first, I was just putting a lot of hot sauce in my soup, but then I remembered: horror movies exist. I know they aren't for everyone, but I'm gonna let you in on a secret… If you can handle Stranger Things, you can handle Fear Street.
The three movies are brilliantly strung together by a curse and take you back! Literally. From the 90s to the 17th century. The aesthetic appeal of this movie alone is enough of a draw. Add on top of it a stellar cast including Sadie Sink and Maya Hawke, sprinkle on some gay tension, and Honey, you've got mail. The mail is…watching this series…I suppose. 
7. STANDUP COMEDY
I like to listen to standup even when it's not good.
It's nice to judge someone rather than stew in your own filth, dealing with a disease you probably picked up from being a filthy nasty….never mind.
The point is, there is literally so much standup comedy out there. Peruse the Comedy Central YouTube. On top of having a laugh, and soaking up those sweet sweet endorphins, you may also be inspired to write your own. My personal favorite rewatches are Tig Notaro, Maria Bamford, and Kristen Schaal.
WARNING: Watching TV and movies all day is perfectly acceptable when you are sick. It's literally fine, babe. Give yourself a break. Your body is working hard. Don't stress yourself out with any self lambasting productivity jargon.
BUT. If you suddenly find yourself sitting in front of the program "Is it Cake?" You have gone too far. What you need to do is shut your computer. Walk outside (wear a mask be away from others, yada yada), and take a deep breath of reality. "Is it Cake?" is a ploy from the economy to sink our brains down the garbage disposal. "Is it Cake?" wants us to consider anything content. "Is it Cake?" is hosted by Mikey Day. And yeah, I loved every episode.
Anyway, I hope that you feel better. Drink lots of fluids…like more than you think. Doordash yourself some soup, have a hot shower, and call your grandmother! It's been way too long since y'all talked.