We've watched all these Christmas movies so you don't have to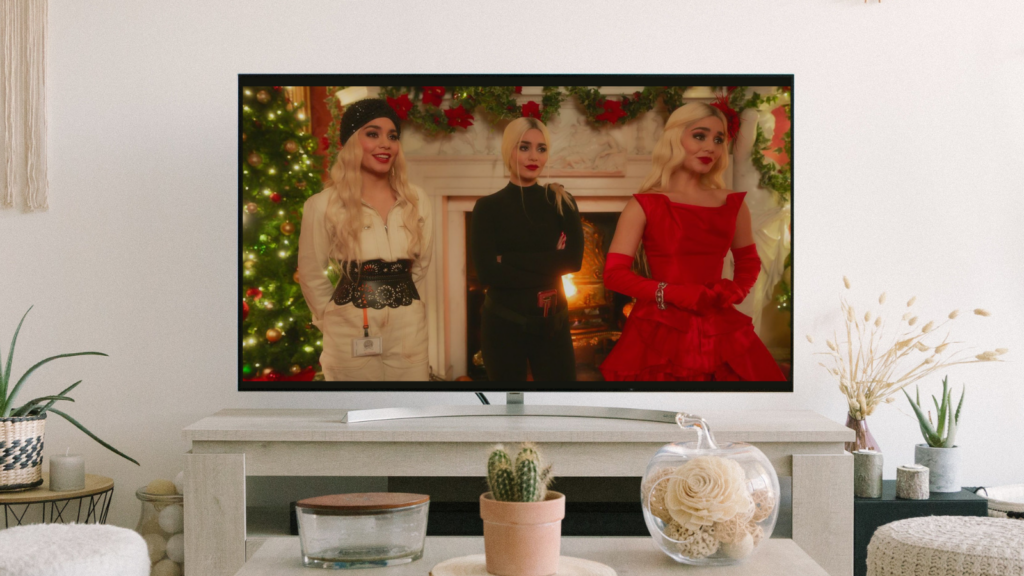 This holiday season, we're taking notes! Every time one of our team members watches a Christmas movie this year, they're going to hop into this blog and update it with their HOTTEST TAKES! We'll save you the time (and misery) of picking the wrong bad movie. (One that's bad-bad and not good-bad, ya know?)
No more waiting! Let's stuff these stockings.
Happiest Season
Okay, I know I'm one of maybe 12 people on the internet that liked this movie. But, unfortunately, I really like it. Are the Twitter takes valid? Yeah, for sure. Do I still think it's a good-bad Christmas movie? One of the best.
I love K Stew, and I genuinely think that she's delivering the jokes, here. Hard not to fall in love with this hottie who I guess is funny? Ouch for my self-esteem. Yay for my crush list. – Maggie Scudder, @maggiescudder
Die Hard
I didn't know how 80s Die Hard was until I rewatched it last night. And It. Is. EIGHTIES. In fact, my pal and I started a drinking game… every time they'd do something you could do in the 80s you can't do now, DRIIIINK…  we were wasted  4 minutes in. And we were drinking Soda water. (Plane gun, anyone?)
Anyway, there's a lot of machine guns, a couple of German models who you find out are brothers because one of them flips a table from grief (which happens to be my fave moment in the show), and your token 911-operators rolling their eyes at "kids playing around" making those fake gunshot sounds on Christmas Eve. But Bruce Willis still has hair, so definitely worth the watch. A++. – Megan Phillips, @MegNatPhil
Father Christmas is Back
Do you love Christmas movies, but find the concept of Santa Claus too believable? Then watch Father Christmas is Back, a movie in which John Cleese and Kelsey Grammer being estranged brothers isn't even in the top five egregiously unrealistic details. – Gwen Coburn, @sadgrlsongsgwen
Single All the Way
Let me first say that before dinner I pray to the Holy Trinity: Eugene Levy, Catherine O'Hara, and Jennifer Coolidge. She's perfectly funny and herself in this movie. You'll see her shine in the clip above. But, she's only in about 10 minutes of the movie and those are the only good minutes. Sorry, fam. Sorry to my community. 
The movie rests on everyone telling our best friends how "amazing" they'd be together….and there's no chemistry there. Two, gay planks of wood. Handsome planks. But, planks nonetheless.
I give this movie a skip out of ten. – Maggie Scudder, @maggiescudder 
The Princess Switch
I finally gave in and watched The Princess Switch on Netflix. A classic parent trap story minus the parents. Two girls who look exactly alike (because they're played by the same actress) switch places. One of them works in a bakery and is a #normalgirl, and the other is a rich princess, naturally. Oh! And they're both played by Vanessa Hudgens. Because why else would I sit through this movie? 
The baker longs for love and the princess longs for…idk bills? The prince falls in love with the baker (thinking it's the princess) and the princess falls in love with the baker's best friend, who BTW is in love with the REAL baker…awkward. The movie is cheesy AF for sure but cheese is delicious, so I enjoyed it.
There are like 3 now so I can't be the only one. – Kristina Feliciano, @kristinaiscomedy
Love Actually
Love misogyny, fat-shaming, and Alan Rickman? Then you'll go BONKERS for Love Actually! Through the course of 10 storylines linked through precariously-explained character relationships, we watch 9 repetitious heteronormative love stories and 1 awkwardly almost-gay-but-not-gay love story.
We get to see a major world leader put his country's status at stake from jealousy; a privileged writer proposes to a woman he's never conversed with, and Keira Knightly kisses a guy who straight-up stalked her. If you're ever in doubt if the patriarchy was alive and well in 2003, this $250-million grossing movie is a MUST-SEE! – Megan Phillips, @MegNatPhil
Home Alone 2: Lost in New York
Are you in New York and your family is in Florida? Are you a little lonely this holiday season? Maybe this isn't your first time but SECOND time being "Home Alone." Don't fret, even if you're ten years old, you can take on the big city, eat gourmet candy, order all the room service you want AND stop the bad guys.
Merry Christmas, ya filthy animal. 🎄🎊 – Telisha Saunders, @Teeorwhatever
---
Keep checking back on this list. It will be growing along with the Grinch's heart. (The list will grow several sizes before Christmas is over.)