Val Kappa wears glasses in her pink gorilla suit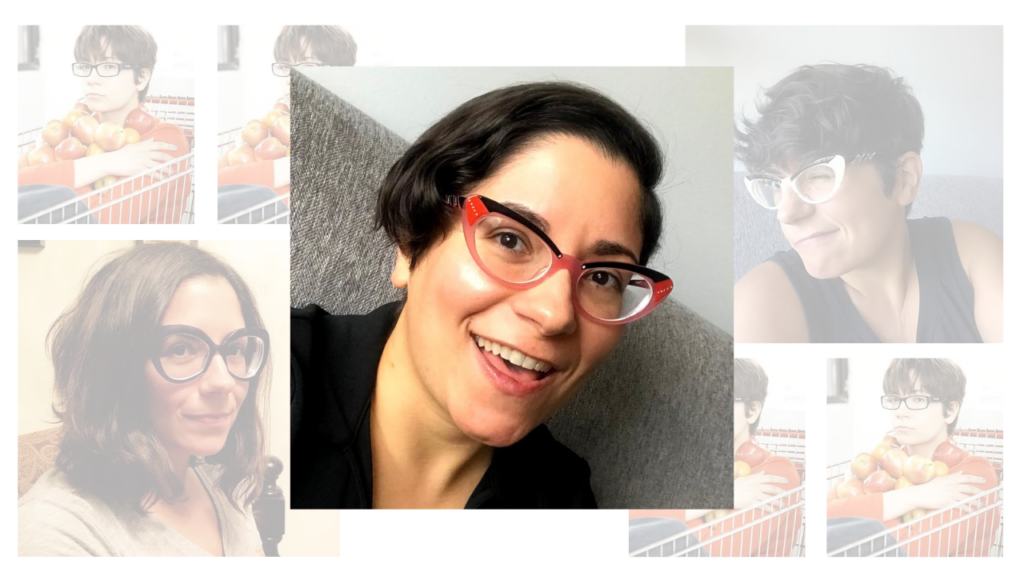 Val Kappa is a stand-up comic and visual artist who started out in the Boston comedy scene while attending Emerson College then moved to New York and honed her skills even more there.
She has toured/headlined nationally at colleges and performed at comedy clubs, theaters, and rock clubs all over. She has appeared on Comedy Central's "Premium Blend" and was the voice of Clarice/Lil Mama on the cult cartoon "Home Movies". She often opens for Tig Notaro and has also opened for Jen Kirkman and Gary Gulman. Val's comedy consists of observational humor mixed with snippets of her life.
In 2018 Val produced her first live comedy show "The Sleepy Time Comedy Show" at The Riot Theater in Roslindale, MA.  The show was a critic's pick in The Boston Globe. She currently lives in Saugus, MA with her partner and 2 cats.
---
Did you have an un-sexy starter job?
I had a VERY short stint of dressing up like a pink gorilla and singing happy birthday to people. It was short-lived because I'm not good enough at singing to be paid to sing happy birthday to people. I was ok at the dressing up like a pink gorilla part though.
What were you like as a teen?
I made my classmates laugh when I read my assignments out loud in class, wrote for the school newspaper, drew my comic strip for the school paper, showed people my artwork, and acted in school plays. I was voted class comedian, but I was very polite.
On your deathbed, what transcendent advice would you croak at a young comedian?
Be yourself. It will filter out the people by whom you aren't meant to be surrounded.
When you were coming up in comedy, what helped you stick with it?
The laughter from the audience.
Best comedy advice you ever got?
Write and perform constantly.
Worst comedy advice you ever got?
Are those glasses real? Or are they a prop? Maybe try not wearing them.
How has being funny helped you in your offstage life?
Comedy helped me overcome being shy.
What specific things can a young comic do to shape their voice?
Puking on paper: doing free flow writing and drawing every day.
Was there one person who inspired you to go into comedy?
It wasn't one person. I'd say it was all of the people who surrounded me when I was growing up.
Do you have a writing routine?
I write every day about something that stuck out to me in my day. I let it sit and go back to it to see if it can be something that can be altered for my stand-up.
What single word always cracks you up?