Top 10 reasons you should try standup comedy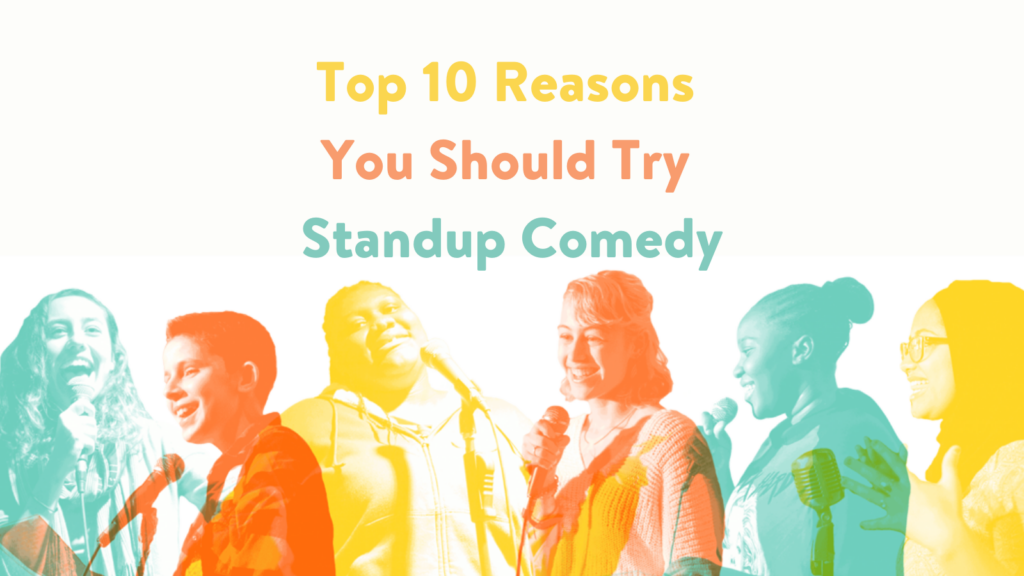 Comedy can be scary! Whether it's getting up in front of people or finding the right place to try something new–it's hard to jump into this game. But, we (at GOLD Comedy) believe that EVERYONE should try standup comedy. Comedy skills are life skills. There's no better place to try, no better crowd to cheer for you and catch you if you stumble, than GOLD. Don't take our word for it–even though we are experts in our field.
We want you to WANT to try standup comedy. So, take a look at these ten reasons by our very own, real-life GOLDies. (Yes, that's right. No paid sponsorships. This isn't an ad. These are just real comedians and GOLD club members who have valuable stuff to say! Listen up!)
Here are the top ten reasons you should try standup comedy with GOLD.
1. To Become More Outgoing
"SHY PEOPLE…make the best comedy. For people looking to build confidence without arrogance, comedy is really great for that because you have to practice confidence and humility at the same time (whether it's in writing or performing)." – Kelly
2. To Gain Confidence
"I've gained the confidence to speak up in meetings, have my voice heard, and help launch things — so thanks from the bottom of my heart to everyone here. Attending GOLD classes and events have always made my day!" – Erica
3. To Improve Your Communication Skills
"I believe comedy has a place in every space, and I often bring that lens to my day job in health policy." – Tayler
4. To Have Fun
"This is how I feel about it: art is such a job/chore to me, but writing jokes is a really FUN way to spend free time creatively." – Leah
5. To Meet New People
"I am sooooooooo happy I found this community. I feel like I belong here and have finally found my true purpose in life." – Rahkie
6. To Get Funnier
"A safe, fun environment to explore the foundational principles of comedy." – Betty
7. To Become a Better Writer
"Ugh. God, it sounds super silly but GOLD literally is the answer to my prayers. GOLD is giving me not just the confidence but the tools (classes and regular performance opportunities with direct feedback) to do exactly what I've always wanted to do: hone my persona and just write smart jokes. I wish I had something funny to close this but all I have are tears of gratitude." – Megan
8. To Make People Laugh
"Anyone who wants to be more confident in public speaking should try standup. No limitations because everyone needs to laugh." – Betty
9. To Try Something New
"A creative outlet and to express themselves without judgment." – Meghan
10. To Improve Every Aspect of Life
"GOLD's Standup Comedy 101 class taught me so much. It taught me to harness my comedic juices into something productive and gave me the tools to do so. As someone who is pretty anxious about talking a lot in front of people, this class helped me a lot, I met so many lovely people and was able to share what I had written with them. This gave me so much confidence, that I will take moving forward in every aspect of life." – Maizie
Wipe the tears from your eyes. Oh wait, that's me crying. I'm MOVED by the power of comedy in people's lives. It is a force that, at the hands of women and nonbinary folks, can change the world.
If standup sounds right for you–if trying something new and fun and a little whacky sounds right–join GOLD Comedy today. Or, just get out there and tell some jokes! Either way, we can't wait to have fun with you. It's what we do here.